In India, the festival time is awaited by people of all age groups i.e. children, youths and elders in equal spirit in the family. Indians celebrate festivals with full of enthusiasm and fervour. Some of the important religious and national festivals are Diwali, Holi, Raksha Bandhan, Ganesh Chaturthi, Durga Puja, Dussehra, Independence Day and Republic Day. People from all over the world visit India to witness the colourful and joyous festivals celebrated across the country.
The real spirit of the India is reflected in festival celebration across the nation throughout the year making country more lively and diverse. Indian festivals have deep religious connection as people of India worship various gods and goddesses. The festivals are means to offer prayers to the god in order to seek blessings for peace, prosperity and health.
Ten Lines on Indian Festivals in English
We have provided 10 lines, 5 lines, 20 lines, few lines and sentences on Indian Festivals in English for Class 1, 2, 3, 4, 5 and 6. After reading these given lines you will be able to write or speak about Indian Festivals in your exams, few lines/essay/paragraph writing competitions or debate, etc. Also, you can add these lines in your essays and paragraphs writing on Indian Festivals or related topics in your exams as well as in the school competitions. So, go ahead:
10 Lines on Indian Festivals
1) India is the land of festivals and these festivals are eagerly awaited throughout the year.
2) Indian festivals reflect the cluster of different religions and cultures in one nation.
3) Entire atmosphere is filled with total zeal and zest the days before the festival.
4) People in small villages or big cities, all celebrate festival with full of energy and enthusiasm.
5) Some Indian festivals are Holi, Diwali, Dussehra, Durga Puja, Maha Shivratri, Rakhi etc.
6) There are other festivals celebrated like Eid, Guru Nanak Jayanti and Christmas etc.
7) People in our country love to celebrate festivals with their relatives and friends.
8) People visit each other's houses to celebrate and offer best wishes of the festivals.
9) India celebrates three national festival with full of patriotism and nationalistic fervour.
10) Independence Day, Republic Day and Gandhi Jayanti are the three national festivals.
10 Lines and Sentences on Indian Festivals
1) India gives special importance to its festivals, be it the festivals celebrated nationwide, regional festivals or national festivals.
2) Indian festivals are filled with some religious connotation that's why people celebrate the festivals following all rites and rituals.
3) Some Indian festival period is considered to be the auspicious time for the people, leading them to follow strict discipline and routine in their life.
4) In India, people have faith on many religious practices which they follow sincerely during auspicious festivals.
5) The main festivals of India where government declares national holiday are Durga Puja, Diwali, Dussehra, Holi, Vasant Panchami, Raksha Bandhan etc.
6) India is the land of many religions, the festivals of every religion is equally celebrated here like Eid, Bakrid, Guru Nanak Jayanti, Christmas, Buddha Purnima etc.
7) India has many states and each state has its own regional festival such as Ganesh Chaturthi, Pongal, Onam, Bihu, Chhath, Ganagaur Utsav, Lohri, Vaisakhi, Rath yatra etc.
8) The state government giving importance to the religious sentiments declares state-wide holiday on account of state specific festivals.
9) Every religion has the own set of festivals based on religious faith and sentiments of people.
10) Independence Day, Republic day and Gandhi Jayanti are the three national festivals which are celebrated across India by people of different communities with equal zest.
5 Lines on Indian Festivals
1) There are many festivals in India.
2) It has three national festivals.
3) Holi, Diwali, Dussehra, etc are some festivals.
4) India observes holidays on important festivals.
5) Most Indian festivals are dedicated to Gods.
20 Lines on Indian Festivals
1) India is the country where most numbers of festivals celebrated in the whole world.
2) There are various types of festivals like cultural, religious, national festivals etc.
3) India has 3 national festivals as Independence Day, Republic Day and Gandhi Jayanti.
4) Festivals from different religions reflect different customs and traditions of that religion.
5) Every religion in India exhibits equal value in society from every aspect.
6) Festivals bring a moment of Joy in our life and make us to be together to celebrate.
7) All the festivals in India are celebrated with being neat and clean and making the houses also clean.
8) Children of any religion are seen to be most enthusiastic for the upcoming festivals.
9) Also the students wait for the festivals as they get holiday to meet their family.
10) The best thing in India is that not the festival is only celebrated by the people associated with it but also it is celebrated by the people of other religions as well.
11) India observes the most numbers of festivals in the world because India itself is the land of people from different religions.
12) The cultural festivals help people to understand the value of their religions and respect the others.
13) The festivals make the youngsters to understand the cultural background and roots of their religion.
14) Due to the numerous numbers of festivals, India is well known as the "Land of Festivals".
15) The Diwali, Eid, Christmas, Guru Purnima are few such festivals that are celebrated by the people of all religions.
16) Indian states have their own cultural festivals which are main centre of attraction for tourists.
17) The national festivals are the one which are celebrated by every citizen of the nation equally.
18) Few regional festivals are Pongal, Rathyatra, Gudi Padwa, Chhath, Onam etc.
19) The festivals are eagerly awaited by the people of all ages and all religions.
20) The greatness and charm of festivals in India cannot be described but can only be felt.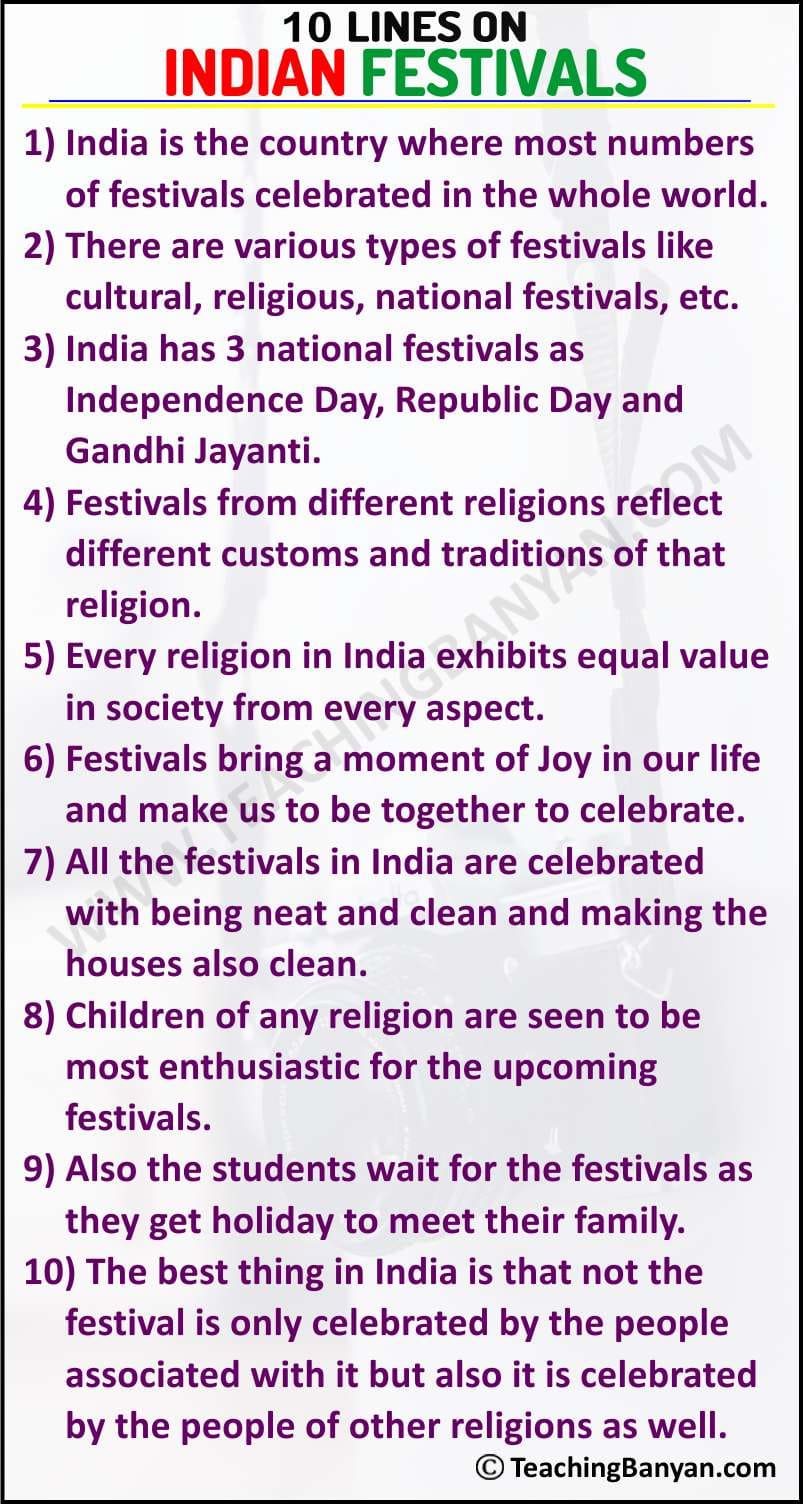 Indian festival is an occasion of enjoyment and celebration. The festivals bring social interaction and harmony in the society along with communal peace across the country. Being a multi lingual, multi religious and multi-cultural nation, India celebrates lots of festivals of every religion and region. As a youth, it is our duty to preserve and protect the sanctity of our festivals. Many people around the world visit India to explore cultural and religious diversification of India and celebration of Indian festivals help them to experience the Indian culture and tradition at its best.
More Information:
10 Lines on Lohri Festival
10 Lines on Pongal
10 Lines on Ullambana Festival
10 Lines on Paryushan Festival
10 Lines on Mahamastak Abhishek Festival
10 Lines on Losar Festival
10 Lines on Hemis Gompa Festival
10 Lines on Mewar Festival
10 Lines on Gangaur Festival
10 Lines on Christmas Festival
Long Essay on Diwali
10 Lines on Holi
10 Lines on Id-ul-Fitr