Among all the festivals that we celebrate throughout the year, a few are which have crossed the boundary of religious importance and people from other religions also enjoy them with the same spirituality. One such festival is Christmas, the Christian Festival.
Ten Lines on Christmas 2021 in English - The Christian Festival
I am sure that you will love reading about Christmas 2021 it in the sets of 10 lines below.
Also Read: Paragraph on Christmas
Set 1
1) Christmas is a religious and cultural festival celebrated worldwide by the Christians.
2) It is a celebration of the commemoration of the birth of Jesus Christ.
3) Christmas comes on the 25th of December every year with full enthusiasm.
4) In Christianity, people worship Jesus Christ as the son of the god and respect him.
5) Jesus had born in a time when greed, hate, and violence were everywhere in society.
6) He was the light of the world and had come to save people from all sins.
7) Christmas is a celebration for all over the world as a religious and traditional festival.
8) On the eve of Christmas, people go to churches and offer prayers.
9) People, especially children, decorate their homes with lights and organize a party.
10) Christmas is a gazetted holiday in India as well as in the whole world.
Set 2
1) The festival of Christmas brings a day of celebration for the people irrespective of their religions.
2) It is one of the major Christian festivals which many non-Christian communities also celebrate with extreme enthusiasm and joy.
3) Christmas carols are one of the best charms of this festival which is sung to welcome the festivities of the occasion.
4) Many people use idols to depict the nativity of Jesus Christ in their homes or offices to celebrate the festival.
5) Christmas celebration in the Holy Vatican City is very mesmerizing and tranquil with one of the world's tallest Christmas tree.
6) People dressed up as Santa Claus and distributing gifts are very common sightings during the festival.
7) People visit churches and offer prayers to the lord and seek their blessings for their happiness and prosperity.
8) Children enjoy the festivity of the season by wearing Christmas caps and costumes and by sharing gifts with their friends.
9) Christmas is the day when people remember the sacrifice of Jesus Christ.
10) Christmas is the biggest festival of Christianity when people take out some time from their daily routine and spend it in the festivity.
Set 3
1) Christmas is an annual Christian festival.
2) People light candles in their homes and churches symbolizing Christ.
3) The nativity of Christmas is the depiction of the birth of Jesus by using various idols or through art and paintings.
4) Christmas lasts for twelve days known as 'Twelvetide', which celebrates the nativity of Jesus, from 25th December to 05th January.
5) The decoration of White House, Washington, on Christmas is very mesmerizing with around 40 Christmas trees and 14000 ornaments.
6) Red, White, Green, Gold, Blue, and Purple are the main colors associated with Christmas celebrations.
7) 24 December is the Christmas Eve and has many customs and traditions when people go to a Midnight Mass Church Service.
8) The evergreen Fir tree, like a Christmas tree, looks beautiful when decorated with ornaments, tinsels, gifts on the day.
9) Candlemas marks the end of 40 days of Christmas celebrations on 02nd February.
10) People sing carols, enjoy delicacies, exchange gifts, decorate their homes and remember Jesus, who had saved people from their sins and sorrows.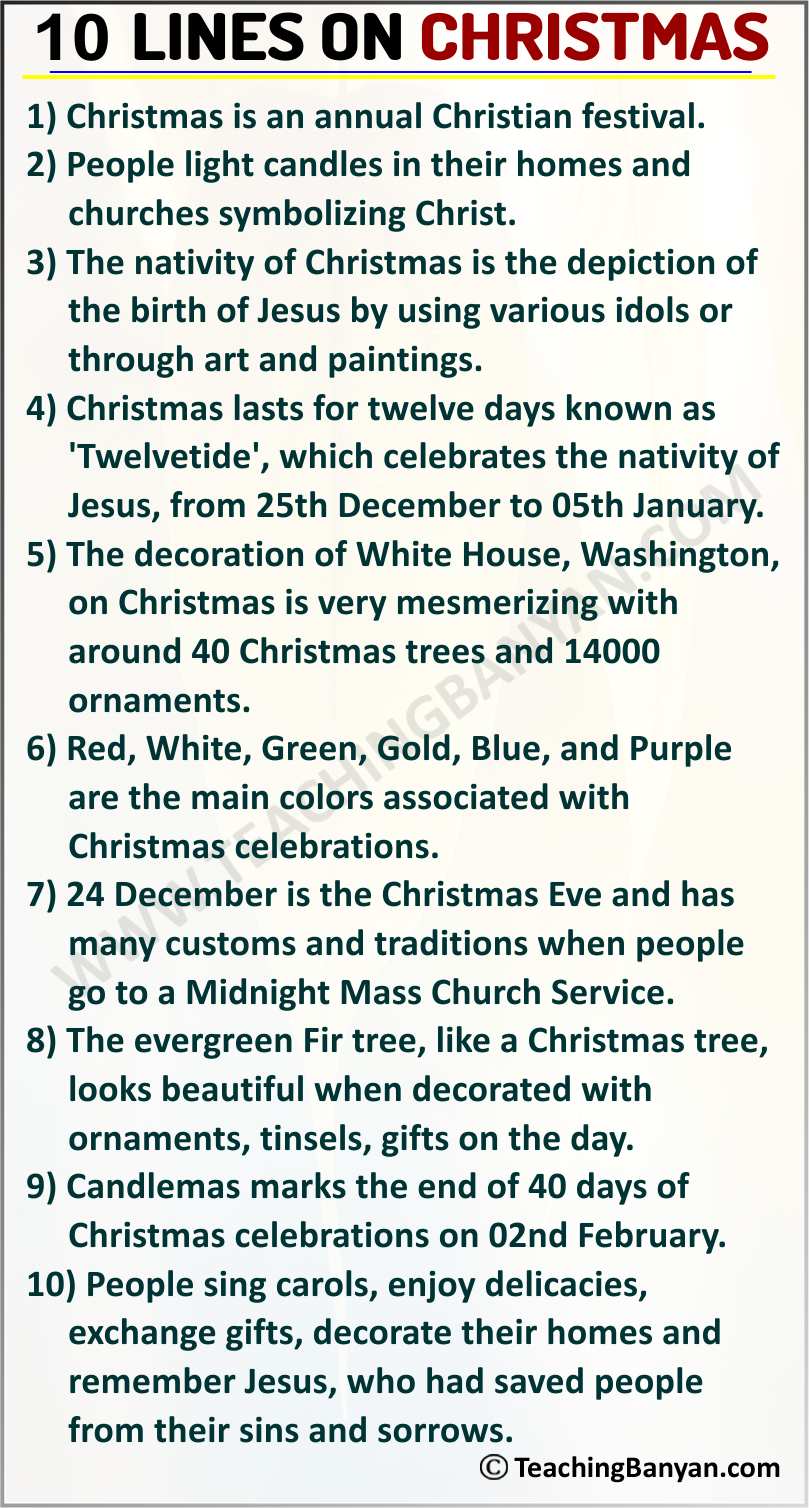 Set 4
1) Christmas falls on 25th December in the whole world.
2) Jesus Christ was the true reflection of forgiveness.
3) People sing, dance, and meet each other during Christmas.
4) People also offer gifts to friends and relatives.
5) Children enjoy the day of Christmas in the most exciting manner.
6) Children wait for Santa Clause to visit their house.
7) Santa drops gifts for the children in the middle of the night.
8) We go on a picnic with family and friends during the holiday.
9) We go out to shop for a Christmas tree with our family.
10) We should celebrate Christmas with love.
---
Set 5
1) Christmas is a Christian festival but also celebrated by the people of other communities as well.
2) It is a festival of joy for everyone.
3) We celebrate the birth of Jesus Christ at Christmas.
4) We brightly lit up our houses and gardens.
5) Children go out with the family to meet friends and relatives.
6) Children get lots of gifts at Christmas.
7) Each child waits for the Santa clause to come to his/her house.
8) Children love the cakes prepared by their mothers at Christmas.
9) We should also give gifts to the poor.
10) Christmas teaches us to love and be happy.
---
The celebration of Christmas brings a sense of peace, harmony, and spirituality among people. Though it is a festival of Christians, the people of other religions celebrate it with the same enthusiasm and express their integrity. Their wishing and blessing bring happiness and prosperity it in our life. Christmas is a festival of all.
Related Information:
More Information:
FAQs: Frequently Asked Questions on Christmas
Q.1 When and where did Christmas first celebrated?
Ans. On 25 December 336 AD, Christmas was first celebrated in Rome. But did not popularize until the 19th century.
Q.2 Why are stockings hung during Christmas?
Ans. Stockings are hung during Christmas so that Santa could fill them with gifts and chocolates. It is based on an old story when St. Nicholas helped three poor girls by keeping coins in the socks.
Q.3 Who celebrates Christmas in summer?
Ans. Countries in the southern hemisphere like Australia, New Zealand, Brazil, Argentina, and South Africa face opposite seasons than the northern hemisphere. Therefore, they celebrate Christmas in July with a winter feel.