Christmas festival is around the corner and as a part of tradition people decorate the tree known as "Christmas Tree" around the world for showing the expression of happiness and joy. Christmas Tree plays a very important role in the culture of Christians and is considered as a symbol of life. We know that people across the globe love to celebrate the Christmas festival by decorating their surroundings with the Christmas tree.
10 Lines on Christmas | Christmas Drawing
Ten Lines on Christmas Tree in English
We have provided sets of 10 lines, 5 lines, 20 lines, few lines and sentences on Christmas Tree in English for Class 1, 2, 3, 4, 5 and 6. You can add these lines in your essays and paragraphs writing in your exams as well as in the school competition. We hope, these simples lines about Christmas tree will be easily understood and helpful for you.
Also Read: Paragraph on Christmas
10 Lines on Christmas Tree
1) Christmas tree is the green coniferous trees shaped with the tip pointing to the sky.
2) The trees like spruce, fir or pine are decorated with colourful lights, candles, toffees and various other ornaments and toys.
3) Fir or pine usually takes 4 to 6 years to grow till the height of 6 to 7 feet.
4) The wild trees, used in the preparation of the Christmas tree, are grown in all 45 states of America including parts of Hawaii and Alaska.
5) There are almost 10000 farms employing lakhs of people for growing Christmas tree (fir, spruce, pine) in America.
6) The tip of the Christmas tree is decorated with star-large brightening ball artificial in nature.
7) Different varieties of cakes like cone cupcakes, winter wonderland snowman cake, jolly gingerbread cake are tied to the Christmas tree with colourful ribbons.
8) Germany was the first country to start the tradition of the Christmas tree.
9) People were using candles to light up the Christmas trees in past till 17th Century.
10) After the advent of the concept of electricity, people started using bulbs to decorate the tree.
10 Lines and Sentences on Christmas Tree
1) Considered as a symbol of joy and rebirth, Christmas tree is decorated by all the members of family including adults, children and also older people.
2) It is believed since ancient days that the presence of the Christmas tree brings the positivity and keeps the evil souls away from home.
3) Largest Christmas tree however prepared artificially is 272 feet tall and floats in the lagoon of the city – Rio de Janeiro, Brazil.
4) Many Christmas trees are used in a gift exchange for showing expression of joy and friendship.
5) The Christmas tree played a role of goodwill during World War-2 for the citizens of Norway as it was gifted by them to Britain.
6) In America people cut thousands of trees from the forest for Christmas tree preparation.
7) The concept of artificial Christmas trees was brought by Germany mainly using bird feathers dyed in green and spread across the branches of wire.
8) China is the leader in the manufacturing of artificial Christmas trees by using PVC plastics and aluminium.
9) In present times people are using an e-commerce platform for purchasing the real Christmas trees online.
10) Christmas trees are considered very sacred as they are the symbol of God Christ. It is believed that tree was the gift from Jesus to humanity showing continuity of life (birth and rebirth).
5 Lines on Christmas Tree
1) Christmas tree is decorated during Christmas.
2) It is any coniferous tree.
3) It symbolizes joy and rebirth.
4) It is decorated with lights and gifts.
5) It was first introduced in Germany.
20 Lines on Christmas Tree
1) The tree is evergreen fir or pine tree.
2) It has been part of winter celebrations for thousands of years.
3) It is a symbol of Christ.
4) Being evergreen it resembles undying life with God.
5) Being Green in winter it gives hope for coming spring.
6) Christmas tree is the centre of celebrations.
7) It is decorated with lights and gifts.
8) It is also believed to resemble the mythological tree of life.
9) Children particularly love Christmas tree.
10) Christmas tree is where the children get their surprise gifts.
11) Christmas tree decoration is an important ritual in celebrating the Christmas festivity.
12) The evergreen coniferous trees like fir, pine or spruce is decorated as Christmas tree.
13) The tradition of decorating Christmas trees is said to be originated in Germany.
14) Roses made of paper, apples, wafers, tinsel, and sweetmeats were used to decorate Christmas trees in the olden days.
15) People used candles to lit the Christmas trees in the olden days
16) Christmas trees nowadays are decorated with electric lights and different modern ornaments.
17) The presents of Christmas are kept hidden under the Christmas tree.
18) The star decorated at the top of the Christmas tree is stated as the Star of Bethlehem.
19) Christmas tree is decorated on the fourth Sunday before Christmas.
20) It symbolizes new life and is removed after twelve days of Christmas Eve.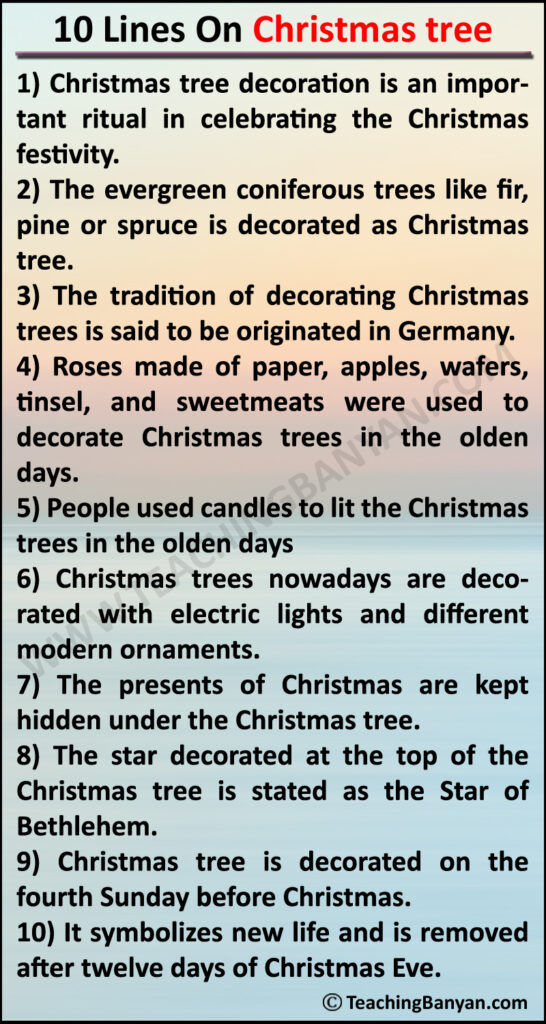 Christmas is celebrated on 25th December which is also birth date of Jesus and Christians around the globe celebrate the festival with full enthusiasm and devotion. We can't imagine Christmas celebration without Christmas trees. Christmas tree is one of the major sources of attractions for people during the celebration.
In order to protect the forest people in the United State have now become more vigilant towards the environment and have started farming in an organized manner. The plantation of Christmas trees has a lot of benefits like providing a platform of habitat for wildlife, controls pollution by removing the dust from the air. People should be encouraged to stop buying the artificial Christmas trees as they are mostly made from plastics which can't be recycled for centuries and can damage the environment to a greater extent.
Related Info:
10 Lines on Christmas Celebration
FAQs: Frequently Asked Questions on Christmas Tree
Q.1 Which is the most popular Christmas Tree?
Ans. Fir trees like Fraser Fir, Balsam Fir, Douglas Fir are the most popular Christmas Tree.
Q.2Why do we decorate Christmas tree?
Ans. The Christmas Tree is decorated with lights, stars, gifts and other things which represents faith, hope and positivity.
Q.3 What does the star on the top of Christmas Tree mean?
Ans. The star on the top of Christmas Tree is known as Bethlehem and it represents the birth of Jesus and hope of humanity.