There are many such festivals in India for which people wait eagerly for the whole year. These festivals fetch a huge public interest and inspire them a lot. One such festival is Durga Pooja. Let's study about the grandest festival of India in detail through the sets of 10 lines below.
Ten Lines on Durga Pooja in English
Some well worded sets of 10 lines, 5 lines, 20 lines, few lines and sentences on Durga Pooja for students of class 1, 2, 3, 4, 5 and 6 are given below to help them in their study , exams and school assignments. Just go through these lines and select the one of your choice:
10 Lines on Durga Pooja
1) Durga Pooja or Durgotsav is the Hindu festival of India during which we worship Goddess Durga across the country.
2) It commemorates her victory over the evil demon named Mahishasur to save the world from his evil deeds.
3) The Durga Pooja celebration commences with the first day of Navratri.
4) Durga Pooja coincides with the festival of Dussehra which also symbolizes the victory of good over evil.
5) Apart from worshipping the Goddess Durga, Goddesses Saraswati, Lakshmi and Ganesh are also who people worship on the day.
6) The sixth day of Navratri festival is the day when idols of Goddess Durga get placed in the 'Pandals' for the devotees.
7) Many Durga Pooja committees organise free feast to all where people from all walks of life sit together and enjoy the delicacies as a blessing of Goddess Durga.
8) The real experience of the celebration of Durga Pooja comes from Kolkata, where Durga Pooja celebration is very mesmerizing and spiritual.
9) The festival concludes on the Vijayadashami when these idols immerse in water bodies with devotional chants.
10) The annual festival of Durga Pooja is a celebration of devotion, joy, spirituality and spreads happiness among the people.
10 Lines and Sentences on Durga Pooja
1) Durga Pooja is a festival of joy and enthusiasm.
2) In West Bengal, it is the biggest festival and a great social event in the state.
3) Devotees keep fast for nine days of Navratri to seek the blessings of Goddess Durga and to save them from evil.
4) On the day, people dress in attractive attire and perform Garba and Dandiya in sync with the music played.
5) The huge pandals remain the attraction where people across the globe visit to witness the grandeurs artworks based on various themes.
6) The whole city looks beautiful with immense lightning and decoration, during the celebration.
7) Apart from India, Durga Pooja is also a festival in many other countries like the US, China, Bangladesh, Nepal, etc.
8) Worshipping Goddess Durga during the Navratri helps to fight against the evil spirits and negative vibes.
9) During the celebration of the festivals in these nine days, people fill with spirituality and celebrate the occasion with brotherhood.
10) Durga Pooja is a festival of spirituality, devotion and happiness, and a way to respect the women of our society.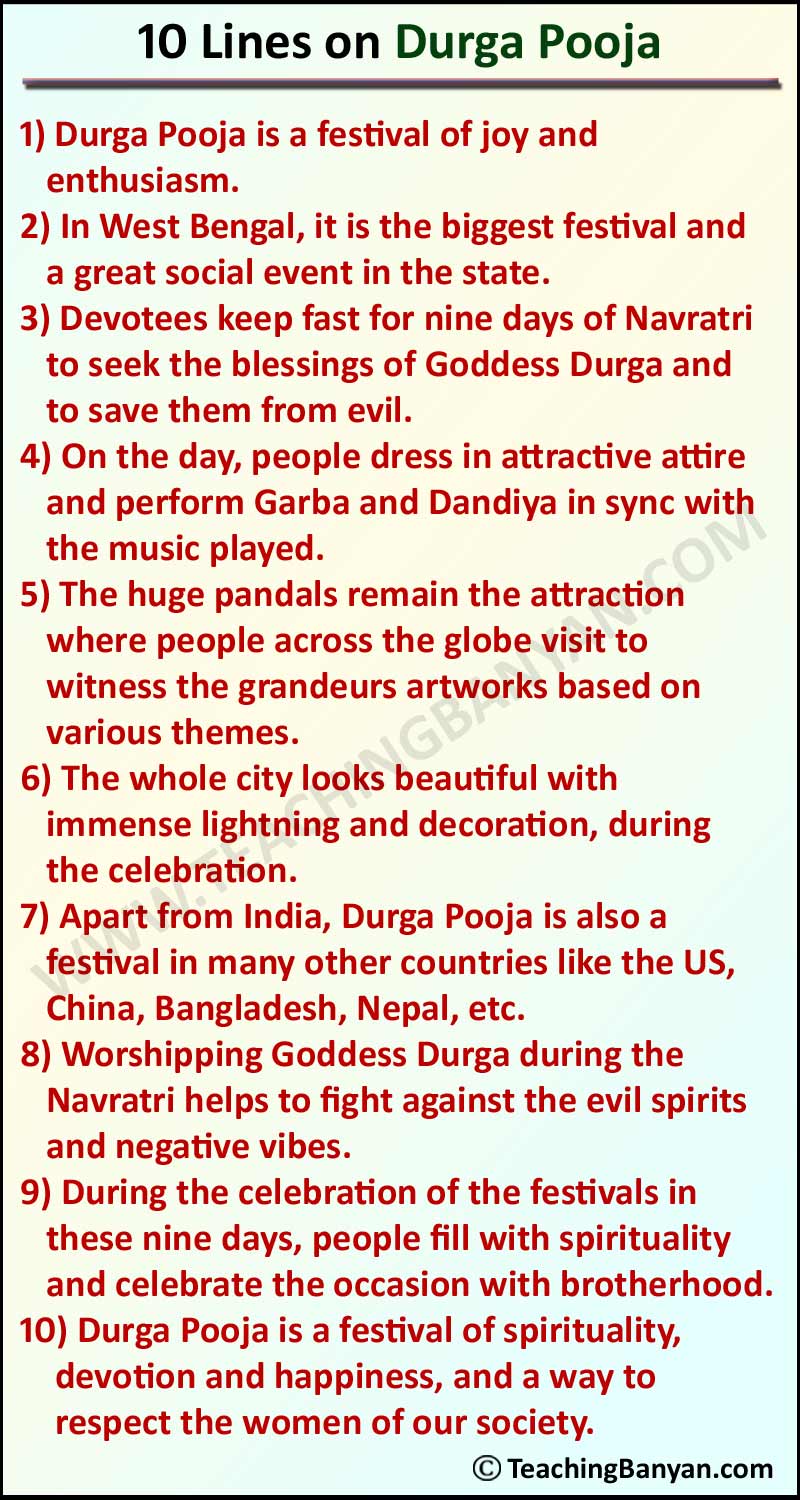 5 Lines on Durga Pooja
1) It is a nine-day festival for Hindus.
2) Goddess Durga is worshipped in this Puja.
3) People also observe fast for nine days.
4) Pandals are made and decorated.
5) It marks the victory of good over bad.
20 Lines on Durga Pooja
1) Durga Puja is an annual Hindu festival that celebrates the worship of the Hindu goddess Durga.
2) Navratri or Durga Puja is the celebration of the victory of good over evil.
3) During this festival, people clean their houses and make a spiritual environment all around.
4) It is a festival in many states in India such as Assam, Tripura, Bihar, Mithila, Jharkhand, Odisha, Manipur, West Bengal etc.
5) During the nine days of the festival, people completely devote themselves to the goddess Durga.
6) Some people fast throughout the day, although some people fast only on the first and last day.
7) Goddess Durga is a goddess of strength and blessings and worshipping her brings a lot of blessings.
8) Devotees believe that Goddess Durga will keep them away from all problems and negative energy.
9) Everyone performs this Puja in many places in the cities and villages culturally and traditionally.
10) Some people of the community or society celebrate it by decorating 'pandals' in the surrounding areas.
11) Durga Puja is a religious festival during which formal worship of Goddess Durga is an important ritual.
12) It is a major festival in India and has a great significance for the Hindu Community.
13) It is a traditional occasion that reconnects people to Indian culture and customs.
14) The few common rituals of the festival across the nation are fasting, feasting and worship.
15) People perform idol immersion and daughter worship in the last four days, which are Saptami, Ashtami, Navami and Dashami.
16) People worship the ten-armed goddess riding a lion, with great zeal, passion and devotion.
17) Worshipping Goddess Durga helps the devotees to overcome negative energy and negative thoughts as well as to attain a peaceful life.
18) It commemorates the victory of Lord Rama over evil.
19) After worship, people perform the immersion ceremony of the idol in the holy water.
20) On the evening of Dussehra, people celebrate this festival by lighting a large statue of Ravan with fireworks.
---
Durga is one of the most widely worshipped deities in the Hindu religion. Durga Pooja is a way to seek the blessings of Goddess Durga to save us from the evil and negative vibes. The idols of Goddess Durga symbolize power, and as a punisher of the evil, however, she is also a personification of mother's love, prosperity and wealth.
FAQs: Frequently Asked Questions on Durga Pooja
Q.1 Which country celebrates Durga Puja other than India?
Ans. Other than India, many countries like USA, UK, Japan, Brazil, etc celebrates durga puja.
Q.2 What are the different names of Durga Puja?
Ans. Durga Puja is also famous as Akalbodhan, Maha pujo, Sharadiya pujo, Maayer pujo, Sharodotsab, etc.
Q.3 By how many names is Maa Durga known?
Ans. There are 108 different names for Maa Durga. Each of Maa Durga's names explains who she is and what she can do.
Q.4 What is the significance of the colour red in Durga Puja?
Ans. Red is an auspicious colour and is associated with Shakti and the Divine Feminine. It is believed to bring good luck and protection during Durga Puja.
Q.5 What is the significance of animal sacrifice during Durga Puja?
Ans. Animal sacrifice is part of some Durga Puja traditions and is meant to symbolically represent the victory of good over evil. The animal is sacrificed as an offering to the Goddess Durga, who is believed to grant her blessing in return.