Pongal is an agricultural festival that brings happiness and enthusiasm for the people of Tamil Nadu and parts of Andhra Pradesh and Telangana. The word 'Pongal' in Tamil means 'overflowing'. The festival is celebrated with great importance by spreading the message of peace, prosperity, good health, good wishes and fulfillment of desires. The timing of the Pongal festival is when the sun transits into 'Makar Rashi' in the month of January which means the end of the winter solstice and the beginning of longer and warmer days.
Ten Lines on Pongal Festival
10 Lines on Pongal – Set 1
1) Pongal is one of the biggest harvest festivals of the Hindu religion.
2) It is celebrated for four days in the southern states of Tamil Nadu, Andhra Pradesh, etc.
3) Pongal is also celebrated in Malaysia, Singapore, the US where south Indian people reside.
4) Pongal is also called "Thai Pongal", related to the tenth month of the Tamil calendar.
5) The four-day celebrations during Pongal have different activities based on each day.
6) People generally pay their regards to god and other substances for their livelihood.
7) The word Pongal in Tamil means to "spillover" or to "overflow".
8) Pongal is a festival related to the preparation of rice dishes as a part of a ritual.
9) A mixture of rice, jaggery, milk, lentils, etc is cooked and allowed to spill outside the pot.
10) As a custom, when rice gets spilled over the earthen pot, it is meant as abundance in the family.
We have provided another set of ten lines on Pongal. After going through these lines you will know that where Pongal is celebrated, what is the historical evidence of Pongal, what was Pongal called in Sangam era, what was Pongal called in Chola dynasty's era, when Pongal starts and lasts according to Tamil calendar, what is the first day of Pongal called, what the second day is called, what the third day is called, what is the last day of Pongal, etc.
10 Lines on Pongal – Set 2
1) Pongal is one of the most famous and essential festivals which is celebrated in Tamil Nadu as well as in Sri Lanka.
2) History suggests that the festival Pongal came into existence between the Sangam period (5th century to 3rd century BC) and the medieval Chola dynasty (up to 13th century CE).
3) During the Sangam era, Pongal was observed by the name of "Pavai Nonbu" in which young girls prayed to god in the hope of rain and good harvest.
4) Some historical evidence suggests that during Chola dynasty's rule, Pongal was celebrated as the name of "Puthiyeedu" where land was donated to the temples.
5) Pongal or Thai Pongal is a four days celebration that starts from the day when the sun transits into 'Capricorn' zodiac or 'Makar Rashi'.
6) According to the Tamil calendar, Pongal begins from the last day of 'Maargazhi' month and lasts for the first three days of 'Thai' called Thai Pongal.
7) The first day of Pongal is celebrated as "Bhogi", on this day as per the blessings of Lord Krishna, lord Indra is worshiped.
8) The second day is the main day of celebrating the 'Thai Pongal' festival which is related to the sun's transition into Capricorn zodiac.
9) On the third day, "Mattu Pongal" is dedicated to cattle, on this day farmers celebrate the efforts of their cattle for bringing prosperity in their house.
10) On the last day of Pongal, "Kaanum Pongal" is celebrated as an indication of the end of the festival, Kaanum in Tamil means 'to visit'.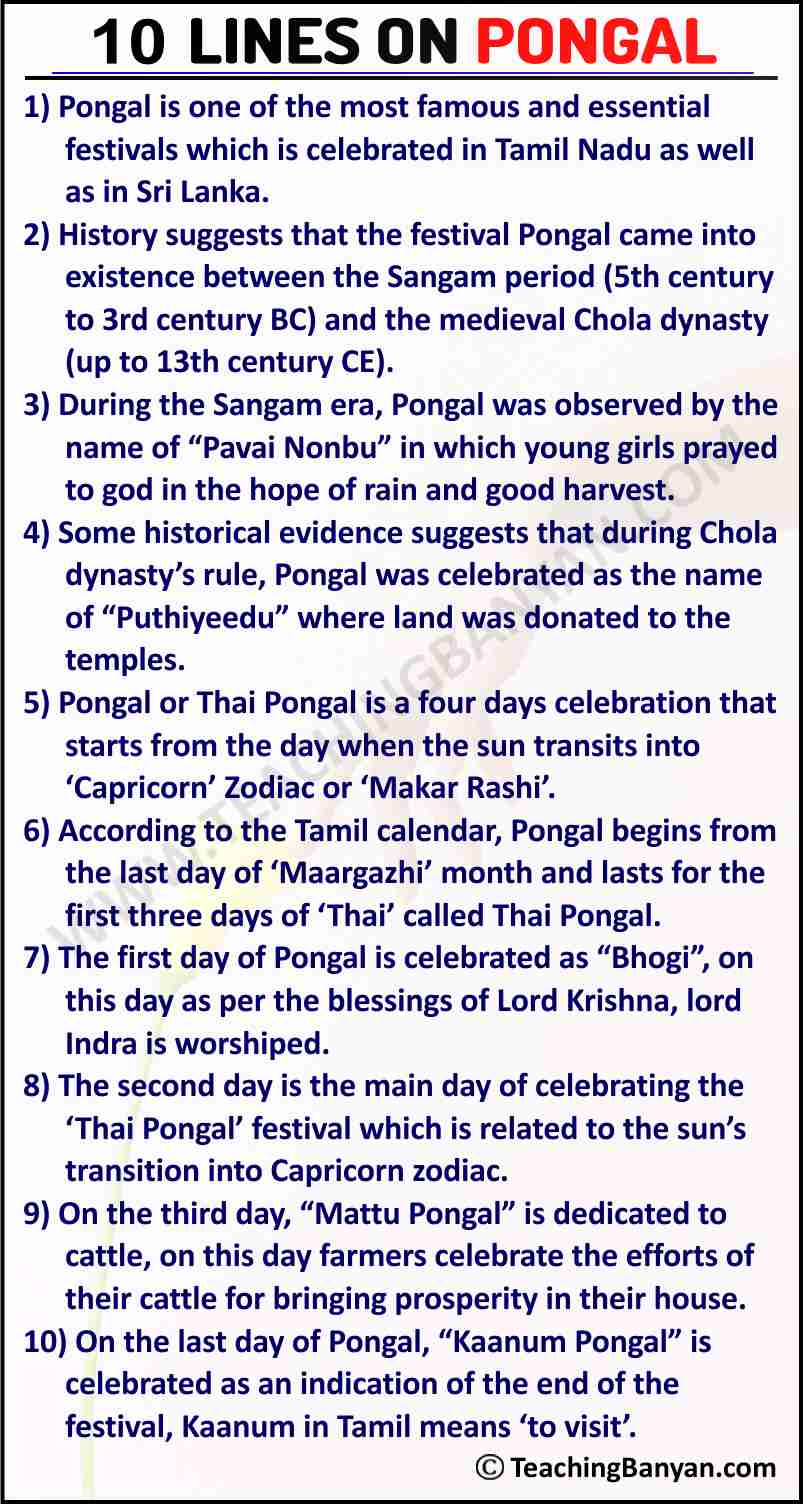 We have bestowed here a set of Ten Lines on Pongal that will provide you some basic information about this famous festival of Tamilnadu that is celebrated on the same day when in North India Makar Sankranti is celebrated. These points will give you the time, method and activities during the celebration of this festival.
10 Lines on Pongal – Set 3
1) Pongal is a major festival of Tamil Hindus.
2) It is celebrated every year on 14–15th January.
3) This can be compared to Navan which is the harvest festival (Shasotsav).
4) Pongal in Tamil means boiling over or overflow.
5) Traditionally, it is a festival dedicated to prosperity in which rain, sunshine, and cattle are worshiped to bring prosperity.
6) Almost all government institutions in Tamil Nadu have a holiday on this day.
7) The name of this festival is Pongal because the prasad that is offered to Sun God on this day is called Pagal.
8) The importance of this festival can also be gauged from the fact that it lasts for four days.
9) The first Pongal is called Bhogi Pongal and the second Pongal is called Surya Pongal.
10) Mattu and Kanya Pongal are celebrated in the last two days.
---
Another set of Ten Lines on Pongal has been provided below that will give you some important information about Pongal in very simple sentences. After going through these points you will know that when is the Pongal celebrated, what activities are done so far, and what is its importance.
10 Lines on Pongal – Set 4
1) According to the Gregorian calendar, the Pongal festival is celebrated every year from January 14th to January 17th by the Tamil People.
2) All people wait for the day of Pongal and on this day offer rice to God.
3) This festival is celebrated in Tamil Nadu as well as in neighboring states like Karnataka and Andhra Pradesh.
4) Cows and bulls are very beautifully decorated and worshiped on this day.
5) On this day all the women wish for their brother's good life and success.
6) All the people wear new clothes on that day and in the evening everyone meets each other and eats rice.
7) Women clean their houses well before the Pongal festival.
8) They decorate large pottery with kumkum and swastika.
9) The eldest person of the house is asked to pour rice and water in a large earthen pot on the day of Pongal, which is also an honor.
10) Everyone takes blessings of people older than themselves and in this way the sacred festival Pongal is celebrated.
Pongal is one of the biggest festivals of south India. The states which celebrate the Pongal festival are Tamil Nadu, Andhra Pradesh, Telangana, Karnataka and some parts of Kerala. Pongal is celebrated either on January 14th or 15th. On the same day, in north India 'Makar Sankranti' is also celebrated. 'Bihu' is celebrated in Assam and northeast and Lohri is celebrated in Punjab on the same day. All these festivals have common objectives and are dedicated to the same deity, Sun.
More Links: