We often think and write about others whether our relatives or friend or any famous personality, but we forget to write about self. We should know that we are the most important person in our life, so thinking and writing about self is very important. We have provided below some sets of 10 lines which will give you an idea of what you can write about yourself.
Ten Lines on Myself in English
Find here some well written sets of 10 lines, 5 lines, 20 lines, few lines and sentences on Myself for students of Class 1, 2, 3, 4, 5 and 6. You can get some help in your study from these lines.
10 Lines on Myself
1) My name is Aditya Ranade, and I am 8 years old.
2) I study in BAV Public School in the fourth standard.
3) My father's name is Mr. Shirish Ranade and mother's name is Mrs. Uma Ranade.
4) I have one younger sister who studies in the first standard in the same school.
5) I like watching cartoons, and my favourite cartoon character is Doraemon.
6) I also like playing outdoor games, and I love to play cricket with my friends.
7) I am a very sincere and obedient boy and follow all the instructions from my parents and teachers.
8) I regularly complete my homework and never get let to school.
9) I always pay respect to my elders and strictly follow their advice.
10) I always try to help my mother and father by keeping all the toys at the right place after playing with them.
10 Lines and Sentences on Myself
1) My name is Anjali Sinha, and I am a bright student of class 6th studying in Model Convent School, Delhi.
2) I am the Class Monitor of 6th standard and favourite to all my teachers.
3) My interest lies more in sports, and I love to play Badminton.
4) I am also the winner of last year's Inter-School Badminton Championship.
5) I am not only interested in sports but also a decent student as far as academics is a concern.
6) My other hobbies include watching movies, travelling and reading children's magazines.
7) My family comprises of my mother, my father, my younger sister and my grandparents.
8) I am more close to my mom and my younger sister, and I share everything with them.
9) I am very much fond of eating and like to eat lots of Panipuris, Pastries and Cakes.
10) I like to spend most of my time with my family because I enjoy the company of them, and I also learn ethics and social values.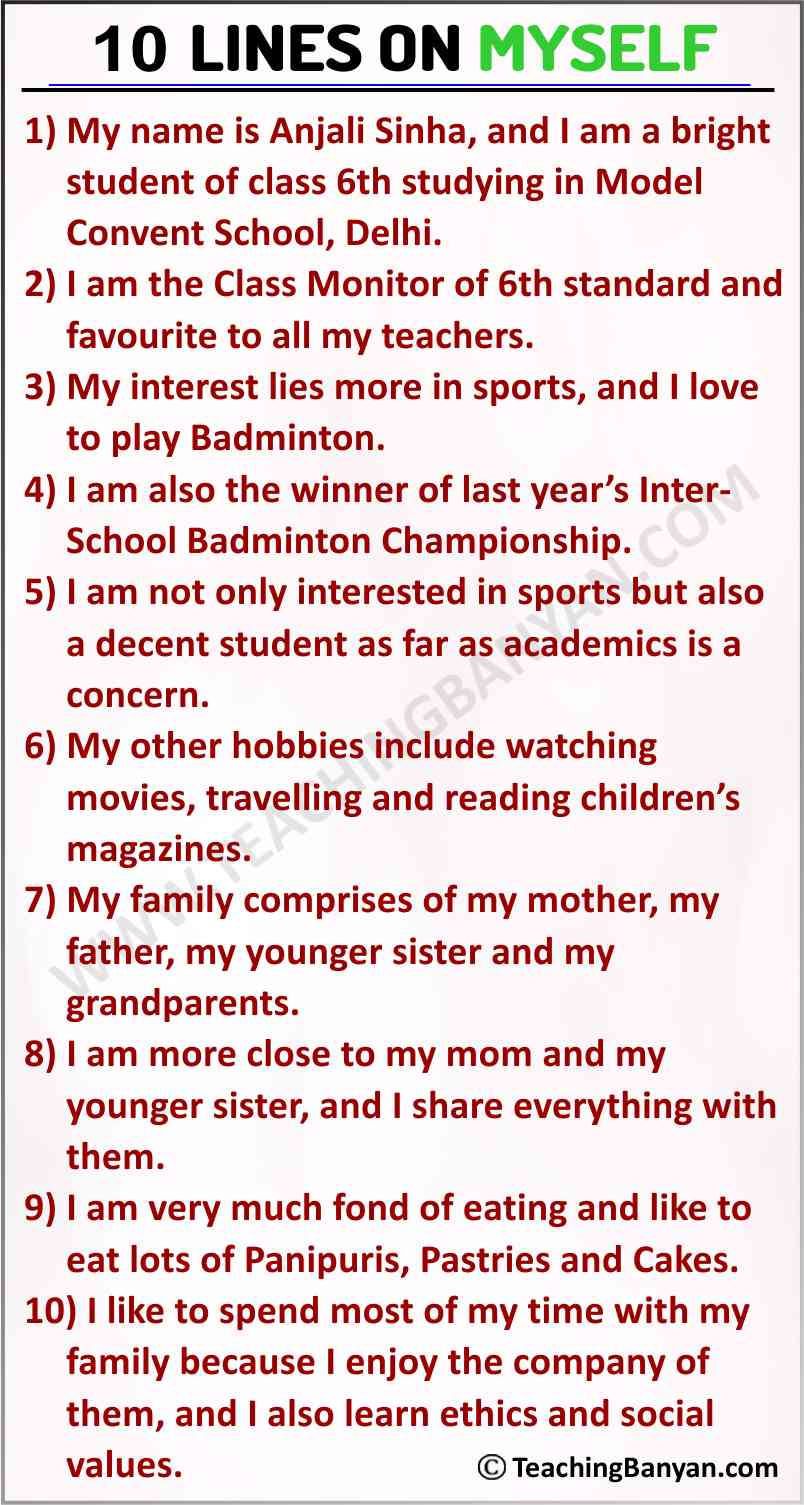 5 Lines on Myself
1) My name is Anjali.
2) I study in class 3.
3) I love watching cartoons.
4) My hobby is painting.
5) I want to become a teacher.
20 Lines on Myself
1) My name is Arvind Kelkar, and I am 13 years old.
2) I live with my family in suburban Mumbai in Kurla division.
3) My father works in a multinational firm, and my mother is a housewife.
4) Both of my parents are too busy with their schedules for five days a week.
5) Weekends are for recreation, and we go on a picnic on weekends.
6) My hobbies are playing cricket and reading books.
7) I wake up early in the morning to reach the school on time.
8) I morning I don't face much traffic while on returning the traffic gets a little busy.
9) When home I eat my lunch, rest for a while and start my studies.
10) We always have dinner together when my father returns from his office.
11) My name is Rahul Chinappa, and I am 15 years old.
12) I live with my parents and elder sister in Chennai, near the railway station.
13) My father is a businessman and works hard to sustain the family.
14) My mother looks after the house and need of the family members.
15) My house has a small garden of its own, which has a variety of flowers.
16) During vacations, we visit our grandparents, who stay in our ancestral village.
17) The climate of Chennai gets hot and humid in summer.
18) Chennai is a coastal area, so the sea plays the main role in sustaining Chennai's economy.
19) Chennai is a metropolitan city with people from the different ethnic and cultural background.
20) I love my city and its people for they are my identity and my pride.
---
It becomes very easy to say something about some other personality, but when it comes to describing yourself, the description should be in a balanced manner. It should be in such a way so that you express yourself to others and others accept and understand you. The description of self will help you to make new friends and express yourself easily.
Also See:
10 Lines on My favourite subject