We often talk about the great qualities that our mother posses and what she does for us, but we always forget talking about our father. He is the one who does not contribute less than our mother in securing our future. Let's read about 'Father' through the sets of 10 lines available below.
Ten Lines on My Father in English
Find here some well written sets of 10 lines, 5 lines, 20 lines, few lines and sentences on My Father for students of Class 1, 2, 3, 4, 5 and 6. You can get some help in your study from these lines.
10 Lines on My Father
1) My father is the most beloved person in my family, and he loves me the most.
2) He is the one who fulfils our needs and wishes without any complaint.
3) My father always believes me and shows a sense of confidence in me.
4) Whenever I feel depressed or sad, he is the one who motivates me with his words.
5) His love for us and other family members is selfless and unconditional.
6) He is the one on whom the whole family can trust.
7) He becomes angry whenever we do not follow the discipline of the house.
8) He always motivates us to do well in exams and also helps in our studies.
9) He solves all our issues happily but never lets his problems come to us.
10) My father is my hero and will always be my guiding soul and motivator for life.
10 Lines and Sentences on My Father
1) My father is my best friend, and I can share each and everything with him.
2) He works in the agriculture department and guides the farmers to increase their yield.
3) He is the one who works hard for the family so that we could live a happy and prosperous life.
4) My father is a very gentle person, and he is always ready to help others whenever they face any problem.
5) My father is an animal lover, and whenever he gets time, he feeds the stray dogs and cows of our society.
6) He also works for a social work organization which helps poor families in becoming financially self-dependent.
7) Despite having such a busy schedule, he always takes us out on Sundays and holidays and spends time with us.
8) My father is also the protector of our family and saves us from falling prey to the evil things of society.
9) The respect and care he shows towards his parents act as an inspiration to my siblings and me.
10) My father acts as a guiding force which will help me to reach the apex of success in my life.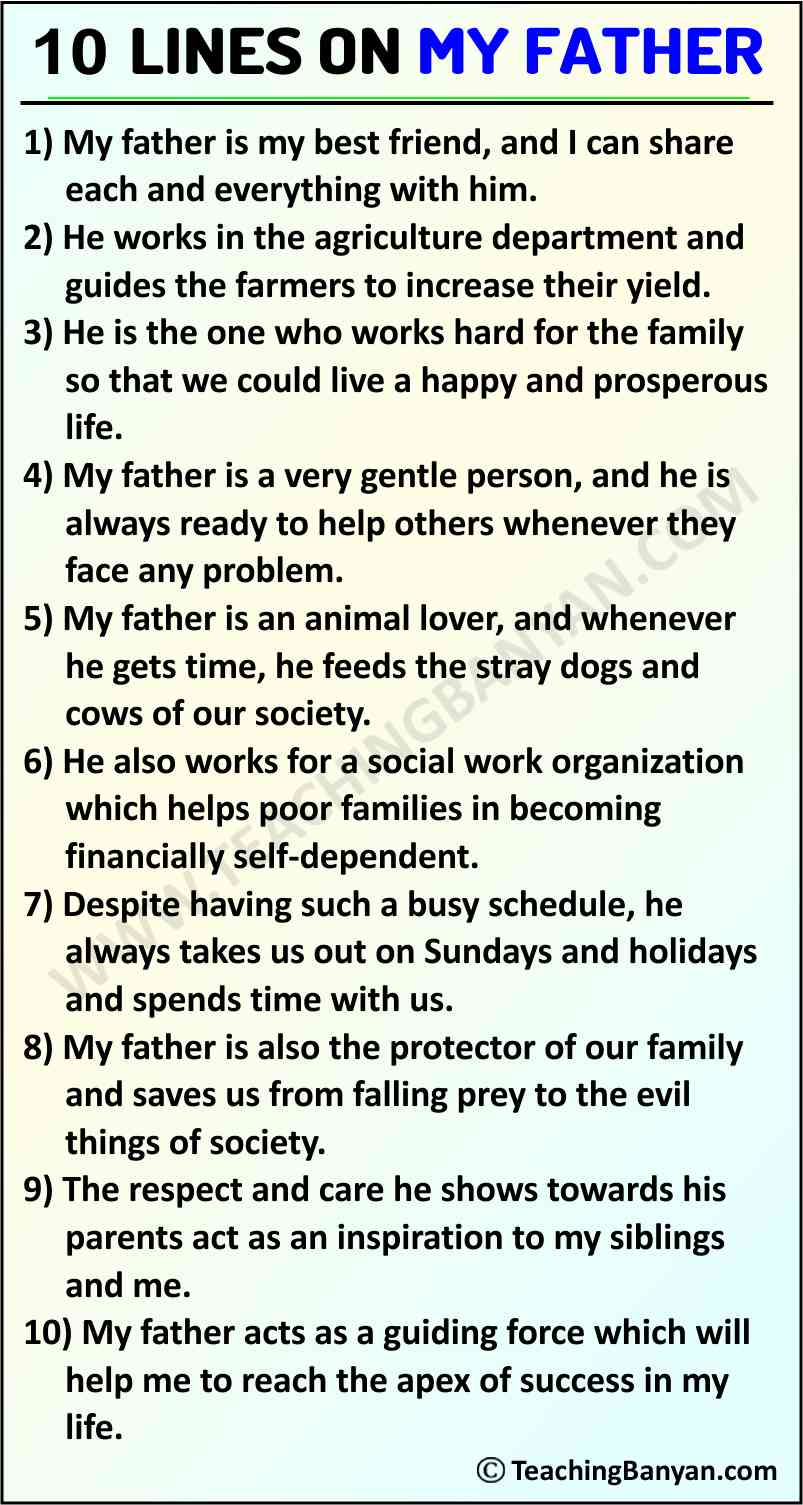 5 Lines on My Father
1) My father's name is Mr. Ashok Shah.
2) He is a teacher.
3) He brings chocolates for me.
4) He takes care of me.
5) I love my father very much.
20 Lines on My Father
1) Father is a male parent in a family who guides and motivates his children for entire life.
2) My father is a much disciplined and dutiful person.
3) My father is the head of our family and takes all the important decisions.
4) My father is a doctor by profession.
5) My father is the best friend and a real advisor of me in my life.
6) My father is a very good cyclist and a nice painter.
7) My father dedicates most of his time in serving people by taking care of patients in a rural area.
8) My father respects my grandmother, who is quite old now and takes care of her most of the time.
9) My father was born in a poor farmer family and achieved a lot in his life through his hard work and determination.
10) My father always supports me in my difficult and challenging times.
11) Fathers have a very deep impact on the emotional well being of a child.
12) Father always shares his own life experiences, so that we can take right decisions learning from them.
13) Every father should act as a role model for his children.
14) Father, being the head of the family, discusses the problems of every family member and gives his best advice.
15) Father teaches us the basic etiquettes, humanity and ethics of life.
16) Father motivates us to be fit in life physically and mentally by doing exercises and yoga.
17) Father teaches us the importance of time in life and always encourages us to utilize it productively.
18) Father always inspires us to maintain a healthy routine in day to day life by eating healthy food and doing regular exercise.
19) He teaches us the mantras of success in life like discipline, consistency, hard work and morality.
20) A nice father can bring a lot of difference in the life of a child as children learn most of the habits good or bad from their parents.
---
Father plays a very important role in the family. Without the support of a father, a child can't grow emotionally and intellectually. Apart from being primary caregivers, fathers shower love and affection on their children entire life so that they can lead a balanced, peaceful and happy life. My father is the one who is always present behind me in my thick and thin. He is always there to support me whenever I tend to fall.
Related Information: