In human society, the family is important as humans are a social animal and they need a framework of values and support system in order to survive. Family refers to the group of related people where every individual has regard, trust, cooperation, and affection towards each other. In today's fast-paced world we should consider ourselves very lucky if we have a healthy and happy family. The most important function of the family is providing learning on values, cultures, and traditions to generation.

Ten Lines on My Family in English
Here we have provided 10 lines, 5 lines, 20 lines, few lines and sentences on My Family for Class 1, 2, 3, 4, 5 and 6. These lines are easy to read and learn for the students. Also they can use them in creative writings, paragraph writings, essay writing, speech narration, etc competitions in the school.
10 Lines on My Family
1) Family refers to the group of individuals, connected to each other either by birth or by relationships like marriage, adoption etc.
2) My family is small nuclear family belonging to the middle class category.
3) There are four members in my family.
4) The members of my family are my father, mother, elder brother and me.
5) My father is the head of the family and primarily takes all the important decisions.
6) We all have deep respect and love towards each other.
7) We help each other during bad times which give us the feeling of security and comfort.
8) We celebrate all the major festivals together with my cousins, generally at our parent's home.
9) My family provides me a sense of confidence and motivation to do well in life as far as my role in the society is concerned.
10) My family is also connected with the NGO which is working for the betterment of India as a nation by helping rural people at large.
10 Lines and Sentences on My Family
1) Happy family contributes positively towards a healthy society by spreading peace and happiness.
2) Family provides a secure and supportive environment, which helps us to share and discuss our issues and problems.
3) Family makes a person stronger – individually, mentally, and emotionally.
4) Family protects us from outside world in terms of conflicts and differences.
5) Family helps in passing the traditional and cultural heritage from one generation to another.
6) Healthy family helps the children by inculcating in them, good habits and values like honesty and character.
7) Family improves the way of living by making an individual responsible and disciplined person throughout his/her life.
8) Family highly contributes to the growth of individuals in all the aspects example mental, physical, social and financial well being.
9) In bigger family like joint family children and older people get the special attention and care by the other members of the family.
10) Family teaches us the mantras of success in life like discipline, consistency, hard work, cleanliness and morality.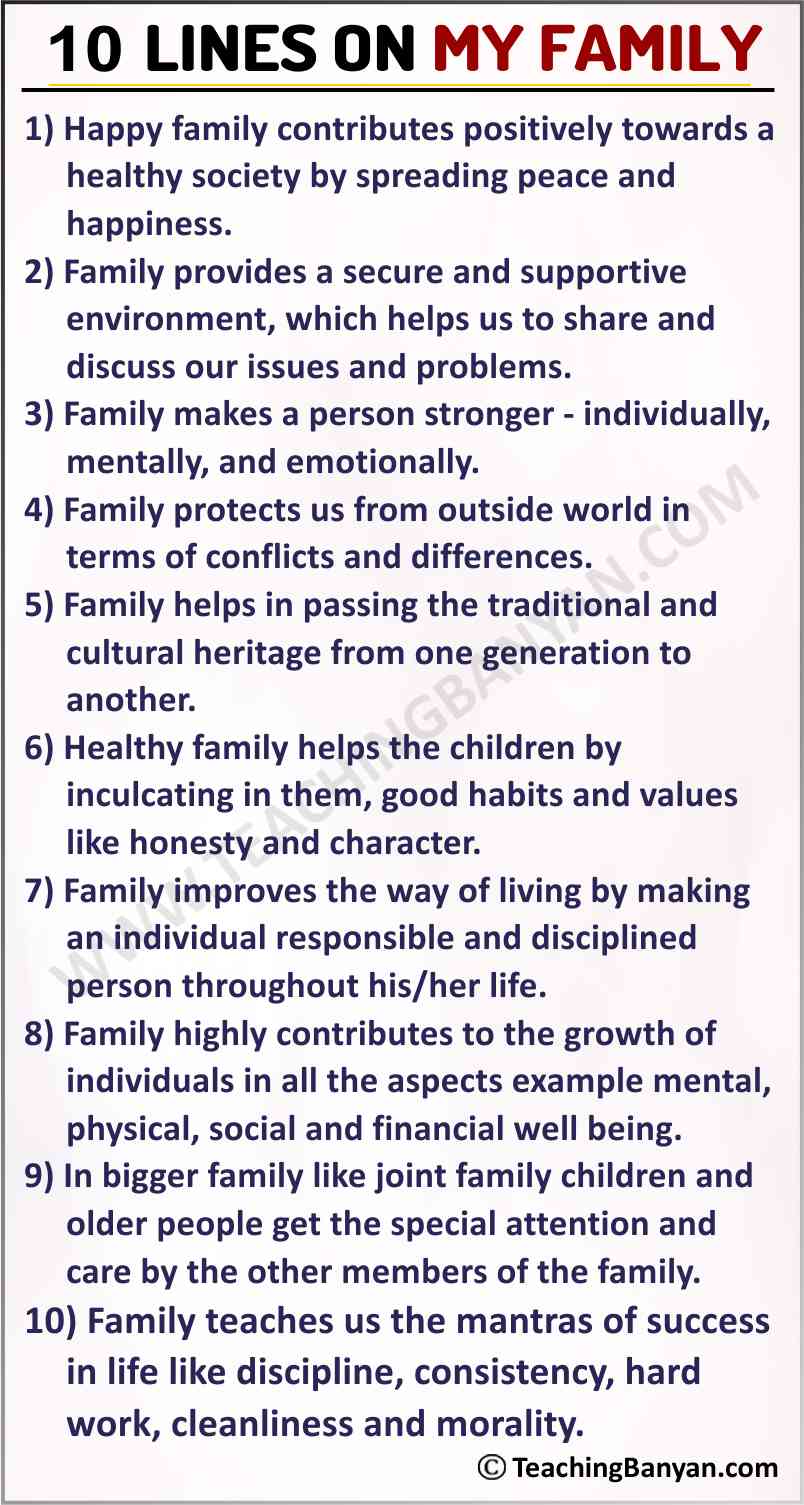 10 Sentences on My Family
1) My family consists of 4 people including my father, my mother, my younger sister and me.
2) My sister and I are very obedient to our parents and love them the most.
3) Our parents treat us like a friend and they always seek for our opinion on every decision.
4) I share every important incident of the day with my family in the evening.
5) Our family is a nuclear family because of our grand-parents have died much earlier of my birth.
6) My sister shares her every problem with me and I try to offer her the best suggestion and guide her.
7) My family is very supportive and my parents are very close to me.
8) Almost on every holiday, we go to visit some tourist places and enjoy the whole day together.
9) Although I have many caring friends, the most enjoyable moment of my life is when I am with my family.
10) Because of the huge support of my family, I live a worriless and joyful life.
5 Lines on My Family
1) My family consists of four members.
2) My family always supports me.
3) I share my feelings with them.
4) My family teaches me good habits.
5) I love my family very much.
---
20 Lines on My Family
1) I have a wonderful family which always stands by my side.
2) My family nurtures me and takes care of me through thick and thin of life.
3) My family gives me ample freedom to pursue my dream and to play outdoor games.
4) Everyone in my family eats dinner together, from young to elder.
5) My family is well known in the neighbourhood for its simplicity and kind-heartedness.
6) My family often invites relatives and friends on festivals and holidays.
7) My family has waded through some of the toughest times by staying together.
8) I will always support my family in every situation.
9) I don't like spending even a single day without my family.
10) My family goes to watch movie together on weekend, and I love it.
11) My family is a joint family consisting of ten family members of three generations.
12) My family lives happily in unison and peace.
13) My grandfather is the head of my family.
15) My family teaches me good moral values.
16) My family members help me in studies and other extracurricular activities.
17) My family supports me in sickness and tough times.
18) Every weekend I go on a long drive or a picnic with my family.
19) My family celebrates every festival, whether local or national, with joy and enthusiasm.
20) I have got the best supportive, inspiring and caring family in the world.
---
Family plays a very important role in our society. Without family we can't live a happy and fulfilled life. We need family members to share our feelings, moments of joy and sorrow in life. Being part of healthy and prosperous family is the real blessing from God.
Related Information:
10 Lines on My Father
10 Lines on Mother
10 Lines on My Mother
10 Lines on Parents
10 Lines on Grandparents