Though we follow many relations throughout our life like mother, father, brother, sister, husband, wife, friends, relatives etc., among all of them, the most beautiful one is of mother's relationship with her son or daughter. Let's read about this pious relation through the sets of 10 lines below.
Ten Lines on My Mother in English
Find here some well written sets of 10 lines, 5 lines, 20 lines, few lines and sentences on My Mother for students of Class 1, 2, 3, 4, 5 and 6. You can get some help in your study from these lines.
10 Lines on My Mother
1) My Mother is my best friend with whom I share all my secrets and can talk freely on any matter.
2) She is a great person who cares about me, thinks about me and wants to protect me from all problems.
3) She is the one who is always concerned about my health and food.
4) She is an important link of the family which connects all the family members.
5) She takes care of all the members of the family, and she knows the needs and wants of every member very well.
6) She sacrifices all her needs, wishes and desires to fulfil her child's needs.
7) Her love towards me as a child is always unconditional, and she takes proper care of me always.
8) She provides a safe and secure environment so that her child could grow up without stress and risks.
9) She is always concerned about my studies and academics; she helps in my homework and teaches me in the evening.
10) When we come late than expected, her eyes always peep out of the door during the time of waiting.
10 Lines and Sentences on My Mother
1) Mother is a supreme and divine creation of God, who loves and cares for her child unconditionally.
2) There is a saying "Behind a successful man, there is a hand of a woman"; the woman is none other than our mother.
3) My mother is a gift of God with motherhood and affection towards her child.
4) My mother is the one I can completely depend on and trust.
5) I respect my mother and also help her in her household activities.
6) I also give a gift to her on occasion of 'Mother's Day' as a tribute to her hard work and care.
7) She is the one who gets worried whenever I fall ill and spends sleepless nights sitting beside me.
8) Her inspirational stories had always played an important role in shaping my life.
9) She is the one who faces all the problems bravely and does not let us encounter those.
10) She always wants to see me as successful and nobleman and guides me to be on a righteous path.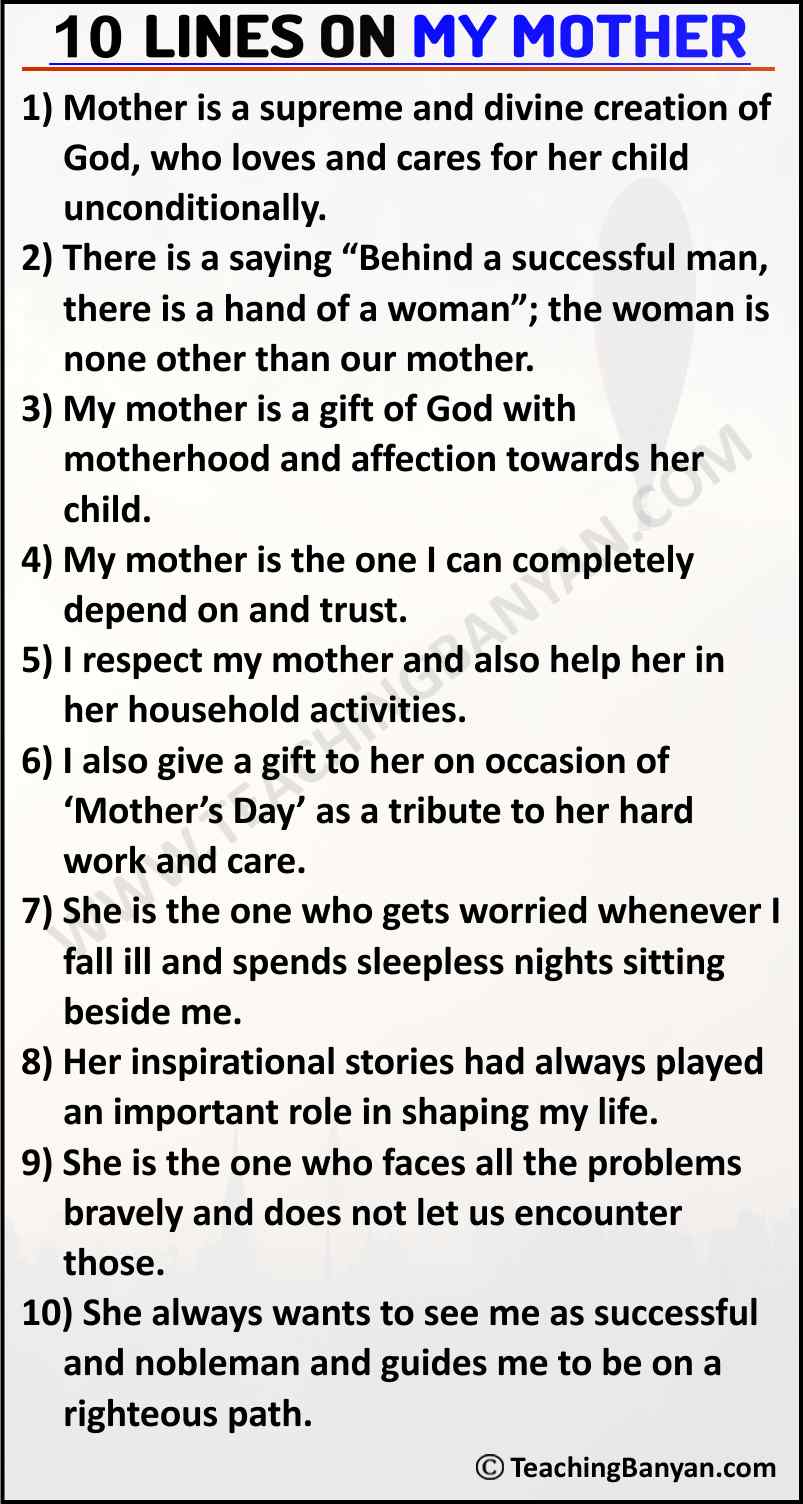 5 Lines on My Mother
1) My mother's name is Mrs. Anju Puri.
2) She helps me in every work.
3) She teaches me good habits.
4) She cooks my favorite food.
5) She is my best friend.
20 Lines on My Mother
1) My mother is the sweetest and most important person in my life.
2) She works as an Account Manager in a textile firm.
3) Though she is a working woman, she also takes care of her family efficiently.
4) She is very good at time management and gives equal time to professional and personal life.
5) She wakes up early morning, prepares breakfast, sends us school before leaving for office.
6) My mother is a hard-working woman who puts extra efforts for our secured future.
7) She showers equal love on me and my sister.
8) My sister and I also help her in household chores when we are at home.
9) We celebrate her birthday every year and give us gifts as a token of love towards her.
10) My mother is the idol of my life, my inspiration and a person whom I respect the most after God.
11) Mothers are the holy creations of God, who help to sustain life on earth.
12) For every child, her mother is the best person in the world, and so am I.
13) I have a mother who takes full care of me from dawn to dusk.
14) She is the only one whom I can believe with my closed eyes also.
15) She is one of the strongest pillars of my family.
16) She works tirelessly from morning to night to fulfil our wishes.
17) We get a holiday on Sunday, but she works on holidays too.
18) Even with so much of work and responsibilities, she carries a big smile on her face.
19) She takes care of our studies and teaches us the important values of life.
20) My mother is the best person for me as she never gets happy when I am sad.
---
Mothers are equivalent to god. If father symbolizes strength, then a mother symbolizes love and care. Without her, no one can imagine a perfect and happy family. She fills a large gap in life and without her life seems meaningless. We, as children, must respect her and obey her always, as she is the cause of our origin.