My city is not a place which has only a geographical location, but it is also the main part of my identity. I use to associate myself with my city; where I belong. I live in Varanasi and I feel proud of my city and when people in my room and my office refer to me as "Banarasi" or "Banarasiya", I feel delighted on being associated with my city.
I have planned that I will settle in my birthplace and right now I am also trying to change my job and want to come back to Varanasi where I will live and work. Varanasi is regarded as a holy city as well as the eternal city of the world.
Varanasi is one of the popular tourist destinations in India and especially it is a hot favourite place for the foreigners, as they love Hinduism and love Varanasi.
Ten Lines on My City in English
We have provided ten lines on my city in English. After reading these lines you will know that how a city is important to us; which city I belong; which city is known as the holy city of India; what are the other names of Varanasi; to which god Varanasi is dedicated to; which are other famous temples in Varanasi; which place near Varanasi is associated to Lord Buddha and how Varanasi is excels in the field of education.
You can add these lines in your essays and paragraph writing in your exam as well as in the school competitions on topics like – my favourite city, my beautiful city or also paragraph writing on "My city". It will also enhance your knowledge on my city; the information can be used in putting on your notice board under the topic 'my city' or can be used in the assembly discussions and will be useful to students from standard 5 to 10.
10 Lines on My City – Set 1
1) There are lots of cities in India and each city has its own distinct identity which makes it popular.
2) For me, my city is not only a place where I live, but also it is a place which is related to my identity.
3) Varanasi is the city where I live and I consider it the best city in the whole world.
4) In fact, Varanasi seems to me as better and more beautiful in comparison to heaven as it is the holy city of India.
5) Varanasi is the only city on earth whose past can be traced back as the holiest city in India.
6) Varanasi is also known as 'Kashi', 'Avimukta', 'Banaras', it is situated on the banks of river Ganga.
7) Varanasi is a city which is dedicated to Lord Shiva and 'Shri Kashi Vishwanath' temple is situated in this city.
8) Varanasi is also known as the city of temples, 'Sankatmochan', 'Durgakund', 'Kaal Bhairav' temple, etc are situated in the city.
9) 'Sarnath' in Varanasi is a place where Lord Buddha gave his first sermon, it is a religious place for Buddhists.
10) A big university of Asia 'Banaras Hindu University' or BHU is in Varanasi founded by pandit Madan Mohan Malviya.
We have provided another set of ten lines on my city. After going through these lines, you will know that who established Varanasi; why 'Shri Kashi Vishwanath' temple is important; which Jain tirthankara was born in Varanasi; which saint had written 'Shri Ram Charita Manas'; which noble laureate was born in Varanasi; which fort is in Varanasi and what Varanasi is famous for.
You can use these lines in your speeches and extempore in the school competitions on topics like – essay on my favourite city, my beautiful city essay, etc. These lines will also increase your knowledge on my city and it will also be very useful in your seminars as well as in your GK quiz competitions especially to the students belonging to class 5 to 10.
10 Lines on My City – Set 2
1) Although I am working in Hyderabad but I belong to Varanasi; I was born and brought up there.
2) Varanasi is an eternal city; people there say that lord Shiva has established Varanasi.
3) Varanasi has been a symbol of Hindu religious and cultural practices, arts and crafts, music, Sanskrit, yoga, Ayurveda, etc.
4) In Varanasi we have Shri Kashi Vishwanath temple which is one of the important ''Jyotirlingas'' of India.
5) Varanasi is the birth place of 23rd Jain Tirthankara "Parshvanatha"; it is also a holy pilgrimage of Jains.
6) Varanasi is also the birth place of noted Hindi story writer and novelist 'Munshi Premchand'.
7) There are 84 Ghats which are located on the riverside of the holy river Ganga.
8) Saint 'Goswami Tulsidas' wrote the famous epic 'Shri Ram Charita Manas' on the Ghats of Varanasi.
9) There is famous 'Ramnagar Fort' in Varanasi which is situated on the banks of the Ganga River, build by 'Raja Balwant Singh'.
10) Varanasi is also famous for its handloom works, silk sarees, wooden toys, gems and jewellery, religious tourism, etc.
We are providing below a 3rd set of 10 Lines on My City. These easy and effectively written 10 Lines will help you in discussions or competitions where you need to speak about your city. Simple vocabulary has been used to illustrate the points in order to make them easily memorable.
10 Lines on My City – Set 3
1) My city of residence is also my favorite city because of some valid reasons.
2) My city has a place for all activities like entertainment, recreational, outdoor, and dining.
3) There are a number of good restaurants in my city which provide a quality dining experience.
4) My city has tremendous educational opportunities in schools, colleges, and technical institutes.
5) My city has adequate health care facilities with some hospitals using advance medical equipments.
6) Mt city is well connected with other main locations, through road, rail and air transport.
7) My city has an elaborate arrangement for garbage collection, segregation, and disposal.
8) My city's local administration makes elaborate security arrangements on festivals and carnivals.
9) My city also has adequate commuting options for travelling within the city – taxi, buses, auto, etc.
10) Recently a new forest planting project has started in my city which will add to its beauty.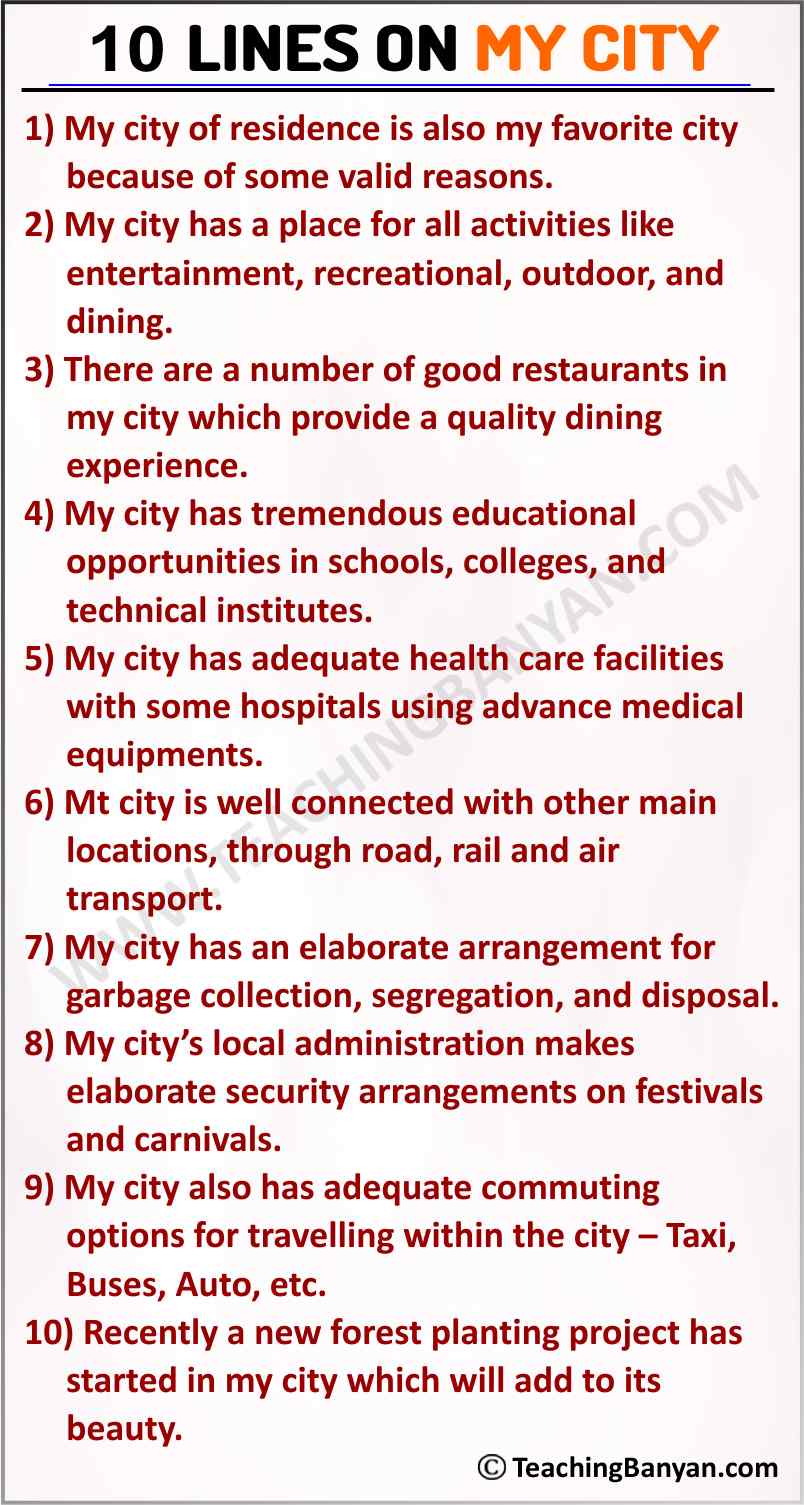 Please find below, another set of 10 Lines on My City. This 4th Set is written in very simple language yet with care to make them easy to remember as well as effective enough to leave a mark. You can use these lines during various competitions or debates.
10 Lines on My City – Set 4
1) My city has something for everyone – students, youngsters, working professionals, and retirees.
2) My city has a sports stadium where sports competitions are held almost every second day.
3) My city also has some of the best market places, selling everything from garments to electronics.
4) My city also has few historical monuments, being maintained by the archeological survey of India.
5) A big ground in the heart of my city has been assigned by the authorities as the vegetable market.
6) My city has given many educationists and eminent personalities to the country.
7) There is a lake in the middle of my city where I like to go on boating during weekends and holidays.
8) My city has adopted modernization, but at the same time keeping the rich cultural heritage intact.
9) Recently, my city was included in the top ten in the list of the cleanest cities in the country.
10) My city has also taken elaborate measures to control pollution by transport and urbanization as well.
Varanasi is an eternal place and is also known as the cultural centre of India which is well known for spiritualism, people come here in search of peace and God. It is another place in the world along with 'Damascus', the capital of Syria whose origins could be traced back to 8000 BC.
Although, Varanasi has many specialties but there are lots of challenges also with growth and development and the beauty of the city. As people who come require facilities so that they can come regularly.
Also See:
10 Lines on India of My Dreams