A school is such a place which provides education to the children. It provides us with an opportunity to learn new things which help us in our lives. We all have many memories attached to our school days. We have created some sets of 10 lines on My School below. We would suggest you check them right now as they will remind you of your school days for sure.
Ten Lines on My School
Set 1
1) The name of My School is Government Queens College.
2) My School is located in Varanasi, Uttar Pradesh.
3) It has a big campus with a green environment.
4) All the teachers in my School teach very well.
5) Discipline and punctuality value the most in my School.
6) There is also a staff room, library, computer laboratory, and chemistry laboratory in our school.
7) My School supports co-education, where girls and boys study together.
8) Around 2000 students study in our school.
9) My school takes place among some of the finest schools in the city. 10) I never want to be absent from school.
Set 2
1) My school is one of the most prestigious schools in the city.
2) Adarsh Public School is the name of my school, located in Varanasi city.
3) My School is a two-storey clean and beautiful building.
4) With studies, other social and cultural activities also happen in my school.
5) There is a ground behind my school, containing many plants and trees.
6) The principal of my school is a very gentle person.
7) There is also a big playground in which we play every day.
8) Every student who comes here receives a good education.
9) My school uniform has white shorts and black trousers with a tie and a pair of black shoes.
10) The clean and positive atmosphere of our school inspires us to study.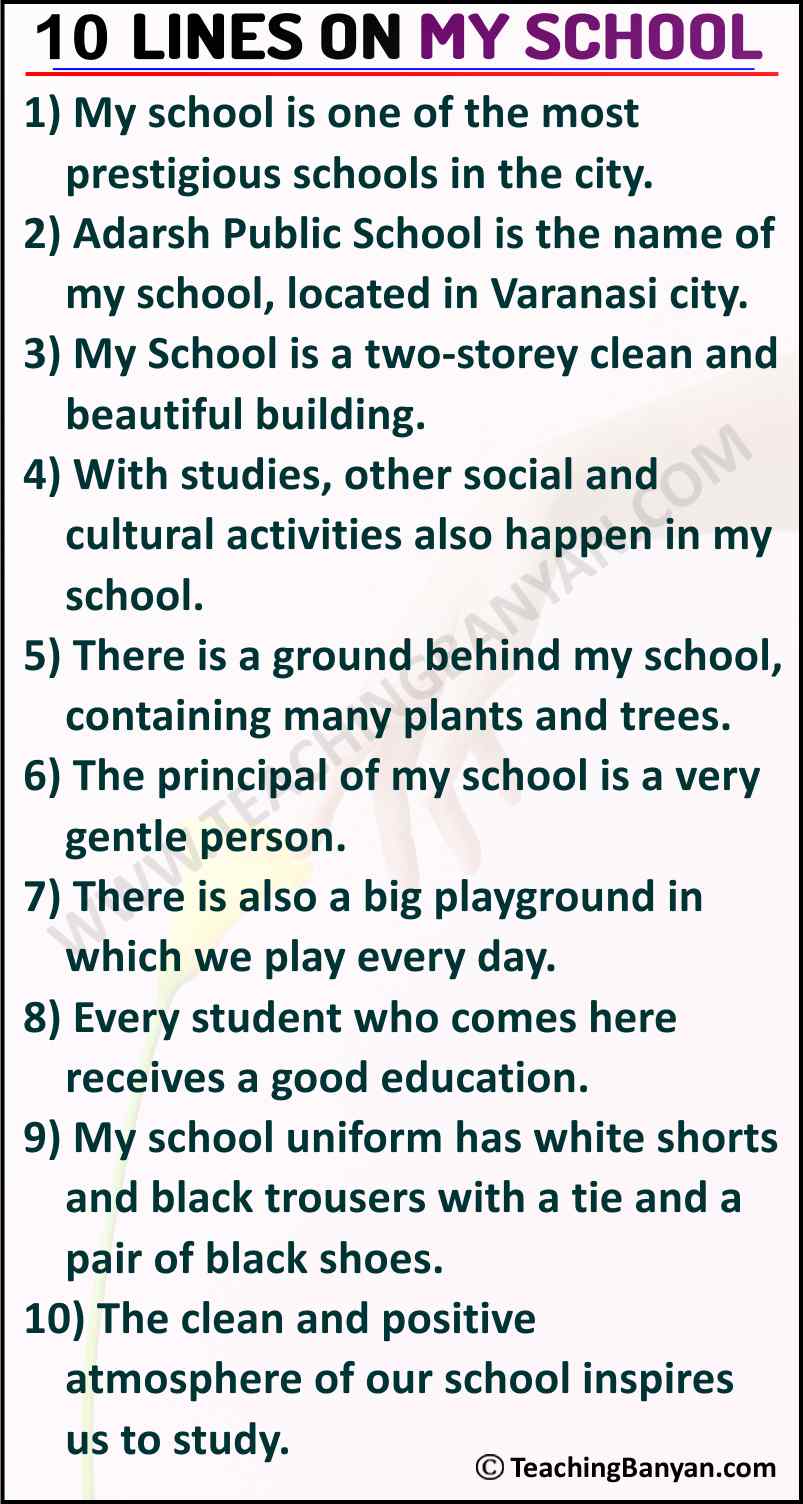 Set 3
1) My school is just a couple of kilometers from my home.
2) My school is like my second home, where my teachers are my guardians.
3) I enjoy being in my school so much that I would love to visit even on holidays.
4) My school has ample space for playing and extracurricular activities.
5) The teachers and staff of my school are very cooperative and caring for the students.
6) My school has separate floors for junior, middle and senior sections.
7) My school organizes annual function and sports meet before the summer vacations.
8) My school aims for taking out the best in every student.
9) Apart from subjective knowledge, my school has also developed my skills.
10) I think I have made some friends for life in my school.
Set 4
1) My school is the best place where I always want to visit.
2) My school provides me education apart from my physical and social development.
3) My school provides nutritious and free meals for all the students.
4) My school is a co-ed, that is, it gives admission to both, girls and boys.
5) My school has a quite decent infrastructure and very generous staff.
6) My school organizes regular health checkups for its own students and nearby deprived children.
7) My school had been awarded for fostering the overall development of the students.
8) My school organizes summer camp during the summer vacation.
9) My school even has a small garden where we love to spend time during lunch.
10) My school aims for producing educated, well mannered and productive citizens for the nation.
---
School life is the best life because it gives us education, memorable experience, friends and happiness. We learn about our social responsibility and skills of teachers in school. School is important for everyone as it helps to acquire the knowledge and skills through which one can build a career in life.
The sets of ten lines above will provide you with an idea to write about your school if you are writing for any competition or for teaching purposes. These are some basic things about a school, but adding some specialty of your school will add more quality to your content. Everybody knows the specialty of his school. So now you are ready to create your content.
Useful Links:
10 Lines on My Favourite Teacher
10 Lines on My Favourite Subject
10 Lines on My Teacher
10 Lines on Ideal Student