Teachers have very significant roles to play in society. They not only help in building the character and competence of the children but also prepare them for the bigger roles like doctors, engineers, scientists and social reformers in the society. My favorite teachers have always guided me to make the right decisions even when I have to face a difficult situation and unpleasant times.
Ten Lines on My Favourite Teacher in English
Here we have provided 10 lines, 5 lines, 20 lines, few lines and sentences on My Favourite Teacher for Class 1, 2, 3, 4, 5 and 6. These lines are easy to read and learn for the students. Also they can use them in creative writings, paragraph writings, essay writing, speech narration, etc competitions in the school.
10 Lines on My Favourite Teacher
1) A teacher is a person who guides students in gaining the knowledge and values in a society.
2) My Favourite teacher is Mr. S.P. Vishwakarma.
3) He teaches us science as a subject.
4) He is fun-loving and spiritual person.
5) He is very polite and friendly in nature.
6) He likes discipline very much and always be on time for the lectures.
7) He always uses practical problems of daily life to clarify the concepts of science.
8) He prefers learning by doing, rather than mugging the formulae of science.
9) He gives special attention to weaker students in the class for making their concepts clear.
10) He always encourages us to participate in sports and extracurricular activities.
10 Lines and Sentences on My Favourite Teacher
1) Mrs. Madhumita Roy is my favorite teacher in the school.
2) She is also our class teacher and takes the attendance of the class before the prayer session.
3) She teaches us history and mathematics.
4) She has a very unique style of teaching the subjects through presentations and charts.
5) She is very kind and loving by nature.
6) She also takes few sessions on moral values like good manners and strong character during regular classes.
7) She is a good artist and motivates us to take part in drama and singing competitions in the school.
8) She correlates the events and happenings by citing examples while taking sessions on history topics.
9) She also teaches us Vedic maths which is very useful in a calculation like multiplication and division.
10) She gives us the assignment and exercises on a daily basis so that our concepts get very much clear.
10 Sentences on My Favourite Teacher
1) Mr. Ajay Sharma who used to teach us Physics has been one of my favourite teachers.
2) He had the height less than the average but his qualities kept him above all other teachers.
3) He was very punctual and never took an unnecessary leave.
4) Coming from a poor family, his dedication towards teaching and learning made him favourite of all.
5) He answered every single question put by the students in his class.
6) He always used to motivate us and that's why we eagerly waited for his class.
7) He patiently listened to the questions of every student without any partiality.
8) Ajay Sir had also allowed us to ask questions related to subject anytime and also in staff room.
9) What I like most in him is that he used to teach poor children in the evening after the school had closed.
10) Mr. Ajay Sharma is one of those teachers who will always have a high respect in my life.
5 Lines on My Favourite Teacher
1) My favorite teacher is Mr. Arun Naik.
2) He teaches us English.
3) He tells many stories to us.
4) He teaches very well.
5) He guides us when we feel difficulty.
20 Lines on My Favourite Teacher
1) Teachers guide us from the darkness of ignorance towards the light of knowledge.
2) Every student has some or the other teacher whom he admires a lot and takes him as his idol.
3) My favorite teacher is Mr. Girija Vallabh who teaches us English.
4) He is from Kerala and joined our school as a replacement for our old teacher.
5) He is a man of simplicity and great thoughts.
6) He makes us understand the concepts in very simple words.
7) He has a special art of relating things with live examples which helps us to understand concepts easily.
8) He focuses on each and every student in the class and special attention is given to the weaker students.
9) Apart from academics, he also cracks jokes and makes study enjoyable and interesting.
10) His way of teaching inspires others and every student of my class has a great respect for him.
11) I also admire one more teacher in my class who teaches me art subject.
12) The art and drawing teacher in my class is my favorite.
13) Her name is Mrs. Alpana Rao and she is also our class teacher.
14) She has a very pleasant personality and she never scolds anyone.
15) She is very patient and always listens to us very calmly.
16) My art and drawing skills have improved a lot and the credit goes to her.
17) She develops a relationship with the students which helps to build a healthy environment of learning.
18) Apart from drawing, she also teaches English to other classes.
19) She often stays after school to help students to improve in their subjects.
20) She is one of the best teachers in my school and has also received the best teacher award this year.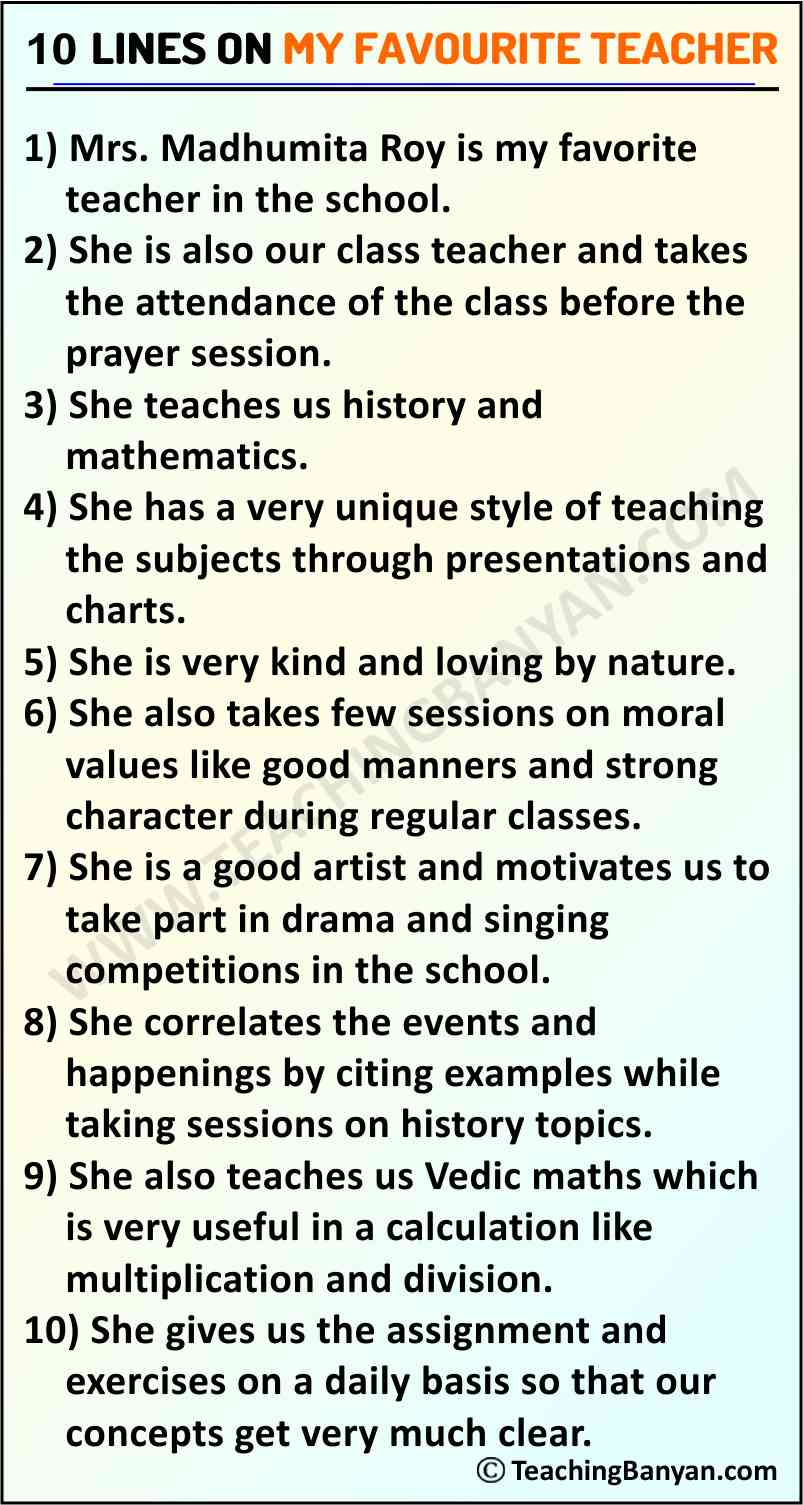 I have immense respect and love towards all the teachers who are acting like torch bearers in society for sharing the path of knowledge and enlightenment to young children apart from teaching the normal routine subjects.
FAQs on Teacher
Q1. Who was India's first lady teacher?
Ans. Savitribai Phule was an Indian artist, educator, and social reformer from the state of Maharashtra. Phule was India's first woman teacher. People also call her the "Mother of Indian Feminism." She also started a group called Mahila Seva Mandal to bring attention to the rights of women.
Q2. Who was the first teacher in the world?
Ans. Confucius is thought to have been the first teacher in the world. He was born in 551 BCE in China. His early life is largely unknown in history. He worked as a private teacher who taught history.
Q3. Who is known as the father of Tecaher's Day in India?
Ans. India marks Teachers' Day every year on September 5 in honor of its second president, Dr.Sarvepalli Radhakrishnan. Radhakrishnan worked at the University of Mysore as a professor of philosophy.
Q4. What is the aim of Teachers Day?
Ans. Teachers day is a chance for people all over the world to honor and respect teachers. It's a way for us to show our teachers how much we appreciate and love them.
More Links:
10 Lines on Importance of Teacher
10 Lines on My School
10 Lines on My Teacher