It is obvious that we all miss our childhood days. Those were the days when we were completely free of all worries and spent all the time playing. We all went to schools, where we used to meet our friends, enjoyed with them and learned with them. There used to be many good teachers but one of them was our favourite. Every one of us had a teacher who was dear to him. Today I am going to tell you about my favourite Teachers with the help of given sets so read with full concentration.
Ten Lines on My Teacher
10 Lines on My Teacher – Set 1
1) My favourite Teacher at my School was Mr. Rajendra Pandey.
2) Mr. Rajendra Pandey used to teach us Mathematics.
3) He was a very humble, kind and helpful person.
4) He made learning maths fun which otherwise used to be a tough subject for me.
5) Now maths is my favourite subject only because of him and his teaching methods.
6) He used to teach us in 5th period and we eagerly used to wait for his lecture.
7) He used to help every single student in his classroom without any discrimination.
8) He always used to motivate us to work hard and taught us to never to do fraud or cheating.
9) He made learning maths so easy that I secured the highest mark in the final examinations.
10) I feel that I am very lucky that I got a chance in my life to learn maths by him.
10 Lines on My Teacher – Set 2
1) Miss Sonam Maurya is one of my favourite Teachers.
2) She used to teach us English in class 3rd.
3) She was the favourite teacher of not only mine but the whole class.
4) Sonam ma'am was a very cheerful lady.
5) More than a teacher, she was a friend for every student in the class.
6) She individually talked to every student and solved his/her doubts on the subject.
7) She never got irritated on asking the same question repeatedly many times.
8) She was also very strict about discipline and manner/behaviour.
9) She used to conduct weekly tests to prepare us for final examinations.
10) She is one of the teachers who have influenced me the most.
10 Lines on My Teacher – Set 3
1) My teacher is very humble and honest towards her profession.
2) She is not only my guru but also my mentor and advises on several issues.
3) My teacher is also very punctual about time and never gets delayed for the class.
4) The effectiveness with which my teacher interacts with the class is just wonderful.
5) The whole class listens patiently to the lecture of my teacher.
6) My teacher also encourages us to take part in sports and other extracurricular activities.
7) I have complete faith in my teacher and follow her every instruction.
8) My teacher also considers all the students equal and treats everyone in the same way.
9) My teacher has complete command over the subject she teaches and I trust her.
10) My teacher is also a responsible housewife who manages work and home effectively.
10 Lines on My Teacher – Set 4
1) My teacher, Mr. Atul is a role model for me and I respect him a lot.
2) Principal Sir and other teachers also respect Atul sir.
3) Atul Sir is not only a good teacher but also a good athlete.
4) I have developed wonderful communication and sports skills under the guidance of Atul Sir.
5) My teacher is more like a friend and a mentor who helps and guides every day.
6) My teacher, Mr. Atul also makes sure that there is no discrimination made among the students.
7) Whenever I feel low or get low grades, he encourages me and helps me to improve.
8) Each and every word of Atul sir is like precious advice to me and to the class as well.
9) He is also hard-working and I have seen him teaching for hours nonstop.
10) I will never ever lose the respect and gratitude that I have for my teacher.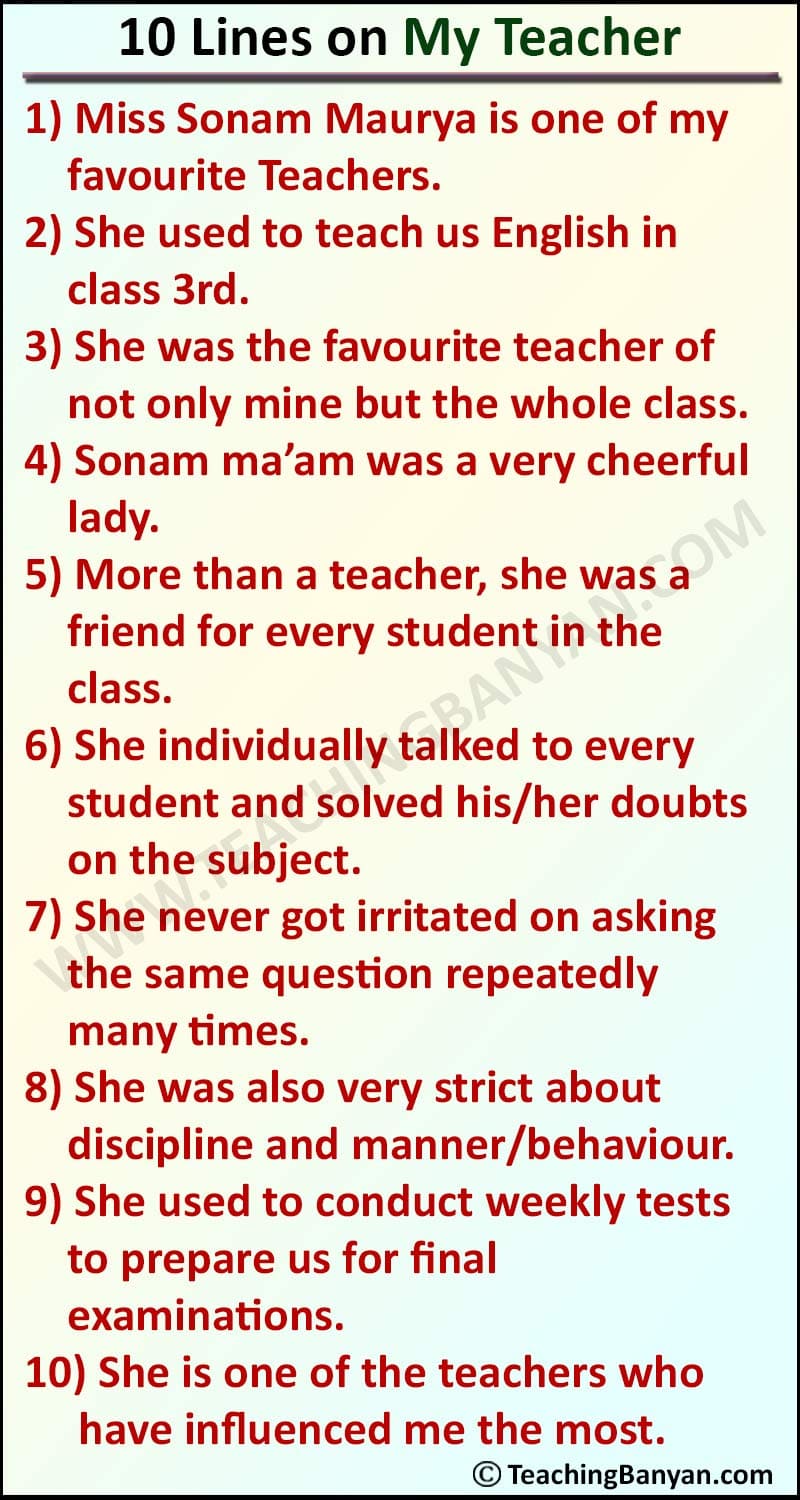 A teacher is a very important factor for a student to grow his mind and develop his thinking capacity. Teachers don't help us to achieve our goal but they teach us how to achieve them. Every teacher has some different qualities because of which s/he becomes dear for few or all of his students.
You should never miss a chance to express your love and respect for the teacher. You can use the above-provided sentences to express your thoughts but one which comes directly from the heart is the real one. So always respect your teachers and understand their value.
FAQs of Teacher
Q1. What is the full form of Teacher?
Ans. A teacher is someone who helps students learn information, skills, or morals through the act of teaching. The full form of Teacher is:
T-Talented
E-Educated
A-Adorable
C-Charming
H-Helpful
E-Encouraging
R-Responsible
Q2. What are the different levels of teachers in school?
Ans. In schools, there are three levels of teachers: PRT (Primary Teacher) for grades 1 through 5, TGT (Trained Graduate Teacher) for grades 1 through 8, and PGT (Post Graduate Teacher) for grades 9 through 12.
Q3. When is National Teacher Appreciation Day?
Ans. Teaching is one of the most important jobs in the world. People celebrate Teacher Appreciation Week every May to show their gratitude to all the teachers who have helped them learn and grow. The first full week of May has always been Teacher Appreciation Week. On the other hand, Teacher Appreciation Day is on the first Tuesday of May.
Q4. Who are some famous teachers of ancient India?
Ans. Some famous teachers of ancient India are: Guru Dronacharya(guru of Kauravas and Pandavas), Chanakya (guru of Chandragupta Maurya), Vasishtha(guru of lord Rama), Gautam Buddha, etc.