A teacher is a person who not only teaches academic subject or any course, but he also changes the overall life of a student. A teacher focuses on the personality of the students and tries to remove the inner darkness of illiteracy and fills the light of knowledge in the inner will of his students.
A teacher is the only person who does hard labor to make his student understand each and every point of knowledge, whether it's of subject or knowledge of life. Our tradition and religious texts have kept teachers one level above from the parents as it is believed that parents give birth to a child but a teacher converts him into a human being.
Ten Lines on Teacher in English
We have provided ten lines on teacher in English.
After reading these lines you will know that who is a teacher, what is the responsibility of a teacher, how teacher helps in shaping the life of students, what are the functions of a teacher, how a teacher helps his students to learn easily, what are the other behaviours of a teacher etc.
You can add these lines in your essays and paragraph writing in your exam as well as in the school competition.
This will also help you while writing few lines on teacher, few sentences on teacher, short essay on teacher, best lines on teacher for class 1, class 2, class 3 or class 4 etc.
10 Lines on Teacher – Set 1
1) A teacher is a person who helps children and other persons to learn and progress in life.
2) A teacher takes the responsibility of shaping the lives and career of his students.
3) They feel pride and honour to direct their students on the right path of the life.
4) A good teacher never does any kind of partiality among his students.
5) Teachers always award their students for good things and punish them for evil things.
6) They spend their whole life in giving quality education to their students.
7) Teachers teach their students to differentiate among good and bad things of life.
8) A teacher understands this fact that not all the students are equally capable and gives special attention to the weaker ones.
9) A good teacher makes learning process easy and interesting for the students.
10) The good impression of a teacher makes them a role model for the students and helps them to become a better individual.
We have provided another set of ten lines on teacher. After going through these lines, you will know that what a teacher means, how a teacher is identified, what is the value of teacher in our life, what saint Kabir has said about teacher, what is the meaning of teacher in Hindi, when Teacher's Day and Guru Purnima is celebrated.
10 Lines on Teacher – Set 2
1) A teacher is a great source of knowledge, prosperity and enlightenment by which anybody can be benefited.
2) Teachers are the gifts of god who make our career and guide us towards success.
3) Teachers make their students academically strong and they always encourage their students to do better in their life.
4) Without teachers it is almost impossible to imagine growth in our life whether educationally, mentally or intellectually.
5) In the words of saint Kabir, "the value of teacher is more in comparison to god and we must be thankful to our teachers".
6) Teachers can be a school teacher or a spiritual guru who shows the path towards god and enlightenment.
7) Teacher is also called as "guru" and in ancient times, there were "gurukuls" where students use to live and attain knowledge from gurus.
8) "Teacher's Day" and "Guru Purnima" are the days dedicated to the teachers for their dedication and hard work they spent in shaping the lives of their students.
9) In India, Teacher's Day is celebrated on 5th September and Guru Purnima is mostly celebrated in the month of July.
10) Teachers Day is celebrated to mark the birth anniversary of Sri Sarvepalli Radhakrishanan who was the first Vice-President of India and a great teacher.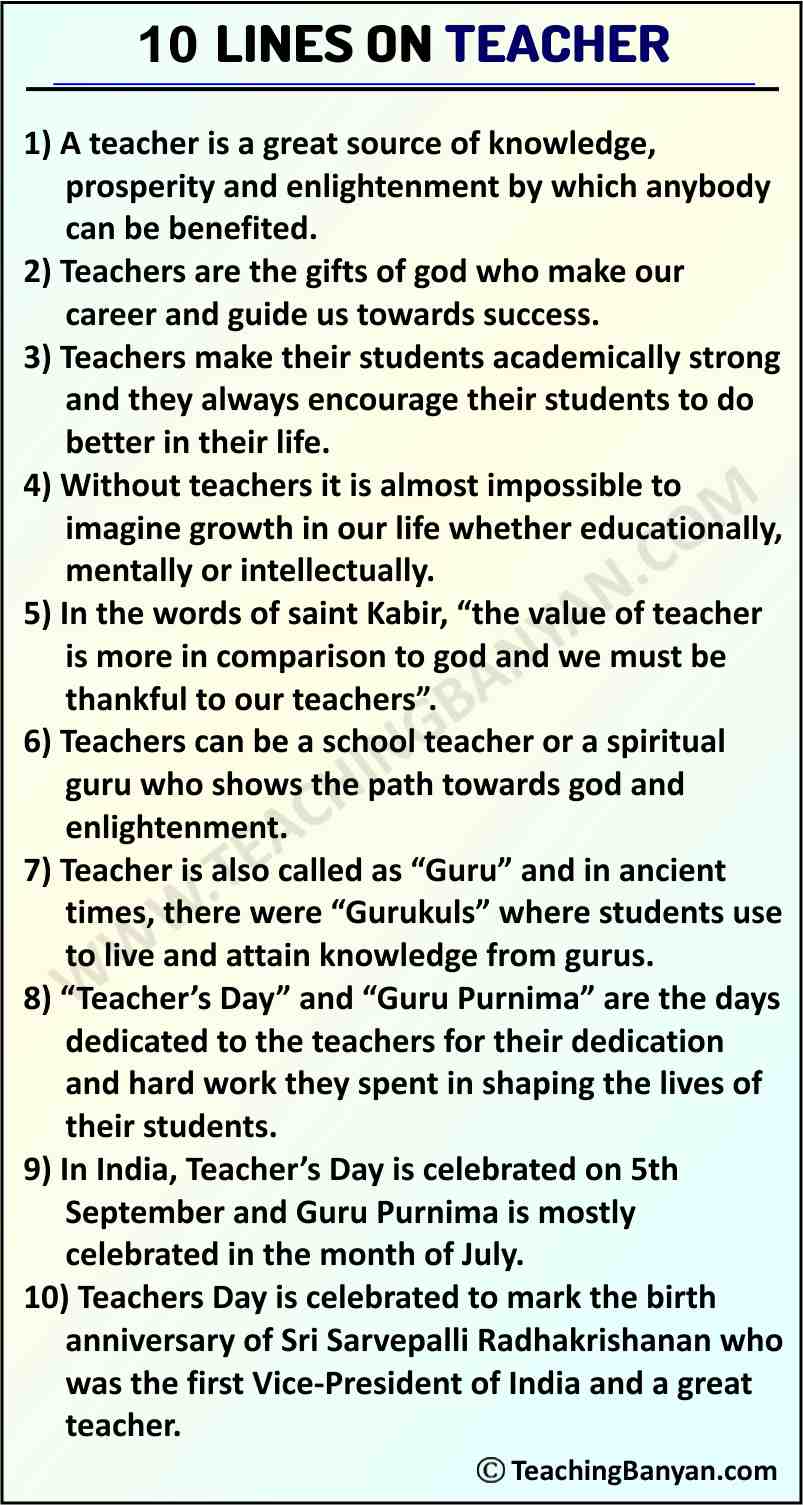 We have provided below 3rd Set of 10 Lines on teacher. The points are written in a way to convey necessary information about teachers. You can use these lines in your school or college program/competition on the occasion of teacher's day.
10 Lines on Teacher – Set 3
1) A teacher is the person who teaches us the necessary skills pertaining to a specific subject.
2) Teacher doesn't only teach us the subject, but also the necessary life skills.
3) Teacher is like a guardian in whose hands our future and social recognition lies.
4) Teacher is the person you can always seek advice from whenever you think you need one.
5) Life of a teacher is committed to the well being and progress of his/her students.
6) A teacher never breaks the trust that his students have on him/her.
7) A teacher always remains faithful to his students and committed to making them educated and civilized.
8) Informally, anyone could take the role of a teacher by teaching voluntarily to a group of people.
9) Teachers play a vital role in shaping the future of the nation by shaping the future of the youths.
10) A teacher could be termed as an educator who educates and imparts knowledge to his/her students.
---
Below we are providing 4th Set of 10 lines on teacher. The points have been written in facts to let you know and admire the role a teacher plays in the society. You can use these lines in your school and college competitions or on the occasion of teacher's day or simply on the occasion of felicitating a teacher.
10 Lines on Teacher – Set 4
1) The contribution of a teacher in shaping the future of youth and nation is immense.
2) A teacher uses his training and skills to impart knowledge and wisdom to his/her students.
3) A teacher plays many roles of educator, caretaker, nurturer, and guardian.
4) A teacher should have mandatory skills and necessary knowledge to teach the students.
5) A teacher by choice has enthusiasm and can create a positive learning atmosphere.
6) The success of a teacher also depends on how well s/he is able to interact with the students.
7) A teacher also plays the role of a motivator by encouraging students below average in academics.
8) Teacher is also responsible to protecting rights of children and their right to education.
9) A teacher must never discriminate among his/her students based on their religion, caste or physical appearance.
10) The profession of teacher is respected throughout the world and is considered pious.
---
We have brought for you the 5th set of 10 lines on Teacher. The sets provided above have already described much about a Teacher still there are some important points about a teacher that should never be missed. The facts and information provided in this set are prepared in easy language and few or all lines can be used by students in their projects on Teacher. I am quite sure that reading this set will be fun for you. So let's start.
10 Lines on Teacher – Set 5
1) A teacher helps students in gaining knowledge and opening his mind to differentiate between right and wrong.
2) After the parents, a teacher plays a key role in shaping the life of a student.
3) The teacher should be friendly in teaching but strict for maintaining the discipline.
4) The teacher makes us strong enough to fight and succeed in our life.
5) A teacher makes learning easier by applying different methods to teach effectively.
6) Teacher always motivates students to do their best and also he feels success on the success of his students.
7) Teacher should take teaching not as a profession but as a passion for him.
8) Teacher provides a good citizen to the nation who contributes in development.
9) Teacher should always work for continuous development of his students without any discrimination.
10) A teacher is not less than our parents so he must be equally respected everywhere.
A teacher is the person who does not have any blood relation with his student but still he dedicates himself to shape his future. A teacher considers his students as his children and works hard to make them successful and feels happy when his student attains a certain milestone in his life.
The celebration of 'Teachers Day' and 'Guru Purnima' is a way by which we pay tribute to our teachers and thank them for their hard work and dedication.