Teacher's Day is a favourite event of almost all the students of the nation, especially of children. It is like a festival for children, and nothing else. Reading about Children Day will not be less than fun which we have provided below in a few paragraphs. You will enjoy reading. Don't just trust me but check it yourself right now.
Short and Long Paragraphs on Teacher's Day
Paragraph 1 - 100 Words
Teacher's Day in India is an annual celebration observed on 5th of September. This is a day to honour our teachers for their valuable work. Teachers hold the actual knowledge, compassion and benevolence for their students. There is huge support from our teachers behind our success.
We celebrate Teachers' Day every year in the memory of Dr. Sarvapalli Radhakrishnan. The former President of India, Dr. Sarvapalli Radhakrishnan, loved the children a lot. He liked teaching and also served as a teacher. He was the favourite teacher of his students. We should always respect our teachers, and try to be their obedient student.
Paragraph 2 - 120 Words
India celebrates Teacher's Day on 5 September every year. There is a significant reason for celebrating the day. 5 September is the birth anniversary of Dr. Sarvapalli Radhakrishnan. He was the first vice-president of India. Dr. Sarvapalli Radhakrishnan had also served as the president of India from 1962 to 1967.
Dr. Sarvapalli Radhakrishnan respected the teachers most. Before joining politics, he had taught in many popular institutes like Calcutta University, University of Mysore and Oxford University. When he became the President of India, his students expressed their wish to celebrate his birthday every year. Dr. Radhakrishnan suggested celebrating his birthday as Teacher's Day every year. Since then, entire India celebrates his birthday as Teacher's Day and honours their teachers.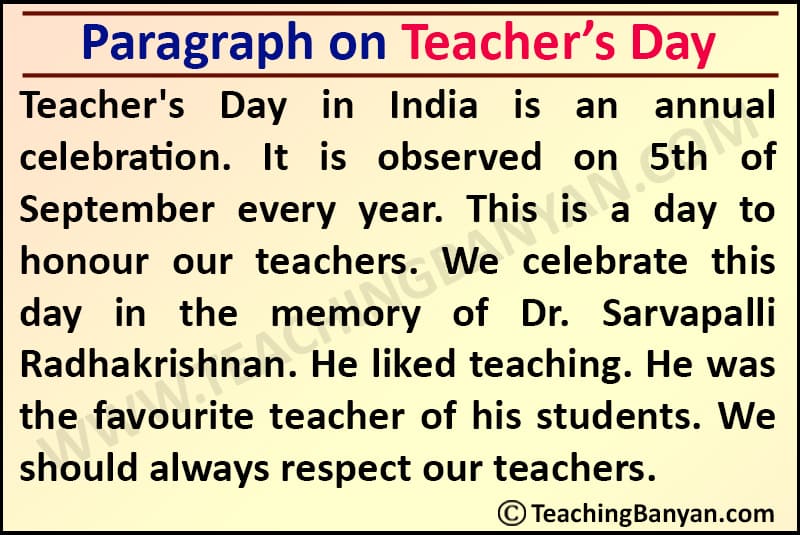 Paragraph 3 - 150 Words
We all have learned a lot from our teachers. Their teachings guide us at every stage of our life. They value the most in our lives, and this is the reason why we celebrate Teacher's Day dedicating them. It is a day to celebrate the most promising bond between the teachers and the students.
Every student should value and respect his teachers. Their hard work and sacrifices for our mental growth are incredible. A teacher sometimes plays a more important role than our parents. They shape up our future and develop our mind to differentiate between right and wrong.
A teacher also does the nation-building work by making the future of people living in a country. Teachers not only teach us, but they also improve our personality, skill level and confidence. They think for every individual, that is why we should think about and honour them on Teacher's Day annually.
Paragraph 4 - 200 Words
Teacher's day celebrated on 5 September in India is an important day in the calendar. This is the day that we celebrate as a tribute to the efforts and work of our teachers. The profession of teaching is one of the most difficult professions in the world because the teachers have the responsibility of educating the youth of the nation.
A teacher has the entire class of children to teach, guide and motivate. It is a very responsible job because every student is different from the other and has his or her ability. A good teacher always keeps his students' interest in his mind and recognizes their abilities to work in that direction. He teaches them to hone the skills of their subject or work, and at the same time takes care that their other activities or subjects should not be affected.
Although we interact with our teachers regularly or very often, we hardly understand their values in our life. We understand their importance only when they turn away from us. The Teacher's Day reminds us to express our gratitude towards them. At least we can show them what they meant for us, and also admire them for their presence in our life.
---
Paragraph 5 - 250 Words
Teacher's Day is the celebration of birth anniversary of Bharat Ratna recipient Dr. Sarvapalli Radhakrishnan. He was a practical and inspirational teacher whom every student of the nation used to love. In the memory of his contributions as a teacher, we celebrate the Teacher's Day to honour our teachers and provide them with all the respect they deserve.
Teacher's Day is such a day for which the teachers and especially children eagerly wait for the whole year. Teacher's Day is a festival of joy, enthusiasm and reverence that is why the people from different parts of India celebrate the day to pay respect to their teachers.
Indian Schools and Colleges conduct the grandest celebration on Teacher's Day. Though the School remain open, the students get a temporary leave from the regular studies and are allowed to enjoy the day in their way. Some students dress up as their teachers and reach the junior classes to guide the students in those classes. They do so to help their juniors for their upcoming exams and have a feeling of a traditional teacher.
Students also decorate their School and Classes and arrange some cake and snacks for their teacher. Their teachers cut the cake, and they deliver some speech. Singing, Dancing and other fun activities are also a part of the celebration of the day which students perform to entertain their teachers.
Students also present a speech to show their gratitude towards their teacher. The occasion of Teacher's Day help strengthens the bond between a teacher and a student.
FAQs: Frequently Asked Questions
Q1. Who was India's second President?
Ans. India's second President was Dr. Sarvepalli Radhakrishnan.
Q2. What was the post given to Dr. Sarvepalli Radhakrishnan after Independence?
Ans. Dr. Sarvepalli Radhakrishnan was assigned the post of Vice President.
Q3. When was Dr. Sarvepalli Radhakrishnan born?
Ans. He was born on 5th September 1888.
Q4. What are some famous books of Dr. Sarvepalli Radhakrishnan?
Ans. Satya Ki Khoj, Indian Philosophy, The Hindu View of Life etc are some famous books by him.