The word Diwali automatically adds a smile to the face of every Indian because it is one of the most awaited festivals of Hindus in India. Other names of Diwali are Deepawali or Deepavali. It is also known as the festival of lights.
10 Lines on Diwali || 10 Lines on Dev Deepawali
Short and Long Paragraphs on Deepavali 2021 in English
I have brought some paragraphs on Deepavali 2021 in English and I hope it will be helpful for you.
Paragraph 1 – 100 Words
Diwali is one of the biggest festivals observed in India. It is celebrated among Hindus as the festival of lights. This festival is celebrated for ages when lord Rama arrived in Ayodhya after killing Ravana. People were filled with joy to welcome their king and the entire city was decorated with lights.
There was a mode of celebration everywhere and a variety of sweets and other delicious recipes were made. Even today we celebrate this occasion with the same spirit. Even today people decorate their house and welcome Goddess Lakshmi, wife of Rama. Rama and Sita were incarnations of Lord Vishnu and Goddess Lakshmi on Earth. People also visit their near and dear ones and offer sweets and make their celebration more special.
Read Also: Paragraph on Bhai Dooj
Paragraph 2 – 120 Words
Diwali is a festival of light and one of the favorite festivals of Hindus. The festival usually falls between the months October-November. It is celebrated with joy all over India. People start preparing for the festival from a week before. They buy lamps, lights, decorative items, and many other items. Sweets are also prepared for visiting friends and relatives.
On Diwali people wear new clothes and offer prayers in the evening with their family members. After the puja, children touch the feet of the elders and take their blessings. Then children run for crackers. People decorate their houses with lights and diyas in such a way that the entire nation looks glowing from the space. Every year NASA issues the Diwali pictures of India from space and it really looks amazing.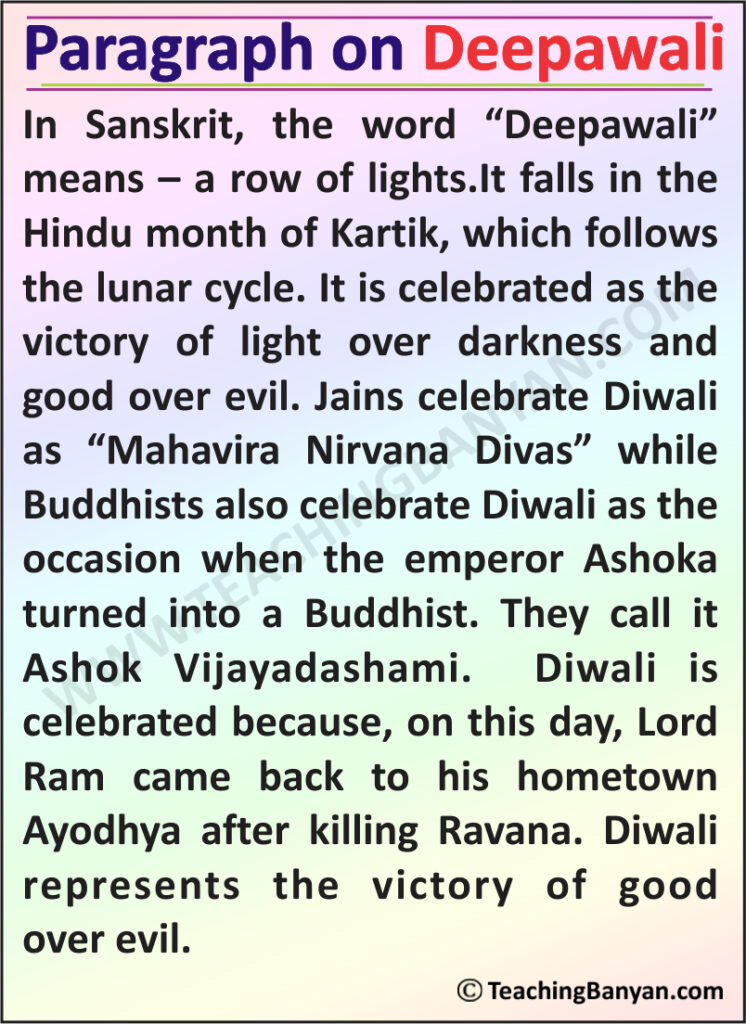 Paragraph 3 – 150 Words
There are various festivals celebrated in India and Diwali is one of them. It is specially celebrated by the Hindu community, but other religions also take part in them with great enthusiasm. It is also known as festivals of lights and crackers. Children love Diwali because they get crackers and sweets.
People eagerly wait for this festival, because some big brands offer favorable discounts during this period and mid of October to November is a festive season in India. Diwali also brings many more festivals together, therefore it is also known as five days festival.
People buy new clothes and many other things on this special day and make their celebration memorable. There are also some rituals believes behind celebrating this occasion. They pray to Goddess Lakshmi as she is a goddess of prosperity, money, and growth in life. People decorate their home with Diya and make beautiful rangoli and express their gratitude to Lakshmi Mata as well as they welcome Shri Rama after his 14 years of exile.
---
Paragraph 4 – 200 Words
Festivals are an integral part of India, and India also holds the title of 'A Nation of festivals. Some famous festivals are Holi, Diwali, Dussehra, Eid, etc. Starting from the year we celebrate different festivals and Diwali is celebrated between October and November because Hindus celebrate their festivals as per Vikram Samvat (a Hindu Calendar). It is celebrated every year on the Amavasya of Kartika Month.
Diwali represents the victory of good over evil, we celebrate this auspicious occasion on the arrival of Lord Rama. He went into exile, and after 14 years when he killed Ravana people of Ayodhya celebrated this occasion and decorated the entire city with diyas. From that day every year, we celebrate Diwali. There are different believes in different religions to celebrate this occasion. Jains, Buddhists, also celebrate this occasion with their own belief.
Diwali is a 5 days festival starting from Dhanteras, on this day people buy some precious metals like Gold, Silver, Brass, etc. and they dedicate it to Goddess Lakshmi on Diwali. After Dhanteras the next day is celebrated as Choti Diwali and on another day we celebrate Diwali by offering prayers and playing with crackers.
Markets get rushed with different colored lights and sweets. All shops look so fresh and clean and you can also find flat sale up to 50% on different items. Really the entire nation looks busy to make their occasion special.
Read Also: Long Essay on Govardhan Puja
Paragraph 5 – 250 Words
In Sanskrit, the word "Deepawali" means – a row of lights. An occasion when we use diyas to decorate our house is named Diwali. It is one of the most awaited festivals in India. Every year in the month of October or November we celebrate Diwali. It falls in the Hindu month of Kartik, which follows the lunar cycle. It is celebrated as the victory of light over darkness and good over evil. People, who stay far away from home for earning or studies return, to celebrate the festival with family and friends.
Not only in India but Diwali is an official holiday in many other countries. It is not only celebrated by Hindus but some other religions like Jains and Buddhists also celebrate it. Jains celebrate Diwali as "Mahavira Nirvana Divas" while Buddhists also celebrate Diwali as the occasion when the emperor Ashoka turned into a Buddhist. They call it Ashok Vijayadashami. Although there are different names, all of us celebrate with the same enthusiasm and decorate our house with Diya.
November is also a harvesting season in India for Kharif crops and the monsoon ends here so farmers worship Goddess Lakshmi to bless them with wealth and prosperity. Diwali is actually a three days festival that begins with Dhanteras, followed by Choti Deepawali and Deepawali.
It is considered auspicious to buy new things on Dhanteras and the markets could be seen filled with the latest decorative items. Children feel happy when because they get fireworks, new clothes, and sweets. All schools and offices remain close for 2-3 days which helps people to make their occasions more special.
FAQs: Frequently Asked Questions
Q1. Why Diwali is celebrated?
Ans. Diwali is celebrated because, on this day, Lord Ram came back to his hometown Ayodhya after killing Ravana.
Q2. Which god is worshipped on this day?
Ans. On this day, Lord Ganesh and Goddess Lakshmi are worshipped.
Q3. Why do children feel happy during Diwali?
Ans. On Diwali, children get to wear new clothes, eat sweets, and burst crackers.
Q4. What festivals are celebrated around Diwali?
Ans. Festivals like Chhoti Diwali, Dhanteras, Bhaidooj, Goverdhan Pooja, and Chhath Puja is celebrated around Diwali.
Related Link: