India is known for its rich traditional and cultural heritage and Chhath Puja is one of the regional festivals that include various rituals performed by devotees. There are different reasons for celebrating this occasion.
10 Lines on Diwali || 10 Lines on Chhath Puja
Short and Long Paragraphs on Chhath Puja/Dala Chhath in English
I have brought some sets of Paragraphs on Chhath Puja below and hope you will like it.
Paragraph 1 – 100 Words
Chhath Puja is a famous Hindu festival. It is mostly celebrated in Bihar, Uttar Pradesh, and many other parts of India. It is also celebrated in West Bengal, Jharkhand, and Chhattisgarh and in countries like Mauritius. It is a 3 days festival performed by keeping fast for three continuous days.
Devotees worship Lord Surya as well as Chathi Maiya on this occasion because she is known as his sister so; people pray to both of them and celebrate this occasion. Mainly females perform this fast but there is no hard and fast rule for it. Anyone can take part as per their physical capacity because people fast for 3 continuous days. People offer Arghya to the setting and rising Sun for two days and complete their fast. It is an auspicious occasion and we love it.
Read Also: Paragraph on Bhai Dooj
Paragraph 2 – 120 Words
Chhath Puja is celebrated every year in the month of November and it falls on the 6th day of Diwali. This is also one of the reasons for calling it Chhath puja because the word Chaati means 6th.
On the Chhath Puja eve devotees gather at ghats, rivers, ponds, and take a holy dip. The festival is celebrated to express devotion towards lord Sun. As we know Sun is one of the biggest sources of energy so, people worship lord Sun. There are different stories behind celebrating this occasion but all of them aim the same.
People sing traditional songs, make maha prasad, and complete their fast by offering evening and morning Arghya to Lord Sun. All the family members take part in the Arghya and show their devotion to Surya dev.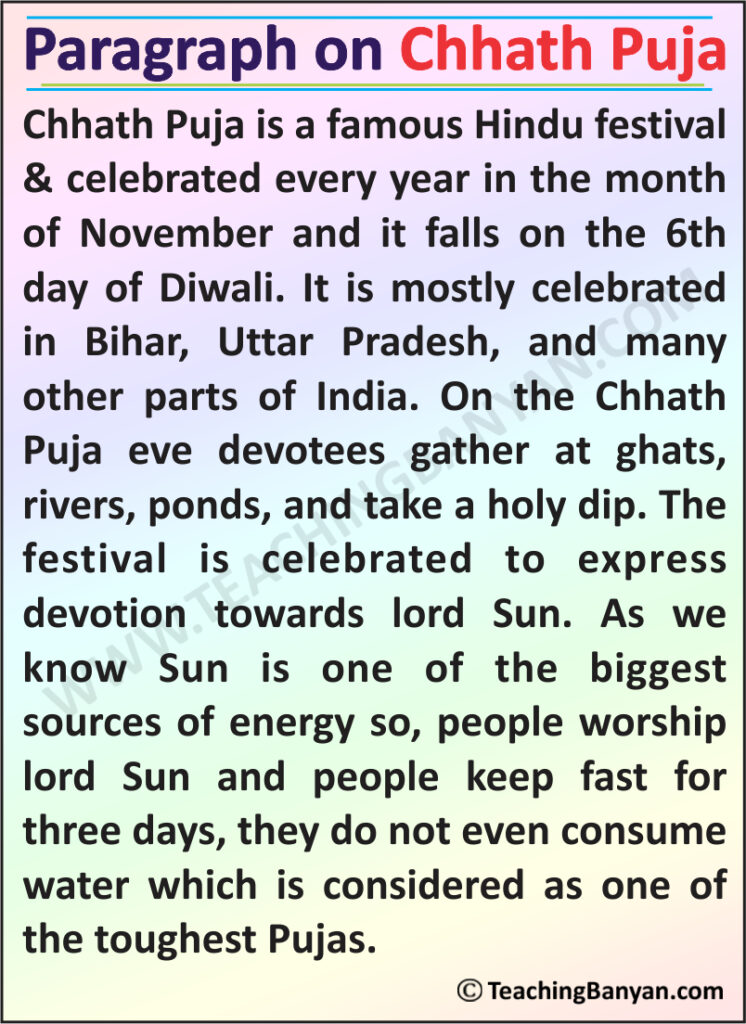 Paragraph 3 – 150 Words
Chhath Puja was one of the main festivals of Bihar but nowadays it got popular in the entire country. Apart from Indians, people living abroad also celebrate it. In this puja people keep fast for three days, they do not even consume water. It is considered one of the toughest pujas.
The first day of Chhath is called "Nahay Khay", it's the day when the devotees take a holy bath in rivers. The second day of Chhath Puja is known as "Kharna", on this day devotees cook "Sweet Kheer" and take it as a Prasad. The third day of Chhath Puja is called "Sandhya Arghya", on this day people offer "Arghya" to the setting sun. The fourth day is called "Usha Arghya", on this day people make "Arghya" to the rising sun and complete their fast.
This festival is very much popular in north India people sing and enjoy their day and perform this fast in groups. It is very auspicious to have the maha prasad so people distribute the prasad to their near and dear ones.
---
Read Also : 10 Lines on Govardhan Puja
Paragraph 4 – 200 Words : Chhath Puja or Surya Shashti falls on the sixth day of Karthik month
There are different types of pujas, festivals and traditional rituals performed in India and Chhath puja is one of them. It is specially celebrated in Bihar and in some portion of Uttar Pradesh. As per Hindu Almanac, Chhath Puja or Surya Shashti falls on the sixth day of Karthik month. As per the Gregorian calendar, Chhath Puja is celebrated in November.
I have mentioned some of the Puja rituals below:
Puja Rituals: Chhath Puja starts with a holy dip of devotees in a river or in nearby water bodies. Devotees give "Arghya" to Lord Sun. They prepare prasad naming "Thekua" and perform many other rituals. The devotees walk barefoot to Ghats from their home by carrying all the Puja items in a Bamboo basket.
Pray to Lord Sun and Chhathi Maiya: On the Chhath Puja eve, people worship lord sun and Chhathi Maiya. They express their gratitude to both of them. Chhati Maiya was the sister of lord Sun so they are prayed together.
Chhath Fair: On Chhath Puja eve, fairs are organized at the local or state level at different places. The Ghats and the riverfront are decorated with thousands of lights and lamps and people join the Puja rituals and visit Ghats with great joy and enthusiasm.
Paragraph 5 – 250 Words
It is a festival of Lord Sun when lots of people gather and offer prayers to the rising Sun. It is one of the most auspicious festivals in north India. Chaathi Maiya was the sister of Surya Deva and she loved his brother a lot. So, people pray to both of them.
Before the Chhath Puja, many government and non-government organizations construct artificial water bodies and ponds for the devotees. The day is also special because on this day the Sun rays are considered more pious. There are different believes for celebrating this festival as when the Pandavas lost their everything in gambling, then queen Draupadi kept this fast and as a result, they got everything back.
Apart from this, there was a King who didn't have any children and he prayed to many deities but everything went in vain. Once a saint performed puja and offered the King a kheer and asked him to give it to her wife. Although they had a son after a few months, he was born dead. So, the King was disappointed and depressed and wanted to commit suicide. Suddenly a lady appeared and asked him to pray to Goddess Chhaati and disappeared. He did the same and as a result, within a year he had a baby boy.
From that time people started performing this auspicious occasion. Anyone can perform this puja either a male or a female depending on one's reverence. Apart from Bihar people in Jharkhand, Chhattisgarh, Uttar Pradesh, West Bengal, also celebrate this occasion with the same spirit.
FAQs: Frequently Asked Questions on Chhath Puja
Q1. In which state, chhath is celebrated?
Ans. Chhath festival is celebrated in the state of Bihar and Eastern Uttar Pradesh.
Q2. When does chhath celebrate?
Ans. Chhath is celebrated after Diwali.
Q3. How long is the festival of Chhath?
Ans. The chhath festival is 2 days long.
Q4. Which god is worshipped in Chhath?
Ans. Sun god is worshiped in the festival of chhath.
Related Link :