Netaji Subhas Chandra Bose was born in Cuttack (Odisha) on 23 January 1897. He was son of Prabhavati Dutt Bose and Janakinath Bose. In 1938, he served as a president of Congress. He was a patriotic leader. One of the famous slogans of Netaji includes; "Give me blood and I will give you freedom". He was inspired from the teachings of Swami Vivekananda. However, the demise of Netaji is still a mystery. The birth anniversary of Subash Chandra Bose is celebrated as Parakram Diwas in India.
Ten Lines on Parakram Diwas/Day of Valour in English
Here, I'm presenting ten lines on Parakram Diwas in India in the form of sets. It will be helpful for students of all age groups as the language is kept simple. You can learn various aspects of this day through these lines.
Set 1
1) Every year 23 January is observed as Parakram Diwas (Day of Valour).
2) It is celebrated on the birthday of Netaji Subhas Chandra Bose.
3) Initially this day was celebrated as "Netaji Subhas Chandra Bose Jayanti".
4) The Ministry of Culture had announced the observance of the first Parakram Diwas on 19 January 2021.
5) This day was suggested as "Desh Nayak Diwas" (Day of National Hero) by the Trinamool Congress.
6) However, the family members had suggested celebrating this day as "Desh Prem Diwas" (Day of Patriotism).
7) Some states like Jharkhand, West Bengal, Assam and Tripura observe a holiday on this day.
8) This day is celebrated to commemorate his contribution towards the nation.
9) From 125th birth anniversary of Netaji in 2021, the Government decided it to be celebrated as Parakram Diwas.
10) The inaugural function of Parakram Diwas was organized at Victoria Memorial Hall, Kolkata.
Set 2
1) This day inspires citizens, especially youths of the nation.
2) Many ministers including the Prime minister and the President pay tribute to Netaji on this day.
3) Netaji Subash Chandra Bose was an Indian freedom fighter.
4) Various controversies are involved with the name of this celebration.
5) In order to organize Parakram Diwas, a panel headed by Amit Shah (Home Minister) was set up by the Centre.
6) In order to mark this occasion, Narendra Modi inaugurated a permanent exhibition in Kolkata.
7) A book, "Book: letters of Netaji (1926-1936)" was disclosed on this day.
8) Year 2021 is marked as "Parakram Varsh" (Parakram Year) by the Indian Government.
9) On first Parakram Diwas, "Amra Nuton Jouboneri Doot" (we are the messengers of new youths) a cultural program based on the theme of Netaji was also organized.
10) It is a national event observed all around India.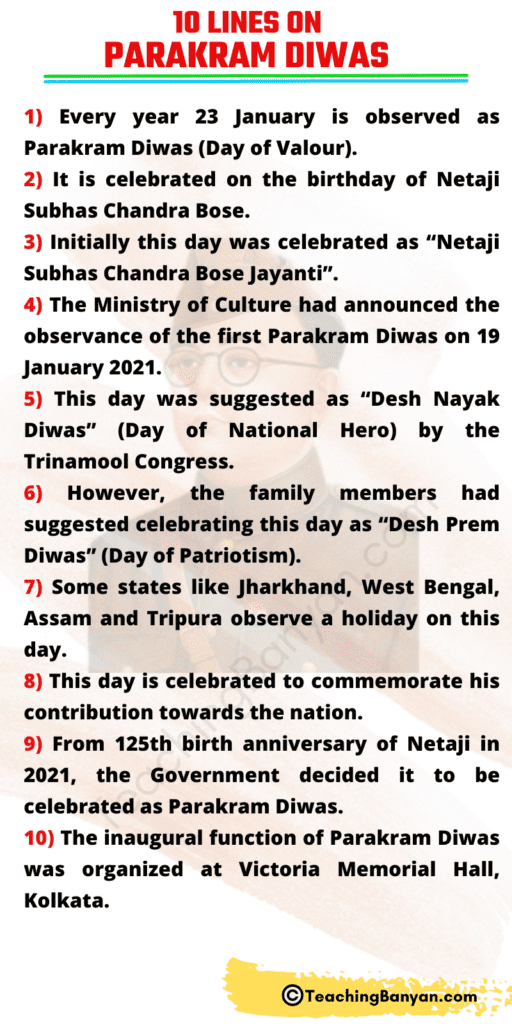 Conclusion
Several steps are taken by the Indian Government to honor Netaji Subhas Chandra Bose. In order to commemorate the contribution of Netaji, postage stamps and commemorative coins is released. At the Red Fort, Netaji Subhas Chandra Bose Museum was set up. Many institutions and universities have been set up by his name. Howrah Kalka mail was renamed as Netaji express.
I hope the above given lines on Parakram Diwas would be beneficial for you to find information related to this topic.
Read Also:
FAQs: Frequently Asked Questions on Parakram Diwas in India
Q.1 What was the famous book of Subash Chandra Bose?
Ans. "The Indian Struggle" was the famous book of Subhash Chandra Bose.
Q.2 Who gave the title "Netaji" to Subash Chandra Bose?
Ans. German and Indian officials entitled Bose with "Netaji" for leading Azad Hind Fauj.