I can't believe that you don't know Swami Vivekananda. Of course, you do. It is possible that you don't have much information about his biography. So you should be glad that we have brought some sets of 10 lines on Swami Vivekananda for you. You can read them below, and they will provide you with information about him without taking much time.
Ten Lines on Swami Vivekananda in English
Set – 1
1) Swami Vivekananda was a Hindu monk and a person of literature in India.
2) He had born in Calcutta as Narendra Dutta during the British government on 12 January 1863.
3) He completed graduation in 1884 and started reading the works of many renowned writers and authors.
4) He met his spiritual Guru Swami Ramakrishna in 1881.
5) In 1897, he founded Ramakrishna Math and Ramakrishna foundation on the name of his Guru.
6) He had attended and delivered a speech at the Institute of Chicago on 11 September 1893 that made him globally famous.
7) He established the branches of Ramakrishna Mission also in other countries.
8) He had founded Shanti Ashram in California and many Vedanta Societies in San Francisco.
9) He has also contributed to the literary field with his works Raja Yoga, My Master, Bhakti Yoga, etc.
10) He died on 4 July 1902 near Belur Math.
Set – 2
1) Swami Vivekananda had a strong memory since his childhood.
2) He had read all Hindu scriptures like Vedas, Upanishads, Bhagwat Geeta, Ramayana, and Mahabharata.
3) He was about 25 years old when he became a monk.
4) His speech in Chicago made him globally famous.
5) He followed his guru Ramakrishna throughout his life and took all his responsibilities after his death.
6) During his visit to the UK, he met Margaret Elizabeth Noble who later became his disciple known as Sister Nivedita.
7) Swami Vivekananda never allowed a woman to enter in his monasteries.
8) People say that Swami Vivekananda suffered from 31 diseases.
9) He had already announced that he would not achieve the age of 40 and died at the age of 39.
10) The birth anniversary of Swami Vivekananda in India is celebrated as National Youth Day.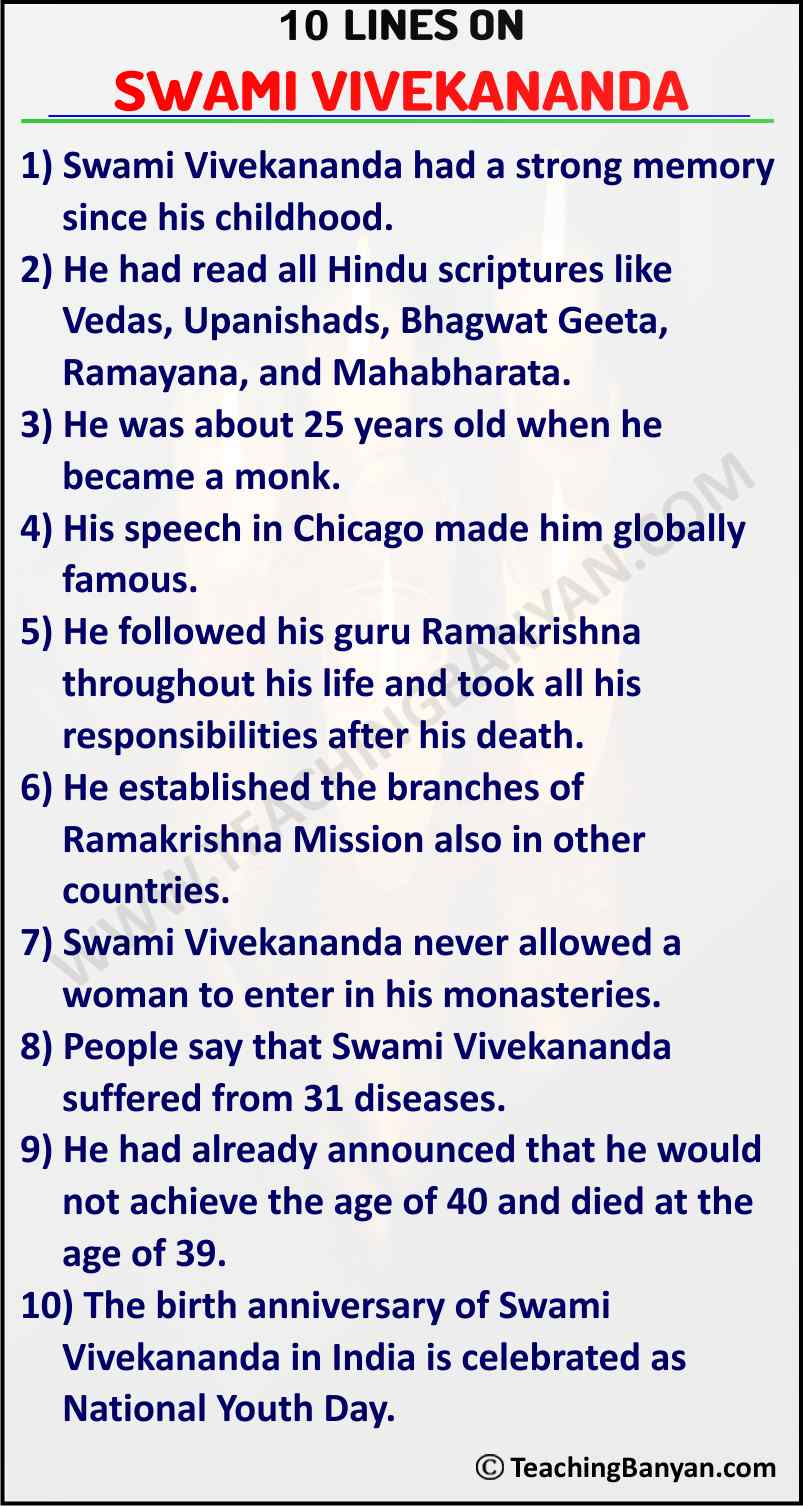 Swami Vivekananda was a man of prodigy. He has shocked the world with his talents and skills. He always used to do meditation, and this is what provided him with mental power. We all should learn from him and try to be like him. He was, he is and will always remain an inspiration for the youth of the world.