Red Fort is the most amazing piece of Mughal architecture and is a famous tourist destination in India. The place which has been declared as a world heritage site by UNESCO in 2007 attracts millions of tourists every year. Red Fort is located at the bank of river Yamuna in New Delhi. Red Fort which has been the centre of many political events in the history of India is one of the famous architectural masterpieces like Taj Mahal, Qutub Minar, Jama Masjid and Jantar Mantar in India.
Ten Lines on Red Fort in English
Here we have provided 10 lines, 5 lines, 20 lines, few lines and sentences on Red Fort for Class 1, 2, 3, 4, 5 and 6. These lines are easy to read and learn for the students. Also they can use them in creative writings, paragraph writings, essay writing, speech narration, etc competitions in the school.
10 Lines on Red Fort
1) Red Fort was built by Mughal Emperor, Shah Jahan in New Delhi, India in the year 1648.
2) Red Fort is one of the famous historical monuments in India.
3) Red Fort is popularly known as Lal Quila in Hindi.
4) The walls of Red Fort are built using 30-metre high red sandstones and marbles.
5) Red Fort has a total length of around 912 metres and a total breadth of 510 metres approx.
6) Red Fort is located at the bank of Yamuna River in New Delhi, India.
7) Red Fort has been listed to the UNESCO's World heritage site.
8) Red fort has a museum, Rang Mahal, Diwan-e-Khas and other beautiful structures within it.
9) Red Fort has been the glory of India for many years because of its skilled architectures.
10) Prime Minister of India hoists national flag at the red fort every year on Independence Day.
10 Lines and Sentences on Red Fort
1) Red fort is one of the attractive destinations for tourists around the globe.
2) Red fort is built during Mughal era after a lot of planning by the skilled professionals setting an example of an architectural masterpiece.
3) The roofs and walls of structures within Red Fort like Diwan-e-am and khas are built using gems, stones and decorative silver linings.
4) Red Fort opens every day of the week from 9:30 am to 4:30 pm, except on Mondays.
5) The best time to visit Red Fort is from October to February as the weather in Delhi remains cool and pleasant during these months.
6) The light and sound show is being organized at Red Fort daily except Monday for tourists, post 6 pm in the evening.
7) Millions Of students and researchers visit Red fort because of its architectural and historical significance in India.
8) The Red Fort is surrounded by famous historical monuments like Qutub Minar and Humayun's Tomb and India Gate.
9) It took almost around 10 years to build Red Fort. The construction started in 1638 and got over in 1648.
10) Government from time to time allocate budget for preserving the historical asset of India, Red Fort.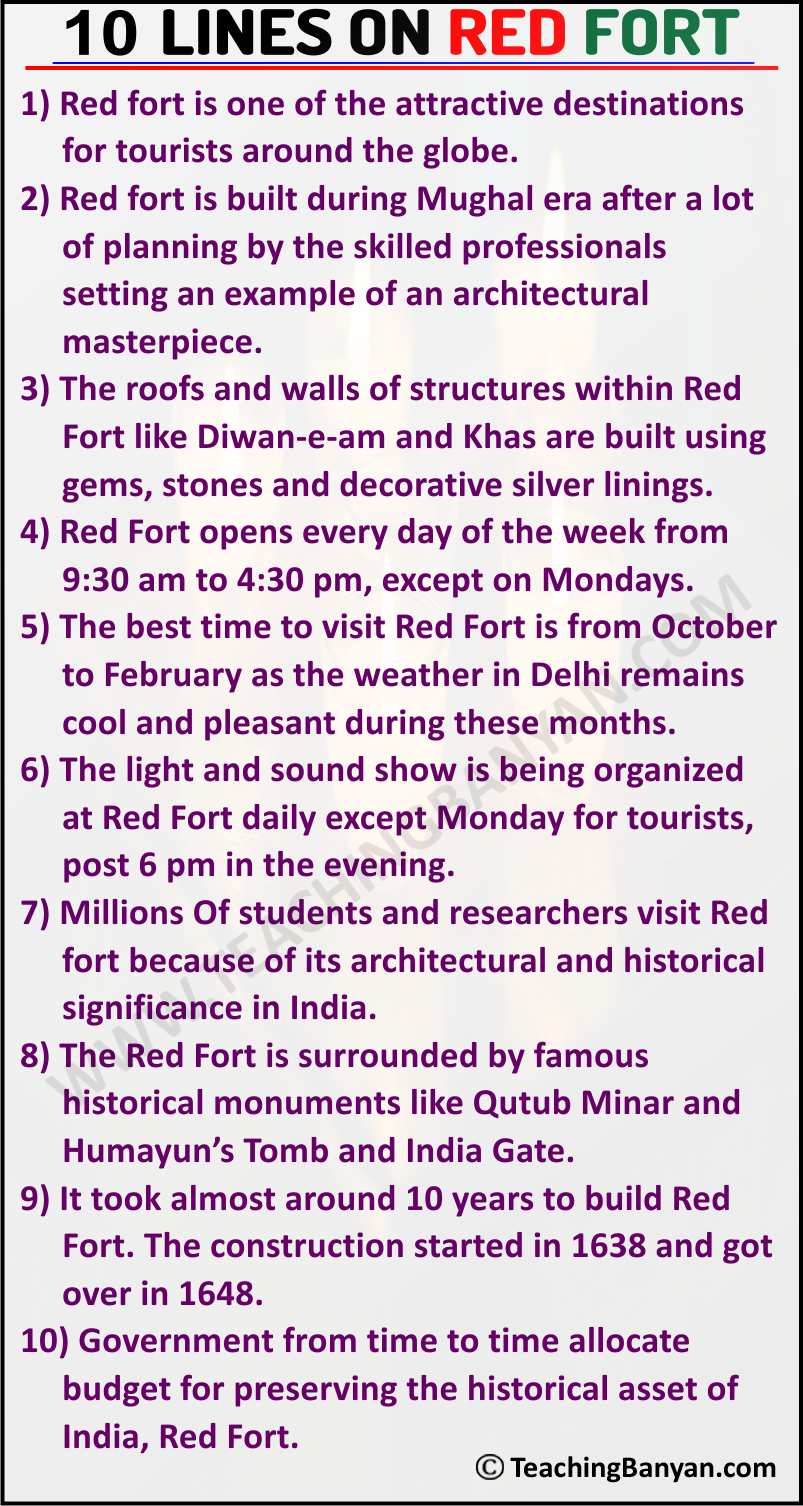 5 Lines on Red Fort
1) Red Fort is a historic building in Delhi.
2) It is also known as Lal Quila.
3) It is among the UNESCO heritage site.
4) Shah Jahan constructed the Red Fort.
5) People around the world come to see Red Fort.
20 Lines on Red Fort
1) The architecture of famous Red-Fort was created by Ustad Ahmad Lahori.
2) The Red-Fort in New-Delhi is a historic monument and a huge centre of attraction for tourists.
3) The Red-Fort took almost 10 years to be completed.
4) The Prime-Minister of India unfurls the Indian Flag from Red-Fort every year on Independence Day.
5) There are three gates available to enter the Red-Fort.
6) The famous Kohinoor diamond was a part of the throne of the kind located in Diwan-e-khas.
7) The Red-Fort is built in octagonal shape.
8) After acquiring Red-Fort, the British Government sold its many important and valuable gems and other objects.
9) The Rang Mahal is a very beautiful part of Red-Fort which was specially made for emperor's wives, mistresses and maids.
10) The main entrance of Majestic Red-Fort is 'Lahori Gate'.
11) Red-Fort is also called 'Lal-Qila' in Hindi because of its red walls made up of sand-stones.
12) The construction of Red-Fort was started by Mughal Emperor Shahjahan in 1638 and finalized in 1648.
13) The Red-Fort lies along the bank of river 'Yamuna'.
14) The Red-Fort was originally white and red in colour and was painted red by the British Government.
15) It covers an area of about 254 acres which is surrounded by the boundary of approx 2.4 km.
16) The Red-Fort has two major parts called 'Diwan-e-Aam' and 'Diwan-e-Khas'.
17) The protective boundary walls of the Red-Fort are about 75 feet high.
18) Being the residence of many Mughal Emperors, the Red-Fort was also called the 'Blessed Fort' or 'Qila-e-Mubarak'.
19) Rs. 500 note of Indian Currency depicts a beautiful image of Red-Fort.
20) The famous Red-Fort is one in the list of UNESCO World Heritage Sites since 2007.
---
Red Fort is a historically very significant monument. Tourists especially students and researchers from all around the world visit this place in large numbers to learn the significance of beautiful monument in Indian history.