Almost every individual of India knows about Pandit Jawahar Lal Nehru. He has served India before its independence as well as after it. Now, it is time for us to have some detailed information about him for which we have created some sets of 10 lines. These sets will provide you with some important information about Pandit Jawahar Lal Nehru in a very short time.
Ten Lines on Pandit Jawaharlal Nehru in English
You can find here some well written sets of 10 lines, 5 lines, 20 lines, few lines and sentences on Pandit Jawaharlal Nehru for children and students of Classes 1, 2, 3, 4, 5 and 6 to get help in their school assignments.
10 Lines on Pandit Jawaharlal Nehru
1) Nehru had born on 14th November 1889 at Allahabad in United Province.
2) He belonged to a community of Kashmiri Pandits.
3) Nehru had joined the Theosophical society of Annie Besant at the age of 13.
4) He had completed graduation from Trinity College, Cambridge in 1910 with an Honours degree in Natural Science.
5) Pandit Nehru practised Law from the Inner Temple London.
6) He had married to Kamla Kaul Nehru on 8th February 1916.
7) Nehru was a part of Annie Besant's Home Rule League in 1916.
8) He remained loyal to Gandhi even after the later called off the non-cooperation movement.
9) He was the first to hoist India tricolour in 1929 demanding Independence for India.
10) He was also the first Prime Minister of India, from 15th August 1947 till 27th May 1964.
10 Lines and Sentences on Pandit Jawaharlal Nehru
1) Jawaharlal Nehru's father was Motilal Nehru, and his mother was Swaroop Rani Nehru.
2) Nehru was an eminent leader of the Indian Independence struggle.
3) He became the Congress president in 1929 and called for complete independence from the British rule.
4) Jawaharlal Nehru wrote 'Discovery of India' during his imprisonment in 1942-46.
5) He became the first Prime Minister of independent India.
6) His inaugural speech as a Prime Minister is famous as the 'Tryst with Destiny'.
7) He had served office from 1947 to 1964 as the Prime Minister.
8) 'Children's Day' in India is the birth anniversary of Pandit Jawahar Lal Nehru.
9) Jawaharlal Nehru died on 27th May 1964 due to cardiac arrest.
10) 'Shanti Van' near 'Raj Ghat', in New Delhi is the resting place of Nehru.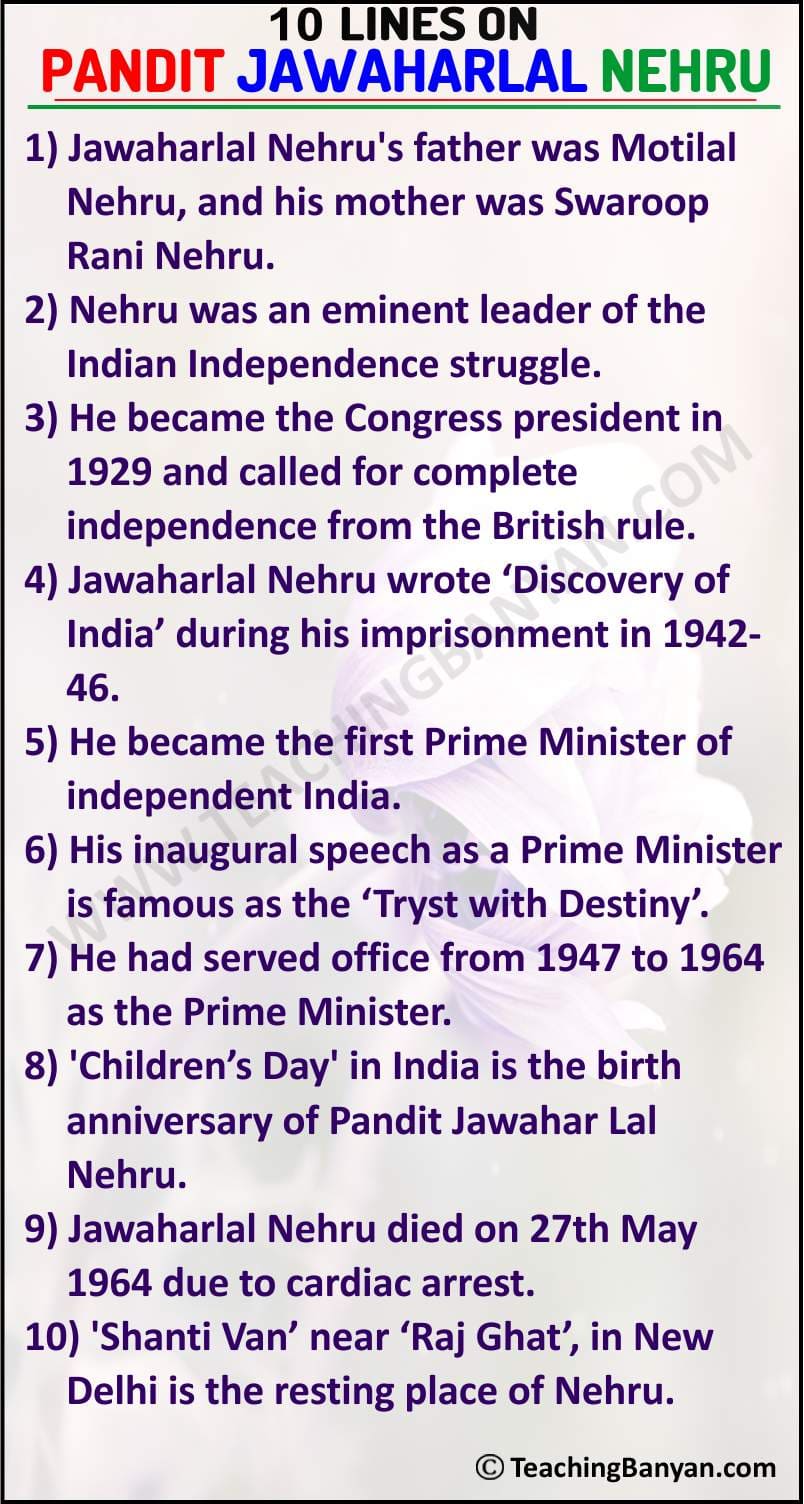 10 Sentences on Pandit Jawaharlal Nehru
1) Motilal Nehru, the father of Jawahar Lal Nehru, was a wealthy Barrister.
2) Nehru was an eminent personality of Indian freedom struggle.
3) Apart from being a good leader, Nehru was also a great writer.
4) Nehru's policy of 'Non-Alignment' and 'Panchsheel Treaty' showed his preference for peaceful coexistence between countries.
5) He was fond of children and believed that the future of India lies in the young hands of the children.
6) Nehru was also fond of nature and used to visit the foothills of Himalayas very often.
7) Nehru used to respond personally with a thank you note to each of the birthday greetings received from children.
8) Nehru brought many social and political reforms and also encouraged India's industrialization growth.
9) The Children's Day in India is to spread awareness for children rights, education and care.
10) Jawaharlal Nehru was one of the great personalities India ever had.
5 Lines on Pandit Jawaharlal Nehru
1) Pt. Jawaharlal Nehru was the first Indian Prime Minister.
2) He was a prominent figure in India's freedom struggle.
3) His birthday is marked as Children's Day.
4) Children used to call him "Chacha Nehru".
5) Pandit Nehru was a follower of Mahatma Gandhi.
---
20 Lines on Pandit Jawaharlal Nehru
1) The first Prime Minister of Indian Pandit Jawaharlal Nehru was a paramount leader of Indian Independence Movement.
2) He was widely famous as 'Pandit Nehru' and 'Chacha Nehru' in India.
3) The credit goes to Pandit Nehru for making India a developing country with its systematic management.
4) Pandit Nehru wrote his autobiography 'Towards the Freedom' when he was in Jail.
5) His book 'Discovery of India' showcases the rich cultural heritage of India.
6) Nehru accepted Mahatma Gandhi as his Political Guru and followed his principles throughout his life.
7) Jawaharlal Nehru never got a Nobel Prize although he was nominated for it 13 times.
8) His daughter Indira Gandhi was the 3rd Prime Minister and 1st female Prime Minister of India.
9) His wife Kamala Kaul was a Kashmiri Brahmin Girl.
10) Nehru used to call his Kashmiri friend Sheikh Abdullah his blood brother.
11) The father of Pandit Jawahar Lal Nehru had been twice the president of Indian National Congress.
12) He was older than her wife Kamala Nehru by ten years.
13) Nehru met Mahatma Gandhi in 1916 and became affected by his ideology of non- violence.
14) During his service as the prime minister, India led towards the industrialization and increasing agricultural production.
15) He also focused on improving science and technology and upgrading the status of women in the country.
16) Apart from being the Prime Minister of India, Nehru also took additional responsibility of other ministries.
17) He took the additional responsibilities of Defence, Finance and External Affairs Ministries for short periods.
18) Nehru tried to imbibe democratic and secular values in India and worked on the goal of making it self-reliant.
19) The writings of Bernard Shaw, J.M Keynes etc. highly influenced Jawaharlal Nehru's political and economic thought.
20) He got Bharat Ratna in 1955 for his valuable contributions to the country.
---
Pt. Jawaharlal Nehru was the first and the longest-serving Prime Minister of India. He was a man of vision, and his decisions and policies made India come out of the hundreds of years of foreign rule. His non-alignment policy during the cold war added fuel to the Indian development on all the fronts. He always dreamt of a self-reliant India and also worked towards achieving it.
See Also:
10 Lines on Jawaharlal Nehru Port
10 Lines on Jawaharlal Nehru Stadium
10 Lines on Jawaharlal Nehru University