A role model is a person who inspires people to live meaningful lives. Role models motivate young people to live the life of integrity, optimism, compassion and hope. Very simple people in society or family can be our role models. They can be our parents or friends who guide us during a difficult time. Role model plays an important part in developing personality and attitude of an individual. The values, belief and behaviour are the three important traits which are deeply influenced by our role model in life.
Ten Lines on My Role Model
Set 1
1) My father is the role model of my life.
2) I always desire to become like him.
3) He is only the earning member of my family.
4) He does a lot of effort to provide us everything that we need.
5) He encourages me whenever I am hopeless.
6) He guides me in every step of my life.
7) His teachings in form of moral values are valuable.
8) He is a disciplined man and does all his work on time.
9) I learn to be strong and hardworking from his life experiences.
10) I am very proud of my father and love him a lot.
---
Set 2
1) We all are inspired by someone in our life.
2) The person who motivates us is our role model.
3) It can be a family member or any famous personality.
4) We ultimately want to become like the person who influences us.
5) My role model is Dr. Abdul Kalam.
6) He became a successful scientist even after having a life full of adversities.
7) He was a very simple living and high thinking person.
8) His quotes encourage me whenever I feel hopeless.
9) He spent his time with children and taught them valuable things.
10) His achievements are milestones in the history of India.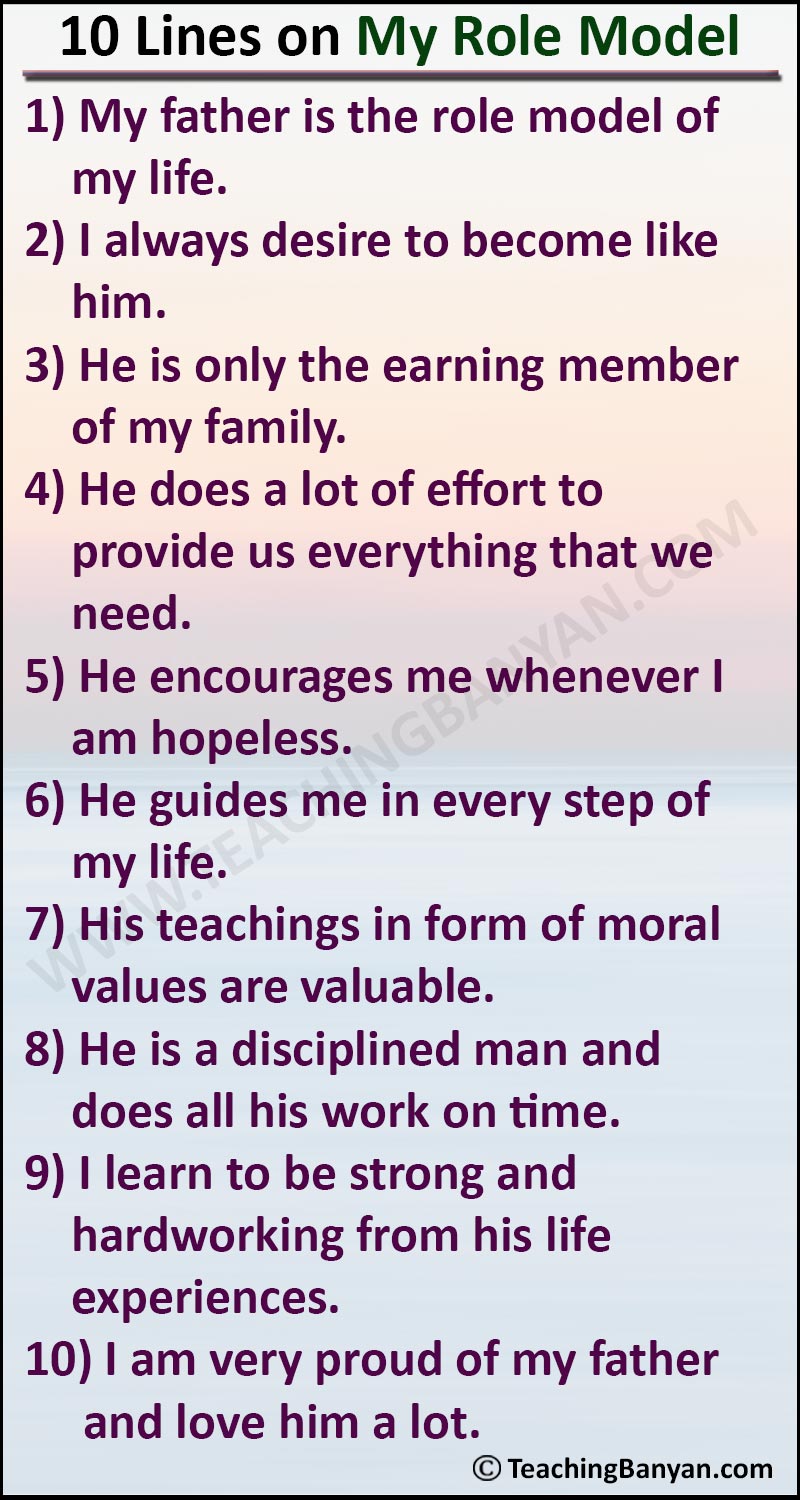 Set 3
1) A role model is an individual whose life can be followed by others, especially the younger generation.
2) We have many people in our society who can be role models for youths in India.
3) My role model is the very famous Indian politician, Sri Narendra Damodardas Modi.
4) Narendra Modi is 14th and current Prime Minister of India.
5) Narendra Modi was born in a Gujarati family on 17th September 1950 in Vadnagar.
6) He is known for his rising from a humble background to the post of Prime Minister of India.
7) He is a very hard working individual and an able administrator.
8) He served three terms as a Chief Minister of Gujarat from 2001 to 2014.
9) He follows yoga in daily routine to keep his body fit and active throughout the day.
10) He has emerged as a key figure, globally for making efforts to tackle climate change.
Set 4
1) My role model is my mother.
2) She loves me unconditionally and takes great care of me all the time.
3) She has played various roles for me in my life be it a teacher, mentor or nurturer.
4) She always teaches me the importance of honesty and simplicity in life.
5) She has done lot of sacrifice and struggles for my studies and career.
6) She is constantly worried about my health and safety when I am outside home for work.
7) She faces all the problems in life with a smile and stands firm and brave during difficult times.
8) She is very hardworking and very kind in nature.
9) I have deep faith on her and always take advice when I am in difficult situation.
10) My mother is the source of motivation for me when it comes to supporting the goals and ambitions in my life.
---
Role models help in shaping an individual's character, attitude and behaviour. They have a deep influence on the life of youths and have the ability to inspire and motivate them in order to achieve the goals of life. Every individual should have a role model in his/her life.
See Also :
10 Lines on My Father My Hero
10 Lines on My Favourite Teacher
10 Lines on Parents