We all are well aware with Bhagat Singh. The whole world knows about his struggles for the freedom of India from the British Empire. Let's read in detail about him through the few sets of 10 lines below.
Ten Lines on Bhagat Singh in English
Get here some sets of 10 lines, 5 lines, 20 lines, few lines and sentences on Bhagat Singh for children and students of Classes 1, 2, 3, 4, 5 and 6. I am sure, these lines will really help them in their studies:
10 Lines on Bhagat Singh
1) Bhagat Singh had born on September 28, 1907, at Banga village, Lyallpur District in Punjab.
2) His father Kishan Singh was a freedom fighter and mother Vidyawati was a housewife.
3) Kartar Singh Sarabha, a member of Ghadar Party, was an inspiration for him.
4) He had completed his schooling from Dayanand Anglo Vedic High School.
5) Then he joined National College Lahore in 1923.
6) Bhagat Singh had founded Navjawan Bharat Sabha in 1926.
7) He had also joined Hindustan Republican Association (HRA) and later changed its name to Hindustan Socialist Republican Association (HSRA).
8) He had murdered a Police Officer, John Saunders, on December 17, 1927.
9) Police arrested him on April 8, 1929, for bombing Delhi Legislative Assembly.
10) The British government executed him on 23 March 1931 along with Sukhdev and Rajguru.
10 Lines and Sentences on Bhagat Singh
1) Bhagat Singh was a prominent freedom fighter of India.
2) He was an expert in reading and writing Hindi, Urdu, English, Punjabi and Gurumukhi at a very early age.
3) As a teenager itself, he studied European revolutionary movements and Marxist books.
4) He had joined Hindustan Republican Association which was a radical group started against the British rule.
5) Bhagat Singh had pledged to avenge the death of Lala Lajpat Rai by killing the British Police Officer John Saunders.
6) He underwent a hunger strike in jail to protest the inhuman treatment of the fellow prisoner in the jail.
7) Bhagat Singh had a great passion for reading since his childhood.
8) Bhagat Singh held the title of Shaheed-e-Azam (King of Martyrs) for his sacrifice at a young age.
9) He was the Greatest Indian ahead of Subhash Chandra Bose and Mahatma Gandhi, in a poll conducted by India Today in the year 2008.
10) On 15th August 2008, the Parliament of India installed an 18 feet tall bronze statue of Bhagat Singh.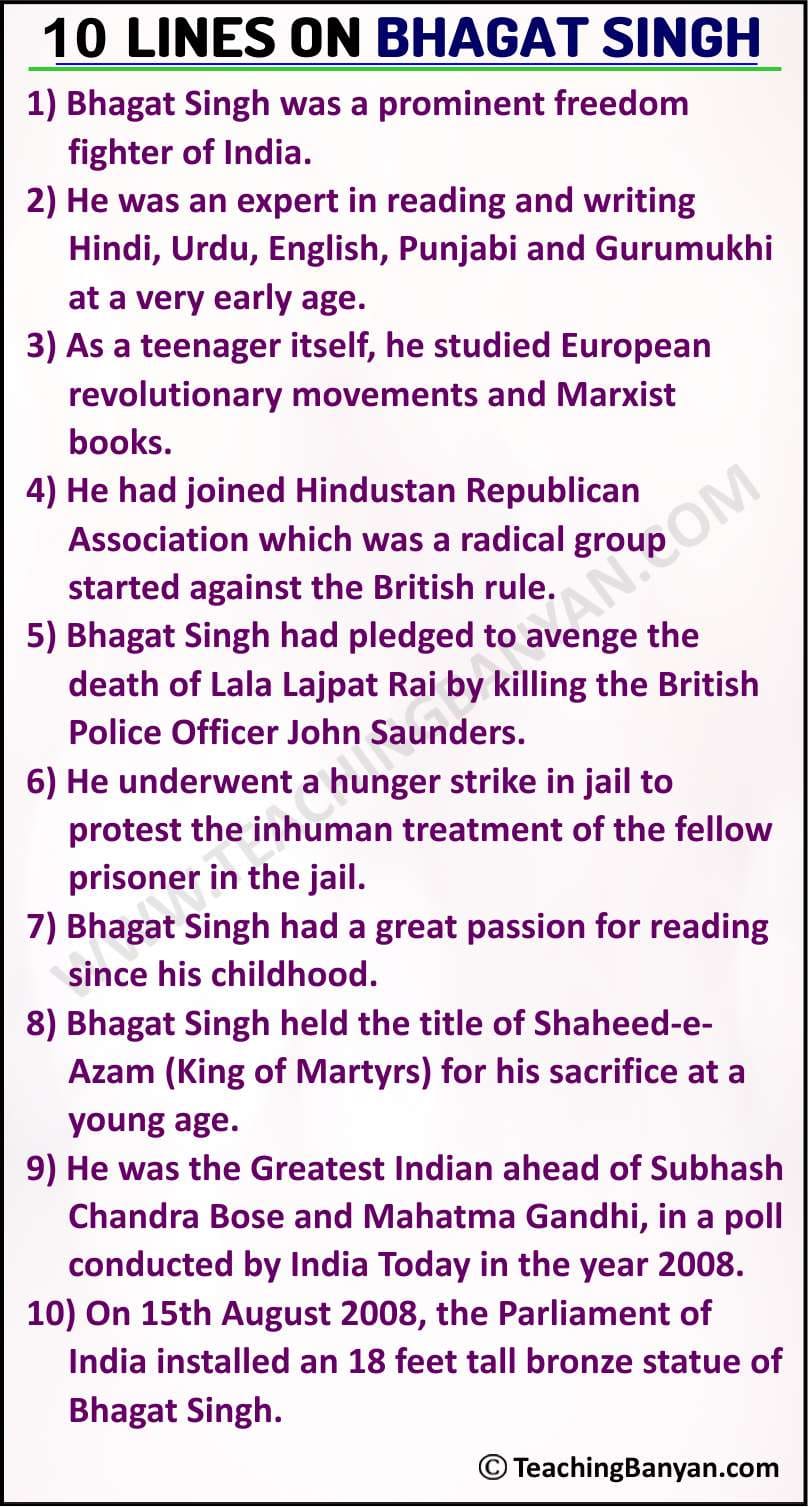 5 Lines on Bhagat Singh
1) Bhagat Singh is a famous Indian revolutionary.
2) It was 28 September 1907 he was born in Punjab.
3) He was a member of HRA (Hindustan Republican Association).
4) He murdered John Saunders, a British officer.
5) He was hanged to death on 23 March 1931.
20 Lines on Bhagat Singh
1) Bhagat Singh belonged to a family of freedom fighters.
2) His father and uncles were also freedom fighters.
3) His ancestors were Khalsa Sardar, who had helped in spreading Sikhism.
4) During his confinement, Bhagat Singh used to write notes from the books he read and maintained a notebook of 404 pages.
5) He mostly used to read foreign literature like Irish, British, European, American etc.
6) Jatinder Nath Sanyal, who was one of the comrades of Bhagat Singh, wrote his biography.
7) The biography got the publication in 1931 in May which the British confiscated.
8) The Hindu-Muslim riots during British rule shook him, and he became an atheist.
9) Bhagat Singh, the revolutionary hero of India, carved a niche in the heart of every patriot and inspired young minds.
10) His courage and ideologies helped India gain Independence on 15th August 1947.
11) Bhagat Singh was one of the greatest sons of his motherland.
12) He showcased the true courage and heroic acts and shook the foundation of the British rule.
13) He avoided marriage by saying that it won't let him serve his motherland.
14) Bhagat Singh became restless after seeing the poor condition of India under British Rule.
15) Bhagat Singh along with Batukeshwar Datt distributed pamphlets in April 1929 against the harsh policies of British in the Central Assembly.
16) He also allowed the authorities to arrest him so that a strong message goes in the public against the harsh policies of the British rule.
17) Bhagat Singh joined the hunger strike of Jatin Das who demanded better conditions for Indian prisoners in jails.
18) The rising popularity of Bhagat Singh shook the British rule, and they hurriedly passed the death sentence to him.
19) 23rd March 1931 was the day when Bhagat Singh was hanged and martyred for our motherland.
20) The sacrifice of this 23 years old man is a source of inspiration for today's youth and his ideologies still holds good in current times.
---
Bhagat Singh is a symbol of patriotism, which helped India to get freedom from the British rule. His thoughts and ideology are still prominent in modern times. He is a great inspiration to the youths of modern India, and his name instigates a feeling of patriotism in the hearts of millions of Indians.