In India, we observe a number of festivals throughout the year. These are regional, religious, seasonal and national festivals. We can say that almost every day here is a festival in some part of India. The most beautiful part is that many of these festivals are free from boundaries, and people of all religion, region and community celebrate them. One of these festivals is Baisakhi about which you can have detailed information through the sets of 10 lines that we have provided below.
Ten Lines on Baisakhi Festival in English
I have provided below some sets of 10 lines, 5 lines, 20 lines, few lines and sentences on Baisakhi Festival for Class 1, 2, 3, 4, 5 and 6. Also, I have given video and text images on Baisakhi Festival to help you more on the topic. You can read and select the one that is best for you:
10 Lines on Baisakhi Festival
1) Baisakhi is one of the important festivals of Sikh and Hindu.
2) It mostly falls on the 13th or 14th April every year as a regional holiday.
3) Baisakhi is the celebration of the start of the harvest season of the Rabi crop.
4) It also commemorates the formation of the Khalsa Panth by Guru Gobind Singh in 1699.
5) Baisakhi is the festival of joy and happiness, and this major celebration takes place in Punjab.
6) The festival starts with the Bhangra and Gidda performance by men and women.
7) Wrestling bouts are also the centre of attraction at various places to enjoy the festivity of this day.
8) Baisakhi fares are very common on this day and children are very excited to visit these places.
9) People distribute Karah Prasad, a sacred dish made from semolina, on Baisakhi to spread happiness and joy.
10) Baisakhi is the festival which spreads peace, harmony and courage.
10 Lines and Sentences on Baisakhi Festival
1) Baisakhi is the celebration of the start of Sikh New year and harvest season.
2) Guru Gobind Singh chose the auspicious day of Baisakhi for the formation of Khalsa Panth in 1699.
3) Baisakhi is a festival of all over India with different names and customs.
4) Assam celebrates Rangoli Bihu, West Bengal as Naba Barsha whereas Kerala celebrates Vishu.
5) Bhangra and Gidda performance by men and women are the eyes-catching events of Baisakhi.
6) People also pay tribute to the martyrs of Jallianwala Bagh who sacrificed their lives for the country on this very day.
7) The Golden Temple looks very beautiful at the festival, especially at night.
8) Taking a dip in the sacred Amrit Sarovar at Golden Temple on Baisakhi is a tradition to cure people and wash their bad karmas.
9) Baisakhi at the Golden Temple also becomes significant because it was the place where Guru Gobind Singh laid the foundation of the Khalsa Panth.
10) Baisakhi has the tradition of dance, music and enjoyment and commemorates the virtue of our great gurus and saints.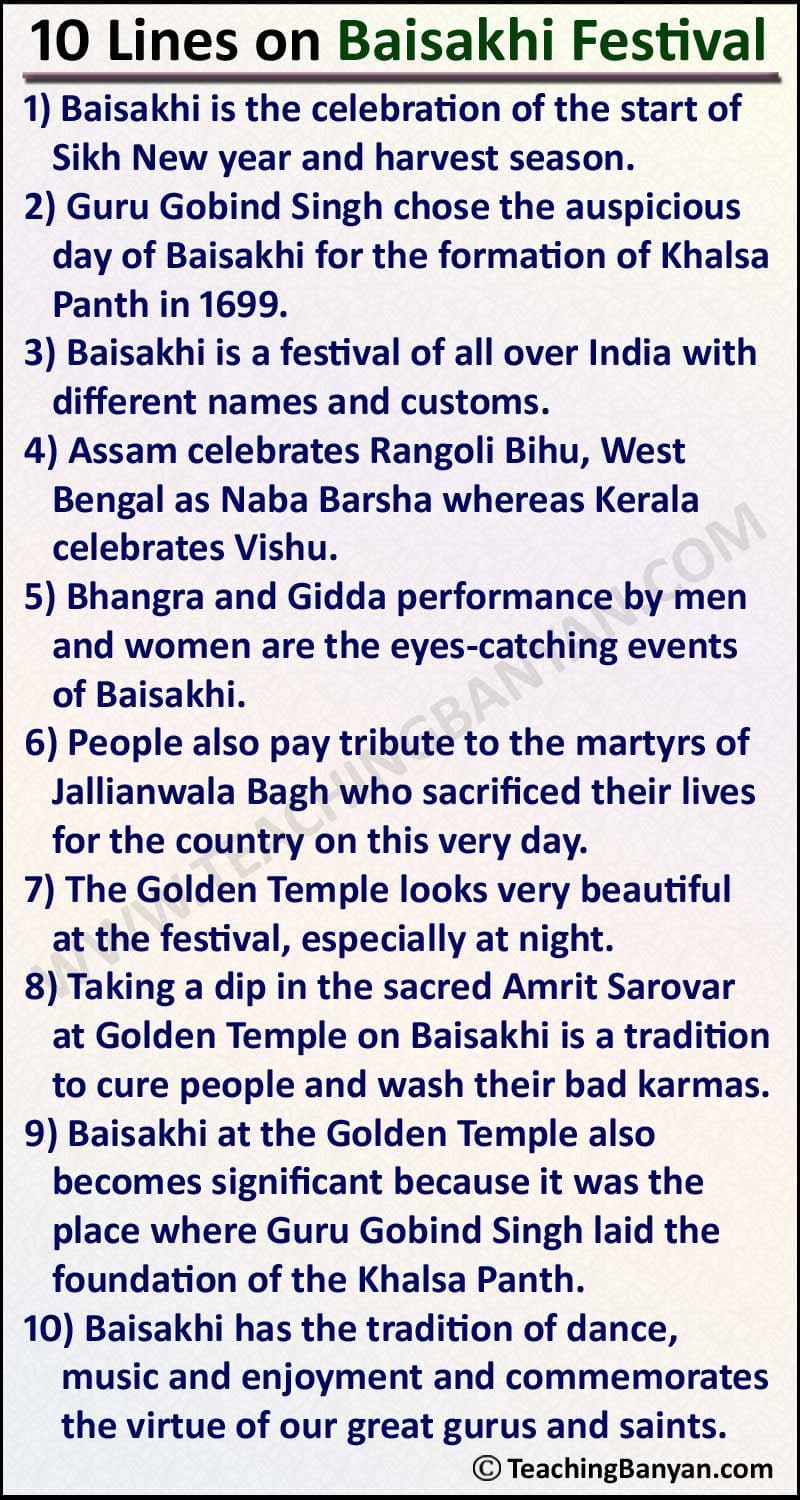 5 Lines on Baisakhi Festival
1) Baisakhi is the famous festival of Sikhs.
2) It mainly falls in the month of April.
3) It marks the beginning of harvest season.
4) It also marks the Khalsa Panth formation in 1699.
5) People celebrate this festival with great joy.
20 Lines on Baisakhi Festival
1) Baisakhi is an important festival of the Indian Sikh community.
2) The day also marks the coronation of 10th and last guru of Sikhism – Guru Govind Singh.
3) It commemorates the formation of Khalsa tradition and is known as "Khalsa Sirjana Divas".
4) Baisakhi falls on the first day of the second month of Vaisakh in Nananshahi calendar.
5) Special celebrations held at the Khalsa's birthplace -Golden Temple, Amritsar.
6) The community organizes street processions called Nagar kirtans led by five Khalsa.
7) People carry Guru Granth Sahib on a palanquin in the procession.
8) The festival coincides with harvest and the farmers thank God for an abundant crop.
9) Men perform traditional folk dance bhangra while women perform gidda dance.
10) The western states of Punjab organize many colourful fares.
11) Baisakhi is a historical Sikh festival falling on 14th April every year.
12) Sikh devotees go on pilgrimage to holy sites like Golden Temple, Amritsar and Anandpur Sahib.
13) The recitation of Religious hymns and chants happens in Gurudwaras followed by distribution of Prasad.
14) People organize Community lunch or langar at Gurudwaras and other places.
15) Vaisakhi, as Rongali Bihu, is famous in Assam and as Naba Barsha in West Bengal.
16) Gurudwaras look beautiful decorated with lights and flowers.
17) Men and women adorn new traditional clothes and sing and dance to the tune of drums.
18) Men and children also demonstrate their martial skills by enacting mock fights in Nagar kirtan.
19) Men are usually dressed in bright yellow and orange, as it reflects joy and happiness.
20) Kheer, kadhi, meethe chawal, chole bhature and achari mutton are some of the festival delicacies.
---
Baisakhi celebration, especially in Punjab, is fascinating and colourful. Tourists from all over the world visit Punjab on the occasion of Baisakhi to witness the true colour of the festivity and celebration and cherish the enjoyment for a lifetime.