Sini Shetty from Karnataka is crowned as Femina Miss India 2022.
There are lots of professions in the world. We can choose any profession that suits us better. Many people choose modeling as their career and later make India proud by winning prestigious awards and titles. Femina Miss India is an Indian National beauty pageant that selects representatives every year to compete in Miss World, one of the major international beauty contests. The result of the 2022 Femina Miss India was declared on 3 July 2022. Let's look at the winner of this title.
Ten Lines on Sini Shetty in English
Here, I'm providing 10 lines, 5 lines, few lines and sentences on Sini Shetty for Class 1, 2, 3, 4, 5 and 6 in form of sets. This topic is useful for everyone who wants to know about the Femina Miss India 2022 in detail.
10 Lines on Sini Shetty
1) Sini Shetty is entitled as Femina "Miss India 2022" on July 3, 2022.
2) She was born in 2001 in Mumbai.
3) Her family includes Sadanand Shetty (father), Hema Shetty (mother), and Shikin Shetty (brother).
4) Sini Shetty holds a bachelor's degree in accounting and finance.
5) Currently, Sini Shetty is pursuing CFA (Chartered Financial Analyst).
6) In 2022, she has also crowned Miss India Karnataka.
7) Sini has been involved in various TV commercials and print shoots.
8) Sini has always been interested into acting and modeling.
9) Sini holds many titles like INIFD Miss Talented, Times Miss Body Beautiful, etc.
10) In the 71st Miss World pageant, India will be represented by Sini Shetty.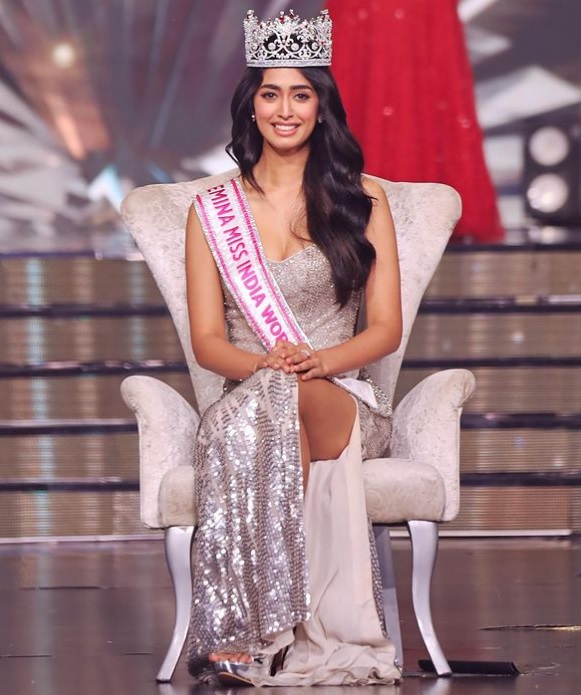 10 Lines and Sentences on Sini Shetty
1) Sini Shetty is an Indian model hailing from Karnataka.
2) Sini completed her schooling at St. Dominic Savio Vidyalaya, Mumbai.
3) Later she completed her college from SK Somaiya degree college of Arts, Science and commerce.
4) Sini was hired by a marketing firm after she proved herself in her internship.
5) She has always been supported by her family throughout her career.
6) She started dancing when she was only 4 years old.
7) She also has training in the Indian classical dance form like Bharatanatyam and Arangetram.
8) Despite her modeling dream, she has always been able to balance her education.
9) Sini Shetty is fond of traveling and dancing.
10) She has seen Priyanka Chopra as her idol and guiding star on her Miss India journey.
---
The event, Femina Miss India 2022 was held at Jio Convention Center, Mumbai n 3rd July 2022. The evening was bloomed by many stars and their outstanding performances. Through this event, India got its beauty queen of 2022 Sini Shetty. The first runner-up is Rubal Shekhawat from Rajasthan and the second runner-up is Shinata Chauhan from Uttar Pradesh.
I hope the above provided lines on Sini Shetty – Femina Miss India 2022 will be helpful in understanding her journey to becoming Miss India.
FAQs: Frequently Asked Questions on Sini Shetty
Q.1 What is the biggest beauty pageant in the World?
Ans. Miss World is the biggest beauty pageant in the world created in 1951 by Eric Morley.
Q.2 What is the age limit for participating in Miss India?
Ans. Anyone between 18 to 25 age can participate in the Miss India contest.
Q.3 What is the minimum height required for Miss India participation?
Ans. The minimum height required for Miss India participation is 5 feet 3 inches.