India Gate is a historical monument located in New Delhi, India. It was constructed by Britishers to honour those soldiers who sacrificed their lives fighting for British army during World War I.
The importance of India Gate increases at the time of Independence Day and Republic Day as these nationals festivals are celebrated near India Gate along with parade of all the three wings of our defense forces. All the states also carry out their tableaux showcasing their culture and traditions on the Rajpath on Republic Day. The Prime Minister, President and Vice-President along with invited leader of another country witness the grandeurs of the celebration near India Gate.
Ten Lines on India Gate in English
We are providing 10 lines, 5 lines, 20 lines, few lines and sentences on India Gate in English for Class 1, 2, 3, 4, 5 and 6. You can add these lines in your essay and paragraph writing in your exams as well as in the school competitions. So, let's start reading and getting the one best for you:
10 Lines on India Gate
1) India Gate is a historical monument situated in the capital of India, New Delhi.
2) It was built to pay homage to the soldiers who fought bravely during World War I.
3) Names of soldiers who were sacrificed during the war are engraved on the monument of India Gate.
4) It took 10 years to build this big monument which was a tribute to the Indian soldiers.
5) Construction of India Gate started on February 1921 and was inaugurated on February 1931.
6) India Gate was designed by Sir Edwin Lutyens which is considered as a masterpiece.
7) After construction of India Gate, a memorial 'Amar Jawan Jyoti' was also built afterwards.
8) Both India Gate and Amar Jawan Jyoti remind us about the bravery of our soldiers.
9) Although India Gate is a war memorial but usually it attracts people through its beauty.
10) The green lawns on both sides of India Gate add perfection to the beauty of this monument.
10 Lines and Sentences on India Gate
1) India Gate occupies a special place in the core of the heart of every Indian as it marks the bravery of our soldiers during First World War.
2) When India was a British colony and they had to fight First World War, the Britishers took the help of Indian soldiers.
3) Indian soldiers who showed their gallant on the battlefield and as a mark of respect Britishers decided to build a war memorial called India Gate.
4) India Gate was built to pay tribute to the bravery and sacrifice of 70,000 Indian soldiers who fought courageously in the war.
5) India Gate is one the major tourist attractions of New Delhi and visited by local, national and international tourists.
6) A great national level event is organised on the streets of Rajpath and India Gate on the occasion of Republic Day every year.
7) The Republic Day parade is the centre of attraction which starts from Rashtrapati Bhawan and goes via India Gate.
8) Independence Day is also celebrated at India Gate; the celebration is similar to Republic Day and all the dignitaries pay homage on Amar Jawan Jyoti.
9) People also gather at India Gate to celebrate 'Gandhi Jayanti', the birth anniversary of Mahatma Gandhi.
10) India Gate fills us with the feeling and emotion of patriotism as well as love and respect towards India as our motherland.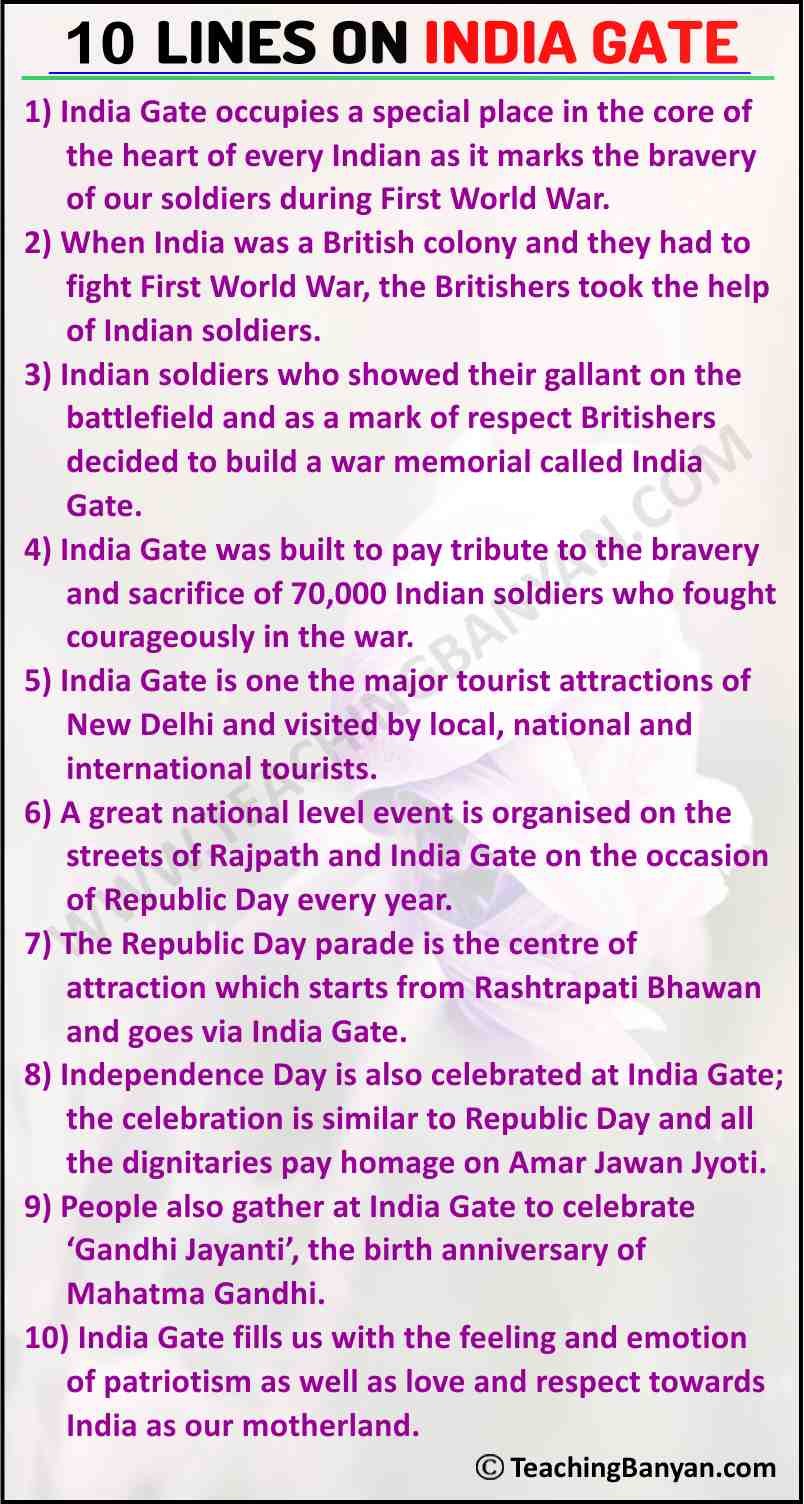 5 Lines on India Gate
1) It is a historical monument.
2) It is situated in Delhi at Rajpath.
3) It was designed to honor soldiers.
4) It is a gate in the form of an arc.
5) Names of martyrs are inscribed on it.
20 Lines on India Gate
1) India Gate is situated at the banks of Yamuna River in Delhi, the capital of India.
2) Earlier the India Gate was called the All India War Memorial.
3) On the top most portion of the arch, the name "INDIA" is inscribed on both sides.
4) India gate evokes the feeling of patriotism and nationalism into the hearts of Indian visitors.
5) India Gate had inspired soldiers to display courage and valour in the battle field.
6) The designer of India Gate, Edward Lutyens was also the main designer of Delhi.
7) The architecture of India Gate was inspired by Arc de Triomphe in Paris the capital of France.
8) India Gate has a span of 30 feet and is located at the eastern axial end of Rajpath.
9) Amar Jawan Jyoti has a reversed self loading L1A1 rifle capped by a war helmet.
10) Wreaths are placed at Amar Jawan Jyoti on Republic Day by the Prime Minister of India.
11) India Gate is a war memorial located facing the President's house in Delhi the national capital of India.
12) The monument was built to honour the soldiers of British Indian Army who died in First World War.
13) The designer of India Gate, Edwin Lutyens, had designed sixty-six war memorials in Europe.
14) India Gate stands on a base of red Bharatpur stone and reaches a height of 42 meters (138 foot).
15) India gate bears an unusual resemblance with Teli ka Mandir situated in Gwalior fort.
16) Tourists like to visit India Gate post dusk, to have an illuminated view of the monument.
17) The names on India Gate include that of a female staff nurse killed in action in 1917.
18) There is a canopy to the east of India Gate, which initially housed the statue of King George V.
19) Beneath the India Gate lies Amar Jawan Jyoti, in the memory of fallen soldiers.
20) Amar Jawan Jyoti was inaugurated on 23rd Republic Day in 1972 by the Prime Minister of India.
When we think of a national festival which is being celebrated in India then automatically India Gate comes in our mind as it is the only place which gives us the sense of national festival celebration.
Local residents of New Delhi get a chance to visit India Gate and watch the entire function of Republic Day and Independence Day as well as people across the world also visit to witness the grandeurs of the celebration and cherish it for their lifetime.