Fashion can be termed as the creativity of people which adds to the beauty of a person. It glorifies the personality of an individual especially when a person wears new and trendy clothes and applies well makeup on her/himself, her/his looks and appearance gets changed.
As each of us wants to look handsome, beautiful and pretty so that people could appreciate us after looking at us and become influenced, it is the fashion which helps us in this aspect. Fashion has the capability to change life, the thinking, the temperament of a person. Everybody in spite of any age or gender follow certain trends of fashion which enhances his/her overall personality.
Ten Lines on Fashion in English
10 Lines on Fashion – Set 1
1) Fashion is a kind of clothing, wearing, accessories and hairstyle etc.
2) Fashion is a way by which a person looks attractive and better.
3) Fashion also reflects in the way of talking, behaviour, living as per trends etc.
4) Fashion is also related to the culture and weather at any place.
5) Fashion has been a centre of attraction for most people for many years.
6) Mainly fashion trends are observed among the youths of a nation.
7) Trends in fashion vary with the place and interests of the people.
8) Style of fashion keeps on changing with the changing world scenario.
9) Apart from changing appearance, fashion can be adopted in our daily life also.
10) We should do fashion in such a way that it should be adorable for everyone.
10 Lines on Fashion – Set 2
1) Fashion is just like a style of living by changing the person's outlook, appearance etc according to the present trend.
2) Fashion doesn't have any single definition but has a broad meaning and a huge essence of the lifestyle.
3) Sometimes fashion is just people's own wish to showcase themselves according to the trend and present scenario.
4) Sometimes people are required to do fashion because it becomes mandatory in their professional and working life.
5) India is also not unaffected by fashion and its different trends are booming in our country.
6) Fashion industry has become a great career option for young students and budding talents who want to go into the glamour industry.
7) Students and youths can either become fashion designers, makeup artists, photographers, textile merchandisers, etc.
8) Apart from clothing and designing, youths and students can also go for modelling, event management, anchoring, VJ etc.
9) National Institute of Fashion Technology (NIFT) is the premier institution that gives the degree in fashion and allied activities.
10) Nowadays there are lots of national and multinational apparel, fashion and clothing companies that are hiring people.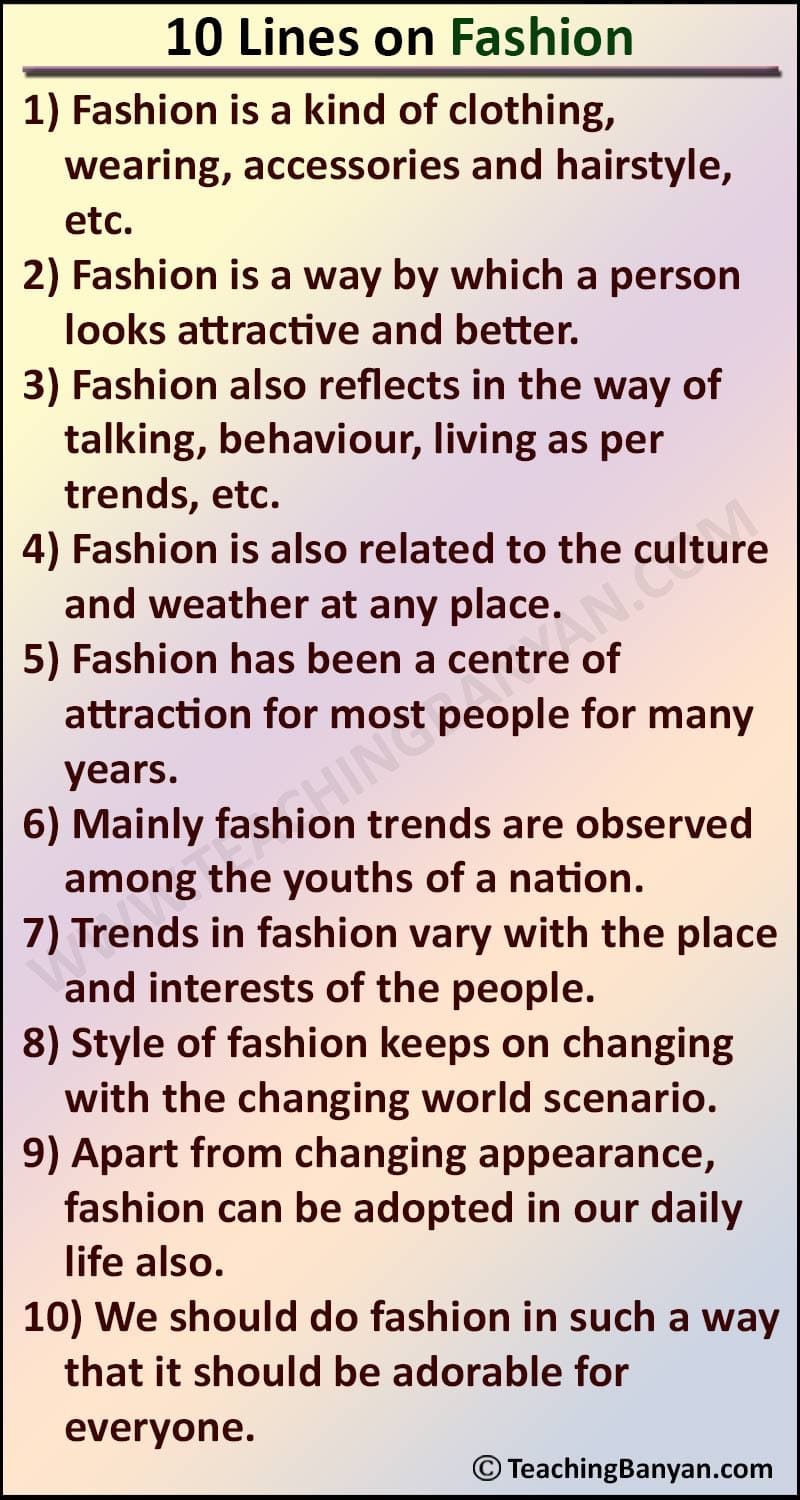 10 Lines on Fashion – Set 3
1) Fashion is something which changes from time to time.
2) Fashion defines you and your personality.
3) It is a way of describing how a person is taking care of himself/herself.
4) It enhances the personality of people.
5) Looking trendy is the biggest demand of fashion nowadays.
6) In India fashion designing has become a good career option too.
7) Manish Malhotra, Abu Jani, Sandeep Khosla are some famous Indian fashion designers.
8) In India, different states have different fashion agendas of styling.
9) Indian people generally follow the trend from foreign countries.
10) People nowadays choose Eco-fashion for styling which is gentler for the Earth.
---
10 Lines on Fashion – Set 4
1) The word fashion comes from Latin origin.
2) In the year 1300, the first time the fashion word was introduced.
3) The word fashion means to make or making.
4) Delhi and Chandigarh are considered to be the fashion hubs of India.
5) Milan, Italy is the fashion capital of the World.
6) Every year Milan Fashion Week is celebrated to appreciate fashion designers around the world.
7) Fashion Designing is a professional course that is now rising in India.
8) Vogue India, a famous fashion company publishes a monthly magazine on fashion and styling.
9) Indian cricketers nowadays are also regarded as fashion icons after actors.
10) Many companies hire fashion models for their brand promotion.
---
Fashion not only changes the personality of an individual, but it also beautifies the person. It also changes the attitude of a nation, as France is known as the most fashionable country in the world. Anything related to fashion which is going to be launched in the world starts from France and other countries. After that, the fashion trend spreads in all parts of the world. We should also use fashion in such a way that we should get appreciation not criticism.
Related Information: