Zero Discrimination Day is celebrated on 1st March every year in order to raise awareness among people about equality and rising discrimination in the society on the basis of gender, caste, religion, sexual orientation, health conditions, etc. Discrimination violates human rights and hampers the growth of progressing nation. The day is also observed by organizations like United Nation and UNAIDS to combat the stigma and discrimination faced by the people affected by HIV/AIDS.
Ten Lines on Zero Discrimination Day
Set 1
1) The Zero Discrimination Day is celebrated every year on 1st March in order to promote equality before the law of land.
2) The program celebration aims to highlight the different types of discrimination like gender, sex, ethnicity, and physical disability.
3) The day was first celebrated on March 1st, 2014 by the United Nations along with UNAIDS, a joint program of the United Nations to combat AIDS.
4) Zero Discrimination Day is celebrated annually to promote the right of people to live their lives without any partiality in society.
5) The Zero Discrimination Day is observed every year to encourage people to celebrate individuality and appreciate their talent and skills.
6) Zero Discrimination Day is celebrated by organizing public speeches, talk shows, and debates.
7) Every year, the day is celebrated across the globe with a theme to promote equality.
8) Zero Discrimination Day 2019 theme was "Act to Change Laws that Discriminate".
9) The day also helps to prevent violations of human rights through awareness campaigns.
10) The observance of Zero Discrimination Day helps in fighting the battle of stigma and discrimination faced by people infected by HIV.
---
Set 2
1) The Zero Discrimination Day provides an opportunity for an individual to create a fair and unbiased society.
2) Many countries organize photo exhibitions, film screenings, concerts, storytelling event and seminars to celebrate the day.
3) Zero Discrimination Day celebration also helps in fighting the stigma, discrimination faced by people who are transgender, gay or lesbian.
4) Zero Discrimination Day observance prevents discrimination based on the health conditions of people like HIV or any mental disorder.
5) The goal of celebrating Zero Discrimination Day is to create an environment for sustainable human development around the world.
6) Zero Discrimination Day celebration helps to inspire compassion and tolerance among the people around the world.
7) United Nation and UNAIDS conduct programs to highlight issues like inequality and discrimination based on gender, ethnicity, and religion.
8) The nations around the world launch new initiatives and policies in coordination with the United Nations to eliminate and curb discrimination.
9) On Zero Discrimination Day, offices, schools, colleges, and institutes conduct programs to educate people about various types of discrimination faced by people in society.
10) The symbol of Zero Discrimination Day is a butterfly that is widely used by people around the globe to share their thoughts for eliminating discrimination.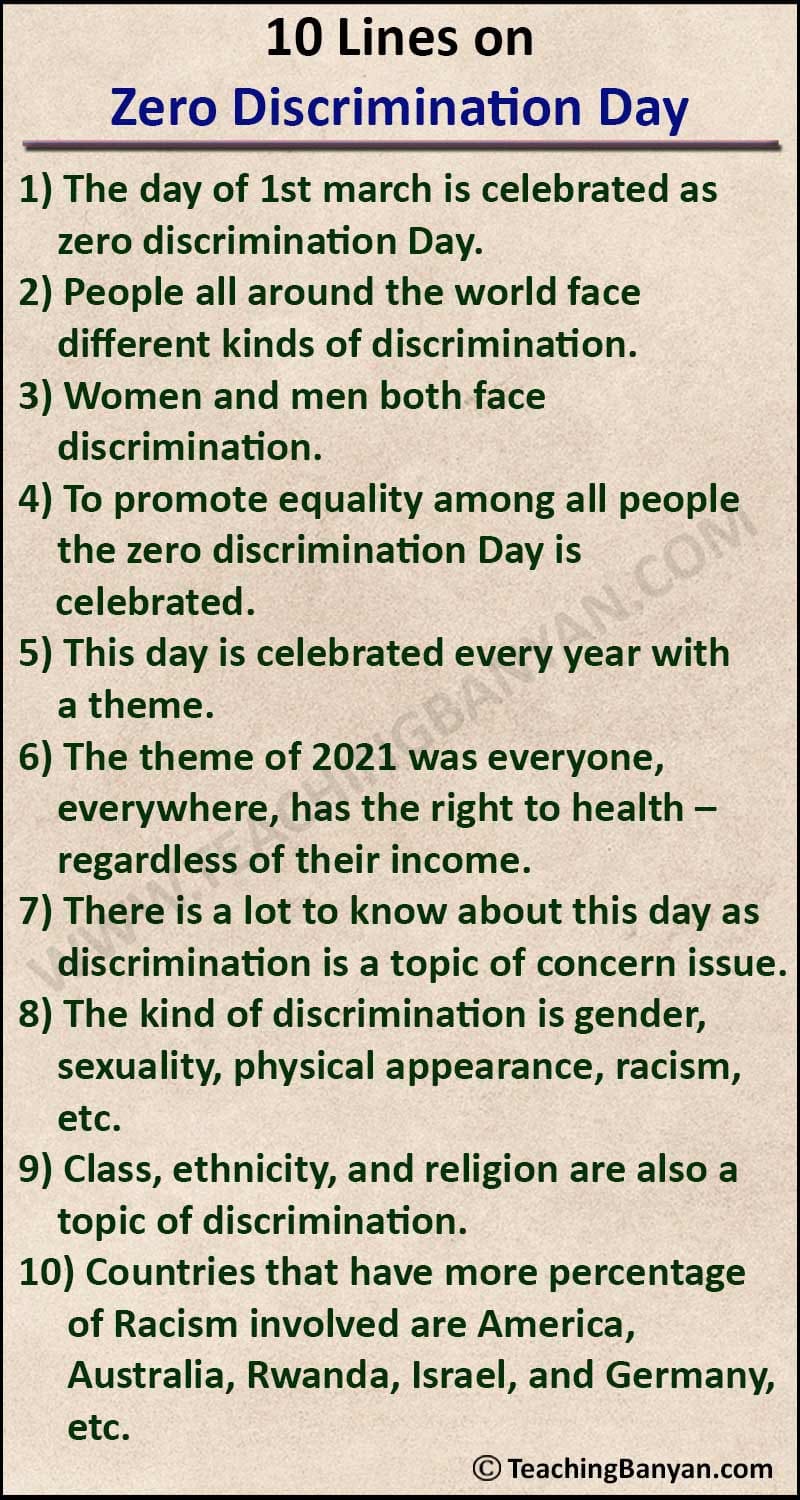 Set 3
1) The day of 1st march is celebrated as zero discrimination Day.
2) People all around the world face different kinds of discrimination.
3) Women and men both face discrimination.
4) To promote equality among all people the zero discrimination Day is celebrated.
5) This day is celebrated every year with a theme.
6) The theme of 2021 was everyone, everywhere, has the right to health – regardless of their income.
7) There is a lot to know about this day as discrimination is a topic of concern issue.
8) The kind of discrimination is gender, sexuality, physical appearance, racism, etc.
9) Class, ethnicity, and religion are also a topic of discrimination.
10) Countries that have more percentage of Racism involved are America, Australia, Rwanda, Israel, and Germany, etc.
---
Set 4
1) The 'UNAIDS' first celebrated zero discrimination day in the year 2013.
2) This day was first introduced by the joint United Nations Program on HIV and AIDS (UNAIDS).
3) This day was legally started celebrating from the year 2014.
4) Untouchability is also a kind of discrimination that is commonly faced by people.
5) Indian constitution article 17 prohibits discrimination of untouchable.
6) We should come together to stop this inhuman behavior of people doing discrimination.
7) More strict laws across the world should be made to avoid discrimination
8) Ignoring people and doing discriminating at various expect is no other than a sin.
9) More campaigns and programs should be run to reduce discrimination.
10) We should come together and help the victims to overcome this kind of inhuman behavior.
---
The people of poor and under-developing nations around the world are of greater risk of facing discrimination based on caste, race, religion, gender, sexual orientation and ethnicity. Discrimination of any form disrupts the sustainable growth of the society as well as the nation. As an individual, we can take a lot of initiatives for eliminating the discrimination from society. We should take part in the government campaigns against discrimination, try to garner the support of leaders and influential people in the society for the right to equality, and raise funds for people who are suffering from health conditions and discrimination.