World Cancer Day is observed on the 4th of February across the world. This day is observed to mark the importance of healthy and cancer-free life and efforts are done either individually or collectively by the people, NGOs, and other institutions to uproot this disease. On World Cancer Day, several campaigns are launched in order to spread awareness on the disease along with precautions, measures and treatment among the people and especially to those who are fighting with cancer.
Ten Lines on World Cancer Day in English
We have provided 10 lines, 5 lines, 20 lines, few lines and sentences on World Cancer Day for Class 1, 2, 3, 4, 5 and 6 in simple and easy words so that they can have a better understanding about World Cancer Day. So, let's start:
10 Lines on World Cancer Day
1) World Cancer Day is an international observance to raise awareness about the prevention and treatment of cancer.
2) World Cancer Day is spearheaded by the Union for International Cancer Control (UICC), which is a non-government organization.
3) The primary objective of the day is to reduce illness and death due to cancer.
4) World Cancer Day was established on 4th February 2000 at the World Cancer Summit held in Paris.
5) Volunteers shave their heads and post images on social media to show solidarity towards cancer patients.
6) World Cancer Day is celebrated by governments, NGOs, and individuals throughout the world.
7) The theme of World Cancer Day for 2019-2021 is 'I Am and I Will'.
8) The theme seeks to break the general conception that cancer is incurable.
9) Around a thousand activities take place in over a hundred countries on World Cancer Day, across the globe.
10) World Cancer Day trends highly on social media platforms, especially on Twitter.
---
10 Lines and Sentences on World Cancer Day
1) World Cancer Day is a global event, observed to prevent the occurrence of cancer and to break the myths surrounding it.
2) The day seeks to change the usual belief of people about cancer that 'nothing could be done'.
3) It aims at making people aware of the causes and prevention of cancer and also how it can be successfully treated.
4) Campaigns are held to let people know about the statistics of deaths caused by cancer.
5) People are urged to quit tobacco, through anti-tobacco and anti-smoking campaigns.
6) The day urges common people to be determined in their fight with cancer, which is a global killer.
7) Millions die due to cancer every year, thereby putting an additional burden on health facilities.
8) Free cancer screening is held in several places throughout the globe.
9) Hospitals organize training for Public Health Professionals on the prevention and treatment of cancer.
10) Twitter is trending on #WorldCancerDay and #IAmAndIWill.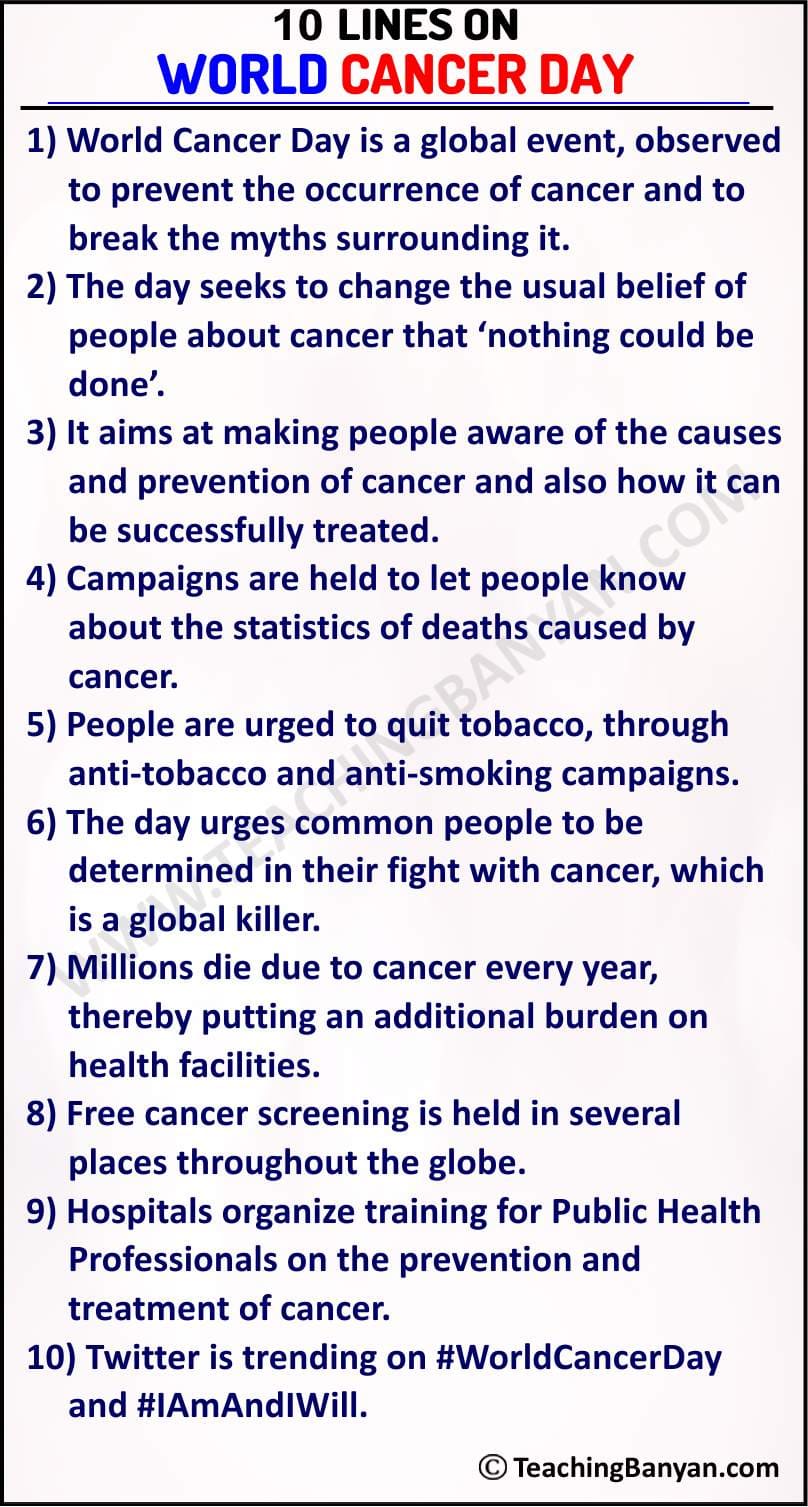 5 Lines on World Cancer Day
1) It is observed on 4th February.
2) It raises awareness regarding cancer.
3) It was first celebrated on 4th Feb 2000.
4) The celebration supports cancer patients.
5) The day is filled with variety of events.
20 Lines on World Cancer Day
1) World Cancer Day is celebrated across the world on 4th February every year.
2) It is observed to spread awareness against cancer among people.
3) World Cancer Day focuses on the prevention, detection, and treatment of cancer.
4) It was founded by the Union for International Cancer Control (UICC).
5) The primary goal of World Cancer Day is to reduce illness and deaths caused by cancer.
6) Multiple activities are organized to support those who are facing any kind of cancer.
7) On this day new strategies are planned and implemented to fight cancer in the world.
8) It also gives the message that we should not mistreat cancer patients.
9) World Cancer Day is also used to reduce the stigma related to cancer and provide moral support to cancer patients.
10) This day tries to break the myth of the people that cancer is a communicable disease.
11) World Cancer Day is celebrated annually all over the world to raise awareness of the fatal disease cancer.
12) WHO along with the United Nations and other NGOs equally participate to spread awareness about cancer among people.
13) World Cancer Day was planned in Geneva, Switzerland in 1933 under the direction of union for international cancer control.
14) This day was started to celebrate its annual celebration to save millions of lives of those people who are suffering from cancer.
15) World Cancer Day also puts effort to instruct about the symptoms of cancer and methods to prevent this disease.
16) Common public as volunteers, health organizations and NGOs, all equally participate and take this day as a revolution.
17) According to a report around 12.7 million people are detected with cancer and more than 7 million die with cancer every year.
18) In the year 2019-21, World Cancer Day again has started a three-year campaign with the theme "I am and I will".
19) In the period 2016-18, the three-year campaign against cancer was started for the first time with the theme 'We Can. I Can'.
20) These campaigns against cancer on World Cancer Day mark the importance of the individual as well as the collective efforts of the people.
---
In recent years, people getting affected by cancer have been increased. Cancer can be of many types and can affect any part of the body, some common cancer are bone cancer, lung cancer, blood cancer, prostate cancer, etc including breast cancer which is common to women. Cancer, if detected in early stages can be cured and treated easily but if delayed then it becomes difficult to treat and could be sometimes fatal.