Villages around the world are known to be beautiful and serene. In India, the majority of people live in villages and are mainly employed in agriculture. The villagers lead a healthy lifestyle away from the dust and pollution of cities. Largely people are satisfied and are in contentment with whatever they have in life. They aren't in hurry to achieve materialistic success contrary to people living in cities or metros. Villagers are closer to greenery and nature and hence they breathe fresh air throughout their life. The culture and traditions in villages across India vary from state to state.
Ten Lines on Village Life in English
We have provided 10 lines, 5 lines, 20 lines, few lines and sentences on Village Life in English for Class 1, 2, 3, 4, 5 and 6. After reading these given lines you will be able to write or speak about Village Life in your exams, few lines/essay/paragraph writing competitions or debate, etc. Also, you can add these lines in your essays and paragraphs writing on Village Life or related topics in your exams as well as in the school competitions. So, go ahead:
10 Lines on Village Life
1) Life in a village refers to the life of people living in rural areas peacefully and calmly.
2) Life in the village is beautiful and peaceful as people residing in villages are close to nature.
3) The major source of employment for people in village life is the agriculture sector.
4) Villages have the beautiful surrounding of nature unlike cities and metropolitan areas.
5) Life of the village is full of contentment and happiness as people aren't in a hurry always unlike city life.
6) Pollution in the village is less compared to cities as we don't have industries and traffic in rural areas.
7) People in the village are more friendly and social in nature compared to cities.
8) India is the country of villages with more than 65% of the population residing in rural areas.
9) Life in the village is very simple and the majority of people are involved in farming during day time.
10) Villages lack basic infrastructure and amenities compared to city life yet people lead a satisfying life.
10 Lines and Sentences on Village Life
1) The infrastructure facilities like roads, bridges have a marginal presence in rural areas or villages.
2) Many villages lack amenities like schools, clean water, electricity, sanitation, and medical facilities.
3) People in villages don't send their children to schools for primary education rather they employ them in farming since childhood.
4) Women in villages face gender inequality as they are mostly confined to the household works.
5) Village life is slow and peaceful compared to the fast and stressful life in cities.
6) Villages don't provide enough employment opportunities apart from agriculture.
7) The government, NGO and civil societies should work in collaboration to improve the situation of facilities in villages.
8) Roads and bridges should be constructed in order to connect villages with urban areas.
9) Schools and colleges along with medical hospitals should be constructed by the government in the village area.
10) Village life is healthier for living compared to metros if it has all the basic amenities and infrastructure.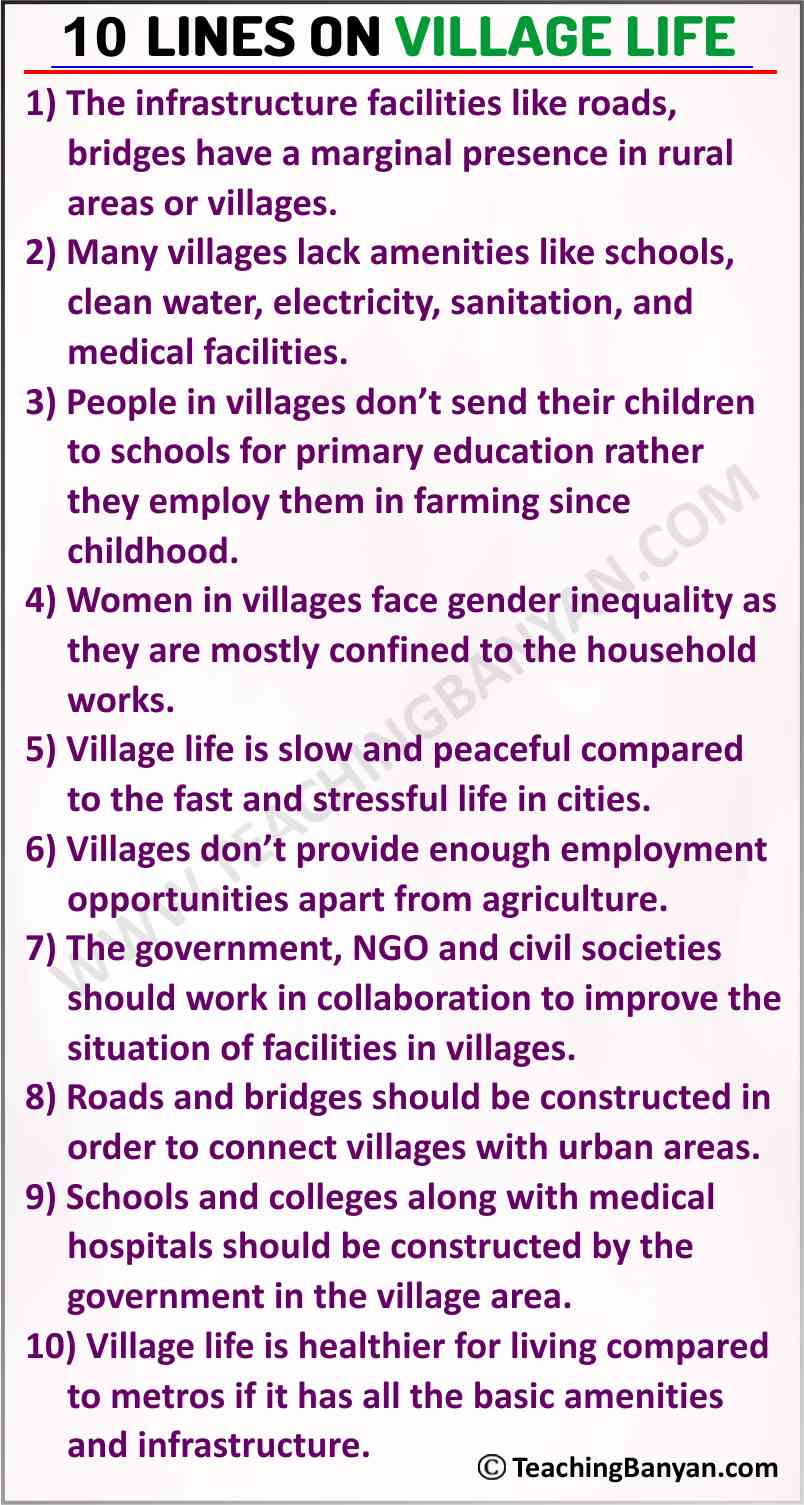 5 Lines on Village Life
1) Life in the village is very peaceful.
2) Villagers do farming practices for food.
3) Village life lacks lots of recourses.
4) Life in a village is slow.
5) Life in the village is very healthy.
20 Lines on Village Life
1) More than half of India's population lives in villages; villages are small units of our society.
2) Village life is quiet and peaceful while the city life is deteriorating rapidly.
3) The life of the villagers is simple and they live in harmony with each other.
4) They value relationships and strive to maintain the same.
5) They are well aware of the people living in their neighborhood and stand by them in their time of need.
6) The villagers also attach special importance to their customs and traditions and follow them religiously.
7) Festivals are celebrated collectively in villages and thus happiness becomes double during that time.
8) Villagers may not be equipped with modern technology and equipment, but they have their own ways of enjoying life.
9) Most villagers do not give much importance to education and are satisfied with the basic education that they receive in the village schools.
10) The people living in the village are mostly of a compassionate and honest heart, they are always ready to help others.
11) The life of the village is considered quiet and pure because people in villages are more close to nature.
12) The people living in the village areas lead peaceful lives but they are devoid of many modern facilities which make life comfortable.
13) People living in villages are mostly involved in agricultural activities and away from the hustle and bustle of crowded city life.
14) They lead a simple life and remain content in whatever they have.
15) People usually get up early in the morning before the crack of dawn and start their daily chores.
16) In most villages, male members are mostly involved in farming and other agricultural activities.
17) A bicycle is the most common way to get to work from home; this is the reason that the level of pollution in villages is much lower than in cities.
18) Many villages have a lack of basic facilities such as education, electricity, sanitation facilities, medical facilities and means of transportation.
19) Many villages do not have any schools and people hesitate to send their children to towns and cities to get an education and hence most of the people in the villages to remain uneducated.
20) Women are mostly confined to household chores and are not allowed to express their opinion on any matter.
---
People in villages currently are facing various challenges of health, education, and employment. The government along with the support of NGOs and civil societies should take steps and measures for the upliftment of living standards of villagers by focussing on the improvement of basic infrastructure and amenities like roads, schools, hospitals, electricity, and telecommunications. Life in the village is largely full of happiness and contentment as people lead a simple life and they are very helpful and supportive in times of need and sickness.