As per Mahatma Gandhi's view, the soul of India rests in its villages it means India is the country of villages. There is a huge difference between village life and city life as the village lags behind development and progress. Villages in India lack all kinds of facilities like jobs, healthcare, good lifestyle, excellent infrastructure, etc which the cities have.
On the other hand, in spite of these things, cities are prone to crime, stress, tension, pollution, bad health, riots, loneliness, etc. Both cities and villages have their advantages and disadvantages and we have to remember that it's the agriculture sector from village area which is feeding whole India and not the cities.
Ten lines on Village Life vs City Life in English
We have provided 10 lines, 5 lines, 20 lines, few lines and sentences on Village Life vs City Life in English for Class 1, 2, 3, 4, 5 and 6. You can add these lines in your essays and paragraph writing in your exams as well as in the school competitions. It will also be very helpful to write few lines, some sentences, facts about Village Life vs City Life, etc.
10 Lines on Village Life vs City Life
1) Life in village and city both have their own importance.
2) Life in the village is totally different from city life.
3) Village life is very peaceful away from all the chaos of the city.
4) There is lack of facilities in villages.
5) People in villages mainly depend upon agriculture.
6) Villages are blessed with natural beauty.
7) The level of pollution is very less in villages.
8) City life is considered more comfortable than village life.
9) It is because there are different facilities available.
10) City life is highly competitive and full of chaos.
---
10 Lines and Sentences on Village Life vs City Life
1) City life is complicated while village life is simple.
2) Education, health, and employment facilities lack in villages.
3) Cities life is convenient because of the presence of these facilities.
4) It is necessary for people to move towards cities to avail these facilities.
5) People in villages are very hardworking and friendly.
6) They value relationships, culture, and traditions.
7) People living in cities are very busy and do not have time for anyone.
8) The professions of people in cities are different.
9) People living in villages are mainly farmers and work in fields.
10) Life in cities and villages both is good at their own place.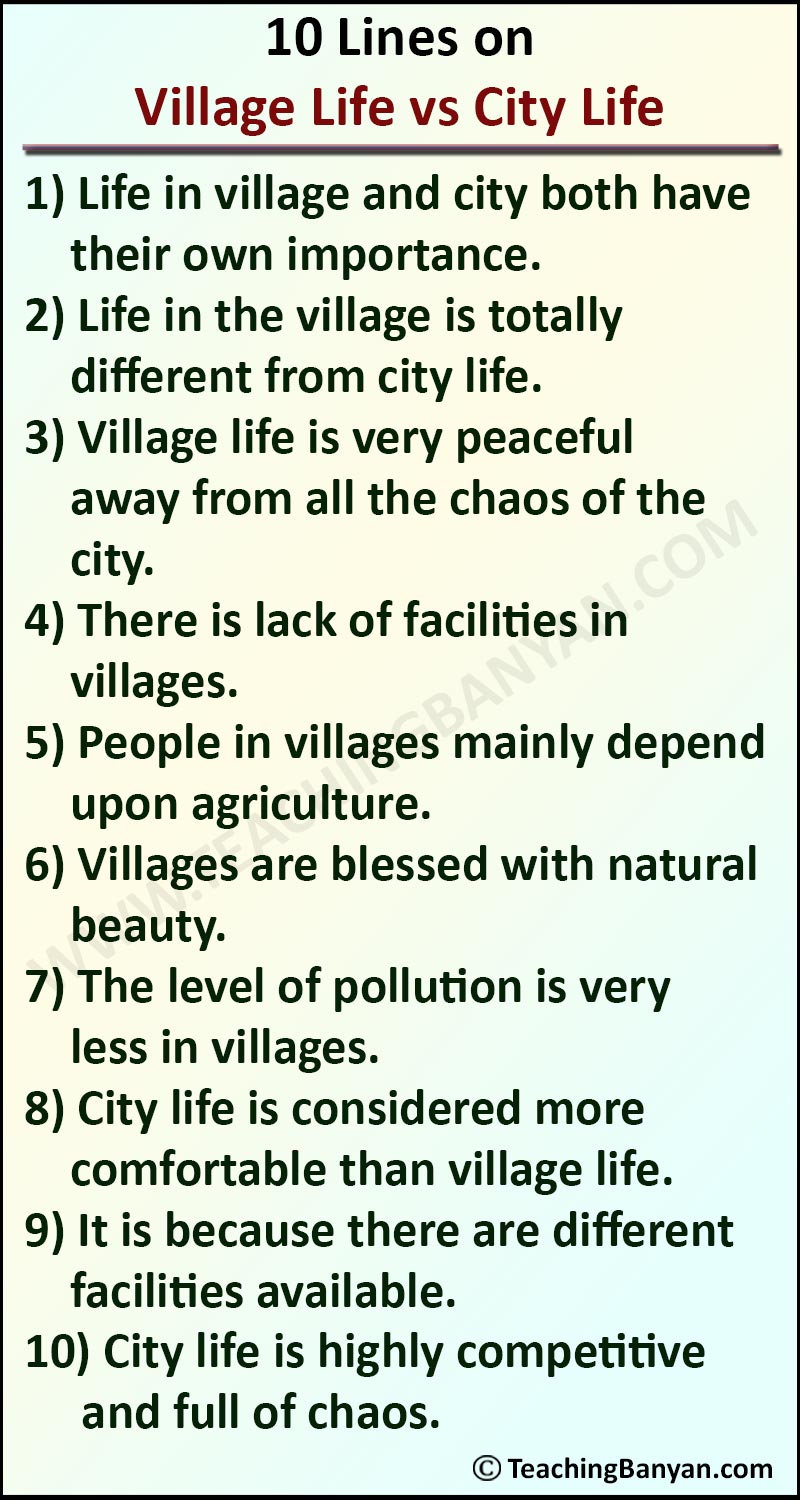 5 Lines on Village Life vs City Life
1) Village life lacks many facilities.
2) Cities are more developed than villages.
3) City life is demanding and expensive.
4) Village life is more peaceful.
5) Village life is beautiful whereas city life is polluted.
20 Lines on Village Life vs City Life
1) India is said to be the land of villages with 67 percent population living there.
2) A small amount of population in India lives in various cities and metro areas.
3) Village people, if they live in cities face a lot of trouble and disparities initially.
4) People who live in cities try to convert their dreams into reality with hard work.
5) Village life is full of ease and comfort where villagers have time to relax and rest.
6) Cities are full of hectic and troublesome schedules and are facing a kind of rat race.
7) Villages are lacking the basic facilities of roads, light, proper housing and jobs etc.
8) Cities offer high standard of life with nice infrastructures like rail, road and other means of transportation.
9) In villages, people don't have any scarcity of food and space.
10) People are facing the problem of living space in major metropolitan cities because of increasing population.
11) Facilities and opportunities are more in the cities which help a person to make his career with future growth prospects.
12) Villages, on the other hand, are lacking in the basic infrastructure like road, electricity, etc and getting jobs in the village is a tough task.
13) Villages give a reflection of Indian culture with ancient tradition and heritage.
14) Cities are full of challenges and life in cities is very hard and takes people away from their roots of culture, family and tradition.
15) Villages lack modern facilities and basic amenities but the atmosphere is good and healthy to live.
16) Cities have plenty of modern facilities with top-notch infrastructure but stress, tension and pollution is quite high compared to villages.
17) In villages, there is peace and harmony among the villagers except some conflicts over land and influence.
18) On the other hand, cities are prone to communal riots which lead to deaths of several people and crime rate is also high.
19) Villages have the healthy lifestyle as the people are close to the nature, eat healthy food and breathe fresh air.
20) Cities have abundance of employment, healthcare facilities, transport with roads and electricity along with buildings and apartments etc.   
---
As of now India need both villages and cities in order to have complete growth and development. The present time is that where whole world is getting conscious about growth and development so why India should be left out.
People from both the cities and villages need development and it's the duty of the government to provide them options and facilities to reduce regional disparity because presently cities are facing immense human population pressure due to mass migration of people from villages to cities in search of work.