This is the age of the internet where we can do a lot of stuff over internet like surfing, shopping, chatting, calling, entertaining, earning, writing, blogging etc. There are various platforms available over the internet for finalizing such works. One of these platforms is 'Social Media'. I am sure that you must be well acquainted with social media, though we have created some sets on 10 lines on it. You can read them below, and I hope that you will get some new points to know about Social Media.
Ten Lines on Social Media in English
Some well worded sets of 10 lines, 5 lines, 20 lines, few lines and sentences on Social Media for students of class 1, 2, 3, 4, 5 and 6 are given below to help them in their study , exams and school assignments. Just go through these lines and select the one of your choice:
10 Lines on Social Media
1) Social media is a platform where we can post, search, chat and get connected with other people.
2) It is a method to communicate with others.
3) The term "viral" or "go viral" means the content has become very popular on social media.
4) There are a lot of social sites and apps which runs on a computer as well on Smartphone like Facebook, Twitter, Whatsapp, Instagram etc.
5) Most of the people also write their articles on different topics on the website, called a 'blog'.
6) Facebook tops the lists of having the most numbers of users, followed by YouTube.
7) Social media is also a platform for digital marketing, advertising, and marketing research purposes.
8) It is also a spot for different recruitment and hiring agencies.
9) They may track your activities, likes and dislikes, hobbies and suggest something better.
10) Celebrities and stars also use social media platforms to share their photos, videos and activities.
10 Lines and Sentences on Social Media
1) Social media is a way to connect, communicate and share media and texts with friends, family and other people digitally.
2) It allows you to connect and be in touch with other distant people.
3) India comes second in terms of internet users in the world, particularly in the social media platforms.
4) Among all the uses of the internet, social media platforms are the most preferred one.
5) Fake news is one of the ill effects of social media, creating a disturbance in society.
6) Fake news on social media spread hatred among people resulting in mob lynching, riots and communal clashes, etc.
7) Social media is also a medium for political parties to promote their campaigns and appeal for votes.
8) Political parties also take the help of social media to influence and divide the people on caste and religious basis.
9) Social media can also create disaster as people with fake profiles can do fraudulent acts with anybody either socially or financially.
10) We have heard of 'Honey Trap' where enemies try to sneak into our defence personnel's profile and grab sensitive information.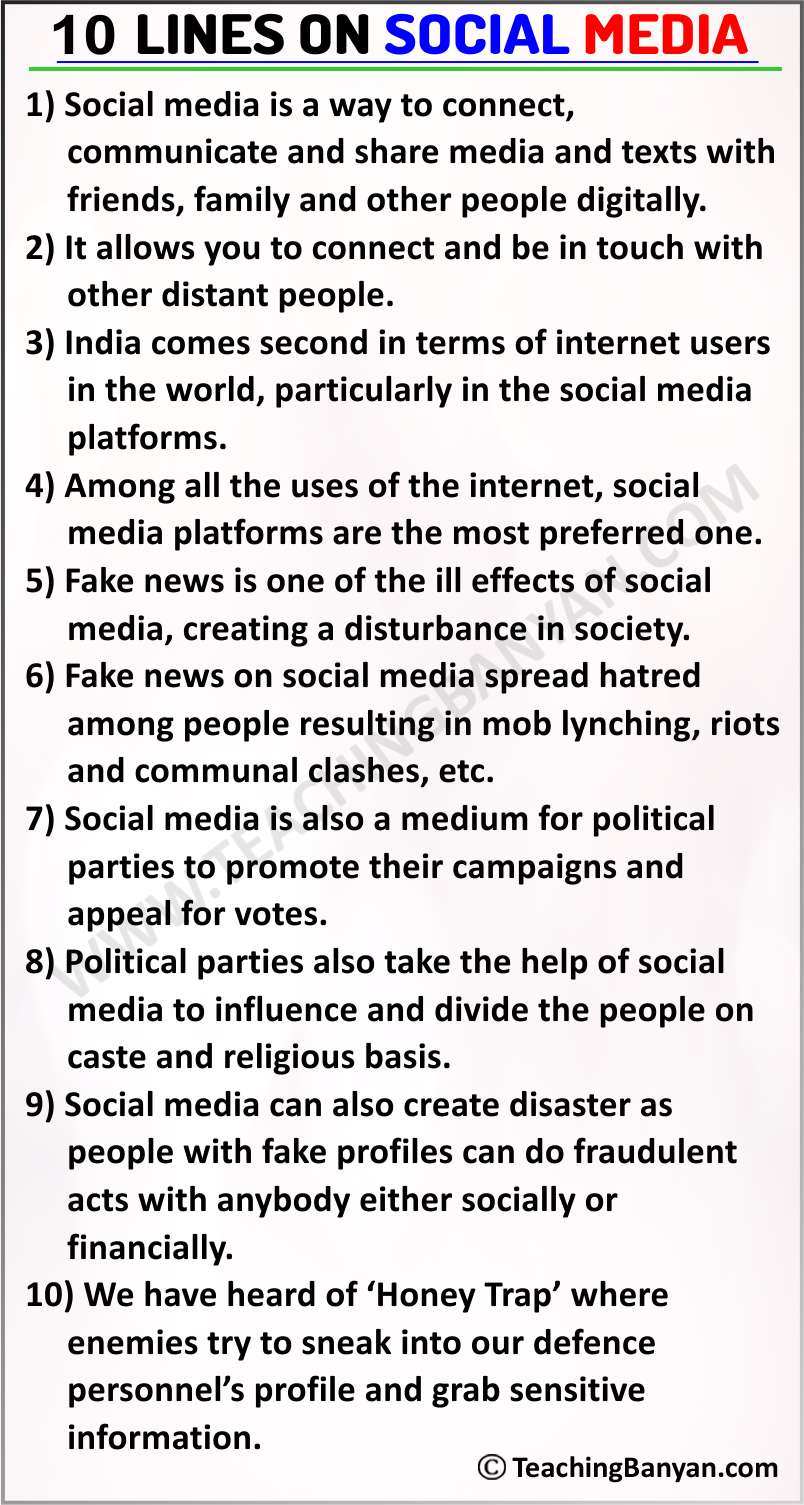 5 Lines on Social Media
1) Social media is a powerful platform.
2) It helps to connect with people.
3) People can share things through it.
4) It is a good way to show creativity.
5) Social media can be a boon or bane.
20 Lines on Social Media
1) Social Media is an online tool that helps us to stay connected with the whole world.
2) Some examples of Social Media platforms are Facebook, Twitter, Instagram, Snapchat, Pinterest etc.
3) Almost every individual in the world uses various social media platforms.
4) The craze for social media among people has grown rapidly in the past few years.
5) Social Media is a great platform for the advertisement of your business and products.
6) Social Media provides us with the facility to connect with people from all around the world.
7) The platform gives you access to the news of the whole world instantly without any cost.
8) Excess use of Social Media is harmful and can make us physically and mentally sick.
9) Use of social media, when you have some urgent work, is just the waste of your precious time.
10) The use of social media has made the most of the youth lazy and doodle.
11) Social Media is the most preferred platform to spend free time now a day.
12) Social Media is helpful as it can connect us from our distant relatives in just one tap.
13) Social Media is like a virtual world where people find pleasure in roaming everywhere.
14) This virtual world has separated the people from their surroundings in the real world.
15) Social Media is a good place to discuss your thoughts and get the best ideas from professionals.
16) Social Media has become now a great platform for learning for students.
17) Some people use social media to spread fake news which puts a negative impact on its usefulness.
18) Social media provides the advantage of marketing products across the world is comparatively low or no cost.
19) The excess use of social media is the wastage of health and time.
20) Continuous use of it can create anxiety, stress, dizziness and other complications in our body.
As the country is shifting its gear towards 'Digital India', social media has become a powerful weapon. It is a tool by which a person can not only get in touch with his relatives and friends but also can track the news related to growth and development in the country. He can also raise questions and issues via this platform but other menaces like fake news, fake profile and fraudsters, honey trap etc. need to be curbed with sensible use of social media.