Shardiya Navratri is celebrated annually in the month of September or October. It is a grand festival which is celebrated for nine days and the tenth and the last day is celled as Dussehra. On this day, the female deity Goddess Durga is worshiped either is nine forms known as Navdurga or in ten fierce forms known as Dasa Mahavidya.
This is the festival where people by adopting all the rules and regulations, worship their deity with great devotion. It is celebrated with great spirituality by setting up large 'pandals' in the cities and worshiping the idols of Goddess Durga. This Navratri falls in the Sharad ritu or fall season hence it is called as Shardiya Navratri and brings goodness in the family and among the people.
Ten Lines on Shardiya Navratri in English
We have provided 10 lines, 5 lines, 20 lines, few lines and sentences on Shardiya Navratri in English for Class 1, 2, 3, 4, 5 and 6. These lines will help you in your studies and you can add these lines in your essays and paragraphs writing in exams as well as any school competitions.
10 Lines on Shardiya Navratri
1) Shardiya Navratri is a biggest festival celebrated by Hindus in India and in the world.
2) It falls in the period of autumn equinox of September-October month.
3) Shardiya Navratri is also called as Durga Puja in West Bengal and Navratri in Gujarat.
4) It is celebrated for 9 nights and 10 days dedicated to Goddess Durga.
5) Shardiya Navratri celebrates victory of Goddess Durga over demon king "Mahishasur".
6) First day of Shardiya Navratri is called as "Pratipada" and last day is called as "Dussehra".
7) During Shardiya Navratri, nine form of Goddess Durga is worshiped on each particular day.
8) People perform "Kalash Sthapana" where they keep earthen pot and put coconut over it.
9) People put either idol or picture of goddess Durga and worship her in morning and evening.
10) Huge crowd of devotees stand in queue for long hours in temples to take the glimpse of their deity.
10 Lines and Sentences on Shardiya Navratri
1) Shardiya Navratri is a Hindu festival which is celebrated in India as well as different parts of the Indian subcontinent with zeal and zest.
2) There are two seasonal Navratri in a year, one is "Chaitra Navratri" which comes in March/April and second one is "Shardiya Navratri".
3) As per Hindu calendar, Shardiya Navratri comes in the month of Ashwin and in September/October according to Gregorian calendar.
4) This Navratri period comes under "Sharad Ritu" or the fall season, that's why it is known as Shardiya Navratri.
5) It is celebrated to worship Goddess Durga who killed demon king Mahishasura and other demons in a fierce battle.
6) In Shardiya Navratri, "Navdurga", the nine forms of Durga as well as "Dasa Mahavidya" the ten fierce and tantric forms of Durga are also worshiped.
7) The festival is celebrated with much enthusiasm and happiness with lots of marquees (pandals) erected in whole city.
8) In the puja pandals, idols of Goddess Durga with Mahishasur and other gods are placed which gets open on "Saptami" or 7th day.
9) During Shardiya Navratri festival, people recite the religious text "Durga Saptashati" and "Devi Bhagavat" in their homes where they worship Goddess Durga.
10) During Shardiya Navratri, people observe fast for whole nine days or rely only on fruits and salads and drink lemon water.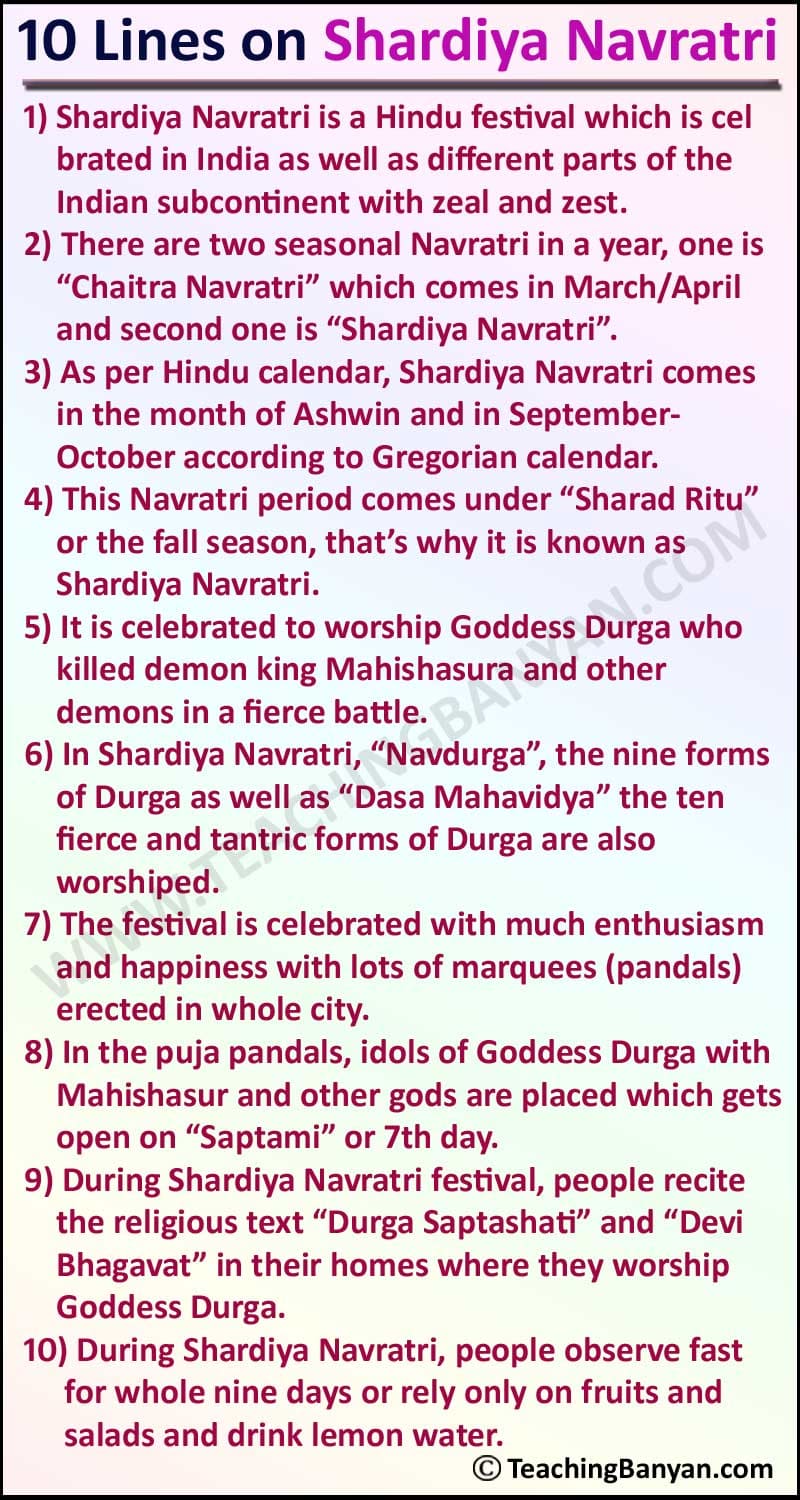 5 Lines on Shardiya Navratri
1) It lies in Ashwin month of Hindus.
2) People worship the goddess Durga.
3) Huge idols are exhibited in various cities.
4) West Bengal celebrates it very grandly.
5) It represents powers in feminism.
20 Lines on Shardiya Navratri
1) Shardiya Navratri is a holy festival especially celebrated by Hindu in all parts of India.
2) According to Hindu Panchang/calendar, Shardiya Navratri begins on the Pratipada of Shukla Paksha of Ashwin month.
3) Navratri is a nine-day festival during which the nine forms of the goddess Durga are worshiped.
4) The 9 goddesses worshiped during Shardiya Navratri are called 'Navdurga'.
5) The 10th day of Shardiya Navratri is celebrated as Dushehra festival.
6) Since Shardiya Navratri falls in the 'Sharad' month of hindu calendar that's why it is called Shardiya Navratri.
7) The 9 forms of goddesses are mainly related to 3 goddesses Mahalaksmi, Mahasaraswati and Durga.
8) It is mainly celebrated in Gujarat and West Bengal states in India.
9) Not only in India but also people in other countries wait for it with same enthusiasm.
10) It is said that Shardiya Navratri is being observed since Prehistoric ages.
11) Navratri is an important festival celebrated with great enthusiasm throughout India.
12) Gujarat celebrates this festival with 'Dnadiya' and 'Garba'.
13) Shailputri, Brahmacharini and Chandraghanta forms of the Goddess are worshiped on first, second and third day.
14) Kushmanda, Skandamata and Katyayani forms are worshiped on the fourth, fifth and sixth days.
15) Kalratri, Mahagauri and Siddhidatri forms are worshiped on the seventh, eighth and ninth days.
16) Maa Durga had fought with demon 'Mahishasur' during these 9 days and finally killed her.
17) After killing Mahishasur, Maa Durga was called 'Mahishasur Mardini'.
18) On this occasion, people set up a statue of Maa Durga in their homes or localities and worship for 9 days.
19) On the 10th or 11th day, they carry on the ritual of idol immersion grandly.
20) People also observe fast and pray goddess to fulfil their wishes.
---
Shardiya Navratri is widely celebrated with a full-fledged form of devotion as compared to Chaitra Navratri. You will see puja pandals all around the city and Ramlila committees will show Ramlila. "Jagrata" (night awakening) is also organised at various places where people gather and singers sing bhajans dedicated to Goddess Durga. After the 'jagrata', prasad is distributed to the devotees which includes puri, halwa and fruits etc which multiplies the devotion in the environment.