Saina Nehwal is a very popular Indian Badminton player and as a badminton player, she is the pride of India. Saina belongs to the family where her mother herself was an accomplished Badminton Player and had played state level Badminton. Saina Nehwal held Badminton from a very early age and that is why she has many more records as compared to her age. She has also represented India many times on International Platforms and it is time for us to have some knowledge about her life journey and achievements.
Ten Lines on Saina Nehwal in English
We are providing here some sets of Saina Nehwal in English language for students and all those who want to know about Saina Nehwal in very short time, So let's study the below sets of 10 lines on Saina Nehwal.
Set 1
1) Saina Nehwal was born on 17th March 1990 in Hissar district of Haryana but lives in Hyderabad.
2) Saina has completed 12th class from St. Ann's College for Women at Mehdipatnam, Hyderabad.
3) Saina has married to Parupalli Kashyap, a badminton player, on 14th December 2018.
4) In 2006, Saina became under-19 champion and won the Asian Satellite Badminton tournament (India Chapter) twice creating history.
5) By this, she had also become the first Indian woman and the youngest player from Asia to win a 4-star tournament.
6) She is the first Indian woman to reach the quarter-finals of the Olympic Games.
7) Saina also has the record of being the first Indian woman to win the most prestigious badminton series 'BWF Super Series'.
8) Saina has been awarded the Arjun Award (2009), Padma Shri (2010), Rajiv Gandhi Khel Ratna (2009-2010) and Padma Bhushan (2016).
9) Saina Nehwal's autobiography, released in 2012, was named "Playing to Win: My Life On and Off Court".
10) Saina was also awarded for being the most promising player in 2008 by Badminton World Federation.
Saina Nehwal is a so dedicated player that summarizing the whole events of her life in 10 lines is like a hard nut to crack. Even 10 pages will be insufficient to describe the achievements of Saina Nehwal. We have prepared another set of 10 lines on Saina Nehwal. This set comprises some other important information on her achievements. A few facts on Saina Nehwal will prove to be helpful for you. So let's start.
Set 2
1) Saina Nehwal is an Indian Badminton Singles Player.
2) Saina has been the highest-paid women badminton player in the world.
3) She has been trained by the prominent coaches Syed Mohammad Arif and Pullela Gopichand.
4) In Indian Badminton League, Saina plays for 'Hyderabad Hotshots'.
5) Saina Nehwal was also the brand ambassador of the 2010 Commonwealth Games held in Delhi.
6) Sania has achieved 24 International titles including becoming world number 1 player.
7) She achieved the 2nd rank in 2009 but the first rank in 2015 in the whole world.
8) Saina has also a record being the first Indian to win World Junior Badminton Championship.
9) Saina Nehwal holds a position in the list of most charitable athletes in the world.
10) Saina Nehwal has won one gold and three bronze medals in Commonwealth Games.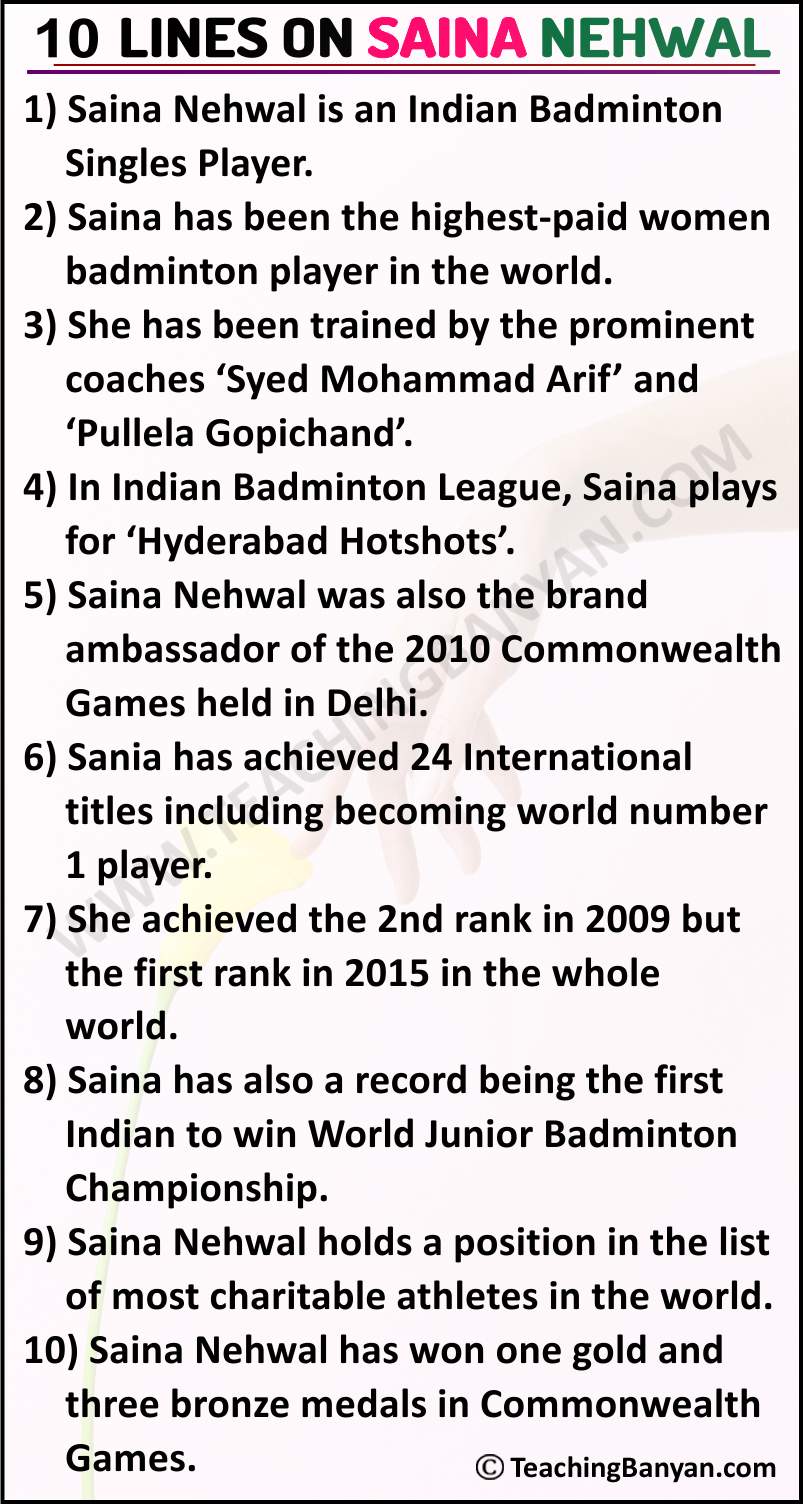 As we all know that Saina Nehwal was a champion in badminton by blood because her mother was a dedicated Badminton player. Saina took this sport to another level in India holding the badminton to fulfill the left dream of her beloved mother but apart from playing badminton, Saina also had an interest in Karate and is a brown-belt.
One more fact that comes arising frequently is that Saina Nehwal is very fond of Ice-Creams and celebrates her every victory with Ice-Cream. She is not less than an inspiration to all of us and especially to women in India. We wish our Champion must keep playing like that for many more years and making India feel proud of her achievements.