A road trip is one of the best ways to visit any place or any site in a particular city. It is best suited for people who have leisure time to spend on adventurous trips. A road trip is the most happening experience for a travel enthusiast. It is not necessary that people who are going on road trip must possess car if few people are available road trip can be done with bikes or two-wheelers also.
Nowadays attending the marriage functions via road trip is the new trend in the society. It gives you the chance of watching any place or site with ample time. Halts during road trips are considered the best experience for someone who is going on holiday break. Road trip refreshes our mind also strengthens our bond between our family and friends.
Ten Lines on Road Trip in English
We have provided 10 lines, 5 lines, 20 lines, few lines and sentences on Road Trip in English for Class 1, 2, 3, 4, 5 and 6. After reading these given lines you will be able to write or speak about Road Trip in your exams, few lines/essay/paragraph writing competitions or debate, etc. Also, you can add these lines in your essays and paragraphs writing on Road Trip or related topics in your exams as well as in the school competitions. So, go ahead:
10 Lines on Road Trip
1) Going on a road trip is one of the ways to refresh your mood as well as your mind.
2) People who use to go on road trips feel a different kind of experience in their life.
3) India has a number of tourist spots and destinations which are suitable for a road trip.
4) With having good roads and highways, it doesn't matter in which city a person lives.
5) Many people plan a short road trip of 5-7 hours in which they feel comfortable.
6) Many people are of the view to stretch their road trip for big hours to few days.
7) People stretch their road trip in order to halt on different places for rest and relaxation.
8) The working people nowadays are organizing road trips with their office colleagues.
9) People go for road trips to make themselves stress-free and add cherish to their life.
10) Even companies also organize road trips for their employees to make them happy and stress-free.
10 Lines and Sentences on Road Trip
1) Road trips are considered as the best way to enjoy vacations and holidays if a person is going with his family or friends.
2) I am a resident of the 'Chandauli' district and a student of class 9th of Vidya Mandir School located in the same district.
3) During the last summer vacation, my family including me planned a road trip and few days stay in Varanasi.
4) My moment of excitement rose to new heights when my uncle with his family also came to our house to join the road trip.
5) I was very happy that I will spend my days with my cousin brother who is very close to me because we both are just like buddies.
6) When they came to our house it was decided that the next day we will start our journey and halt at few places to take a break and rest there.
7) We started our journey the next day via road and we halted at 'Raj Dari' and 'Lakhaniya Dari' to see the scenic beauty of those places.
8) Our next spot of halt was Varanasi where we already had two hotel rooms booked for us.
9) We took some rest in the hotel room and started our journey again and visited the "Shri Kashi Vishwanath" temple.
10) We also visited other famous temples, "Ramnagar Fort", "Sarnath", and the famous Ghats of Varanasi, and watched "Ganga Aarti" there.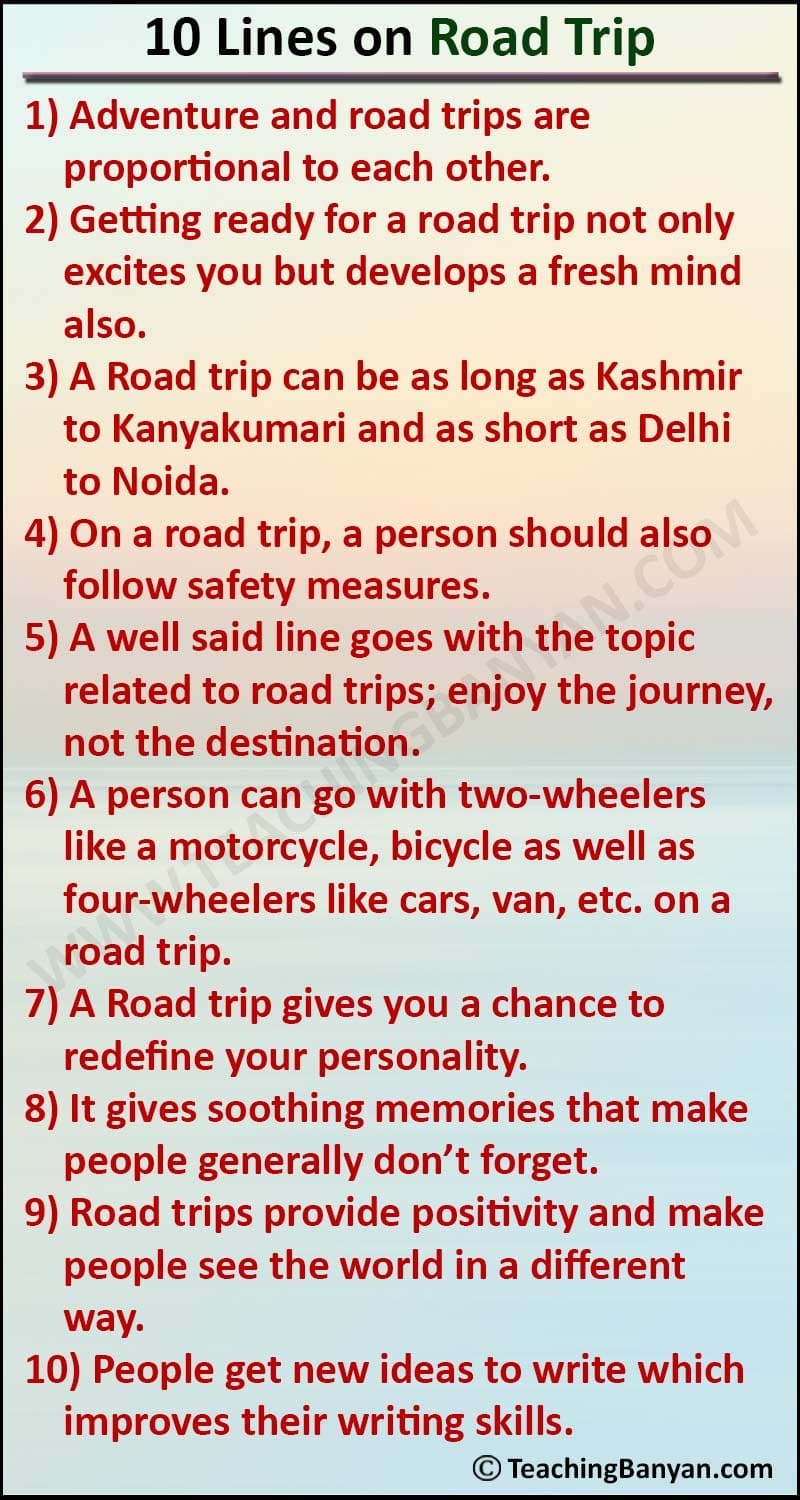 5 Lines on Road Trip
1) Road trips are adventurous.
2) It reduces stress and refreshes the mood.
3) It is a wonderful experience.
4) Road trips are full of excitement.
5) Road trips are best to explore the nature.
20 Lines on Road Trip
1) Adventure and road trips are proportional to each other.
2) Getting ready for a road trip not only excites you but develops a fresh mind also.
3) A Road trip can be as long as Kashmir to Kanyakumari and as short as Delhi to Noida.
4) On a road trip, a person should also follow safety measures.
5) A well said line goes with the topic related to road trips; enjoy the journey, not the destination.
6) A person can go with two-wheelers like a motorcycle, bicycle as well as four-wheelers like cars, van, etc. on a road trip.
7) A Road trip gives you a chance to redefine your personality.
8) It gives soothing memories that make people generally don't forget.
9) Road trips provide positivity and make people see the world in a different way.
10) People get new ideas to write which improves their writing skills.
11) People plan tours with tour destination companies and get to know about new people.
12) It helps to improve geography as we see and discover places practically.
13) A road trip helps you to discover new things and cultures.
14) A road trip will add more adventure to your life.
15) A family road trip can be beneficial in improving bonds with each other.
16) It inspires you to learn more about travelling and the travelling measures.
17) People capture photos and videos as a part of memory.
18) A road trip can be of few hours to long days.
19) People who are enthusiasts of traveling are known as travelers.
20) The people on short road trips will get to know their local areas very well by practically experiencing it.
---
Going on a road trip is really a very fascinating and fantastic experience of someone's life. As it gives the excitement and adventure of the place where we are going as well as of the entire journey on the road. Road trips become very beautiful if we are traveling with our family and friends. If we have holidays then the best way to go for a road trip is to halt at different places while journeying.