The traffic on the roads is increasing day by day and so are the accidents on the roads. It becomes important for everyone to strictly follow certain rules which safeguard them from falling prey to unfortunate road accidents. Road safety rules are certain regulations that should be followed by everyone whenever they are on roads as a pedestrian or as a driver.
These road safety rules not only save us from deadly accidents but it also saves the other people on the roads. Government and traffic departments organize various campaigns and awareness programs on road safety on a regular basis to make sure that people understand the importance of road safety rules and strictly follow it in their lives.
Ten Lines on Road Safety Rules in English
We have provided 10 lines, 5 lines, 20 lines, few lines and sentences on Road Safety Rules in English for Class 1, 2, 3, 4, 5 and 6. You can add these lines in your essays and paragraph writing in your exam as well as in the school competition. These set will not only enhance your overall knowledge but it will also help you while writing Road Safety Rules essay, speech on Road Safety Rules, few points or few lines on Road Safety Rules.
10 Lines on Road Safety Rules
1) We all drive and walk on the road to go to different places.
2) Road accidents and death are happening every day.
3) We all must follow the road safety rules.
4) It will help to reduce road accidents and death.
5) We should never ride at high speed.
6) We must always walk on the left side of the road.
7) We must be ready to wait when there is a yellow light.
8) Red light means we have to stop.
9) The green light gives the signal to go.
10) We must only cross the road when it is clear.
10 Lines and Sentences on Road Safety Rules
1) Road safety rules are important for everyone.
2) Our carelessness on the road causes accidents and death.
3) The safety rules help us in preventing road accidents and death.
4) We should never run while crossing the road.
5) It is necessary to wear a helmet while riding a two-wheeler vehicle.
6) We should not forget to put a seat belt in a four-wheeler vehicle.
7) We should never put our head or hands outside the moving vehicle window.
8) We must always follow the traffic light signals.
9) It is not good to use mobile phones while driving.
10) This awareness of people can save the life of many people.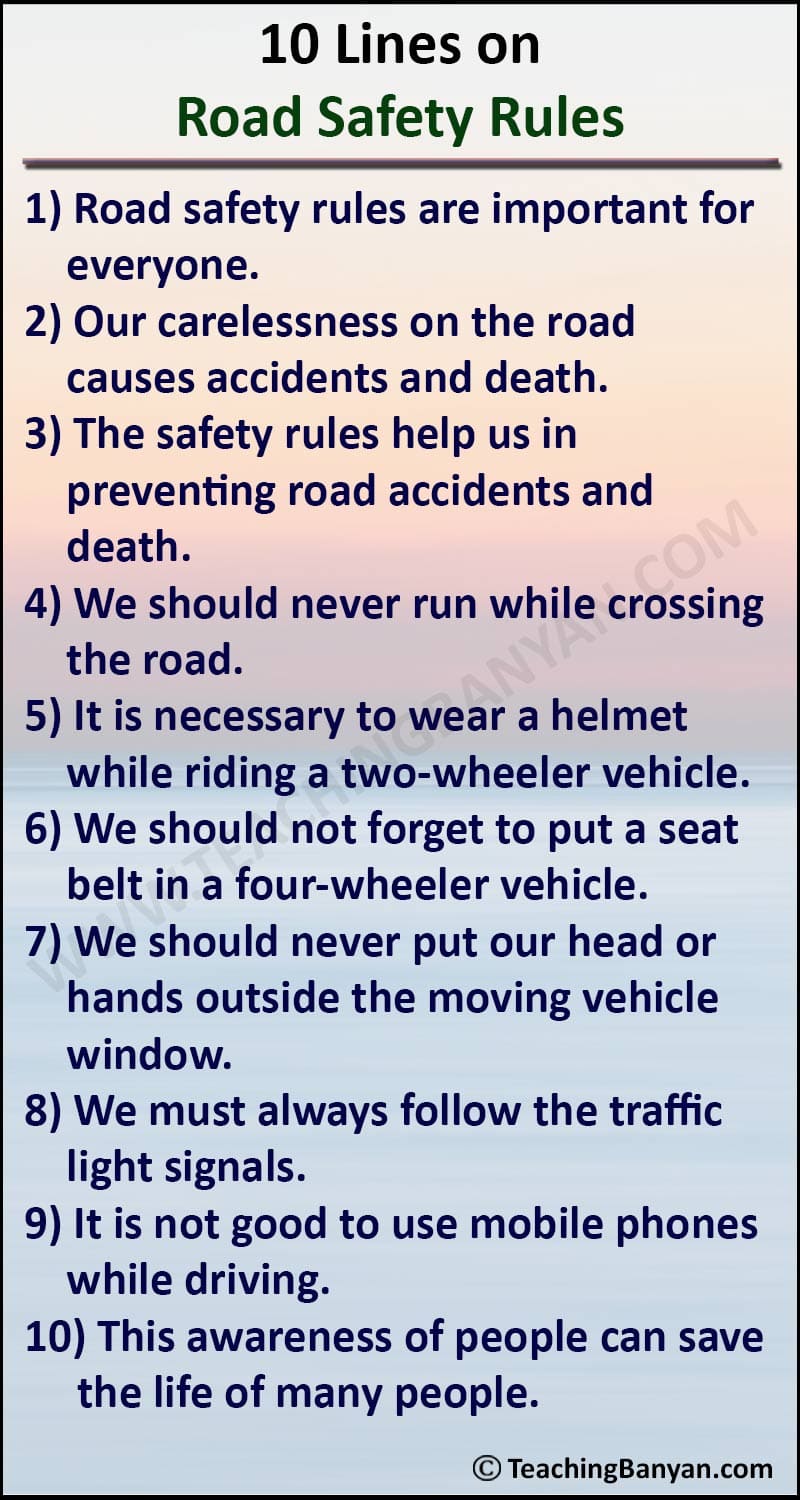 5 Lines on Road Safety Rules
1) These rules safeguard traveling on roads.
2) It helps to avoid accidents.
3) It says we should never run on roads.
4) We should always follow traffic lights.
5) We should always wear helmets.
20 Lines on Road Safety Rules
1) Road Safety Rules are certain regulations and advisory which need to be followed whenever a person in walking or driving a vehicle on road.
2) These rules help to maintain discipline on the roads to avoid any accidents.
3) Most of the accidents occur due to negligence and not following the traffic rules.
4) Children should be taught the basic traffic rules in the schools so that they grow up following it.
5) The government and traffic department organizes various awareness campaigns and days to make people aware of road safety rules.
6) Road Safety Week is organized in January/February every year to spread awareness on traffic rules.
7) Road safety rules are also important for pedestrians and they should know when and where to cross the road.
8) The importance of road safety rules can be understood from the fact that no one is given a driving license unless he clears the written test on road safety.
9) Road safety rules play a crucial role in avoiding accidents on roads and saving precious lives.
10) The most important aspect of the road safety rule is to respect the other person on the road, be it a pedestrian or vehicle.
11) Road safety rules safeguard the commuters and pedestrians from road accidents and save their valuable lives.
12) There are a few essential safety rules in India which if followed strictly could avoid a major number of accidents.
13) Wearing helmets on two-wheelers and wearing seat belts in four-wheelers are one of the most important road safety rules.
14) Drunken driving, overloading, jumping red lights are few reasons for road accidents which should be completely avoided.
15) Always drive at nominal speed and do not over speed your vehicles.
16) Always stop on a red light at traffic signals and move only on green lights.
17) Pedestrians should always walk on the footpaths and use zebra crossing while crossing the roads.
18) Driving in your own lane is the best rule to avoid accidents.
19) Never receive calls or talk on your cell phones while driving; in case it is urgent, always stop the car at a side and receive the call.
20) Always respect pedestrians and other vehicles on the road and do not engage in any conflicts.
As per the WHO report, around 1.25 million people are killed every year due to road accidents globally. Hence it becomes very important for everyone to follow the road safety rules and spread the awareness of the same. It helps in saving valuable lives of the people and families.
As per the development in technologies and strict vigil of the traffic department, the accident rate has been declined but the need for the time is that everyone should follow the traffic rules and the prosecutors should be severely punished by the law enforcement authorities.