Keeping a pet animal dates back in history for thousands of years. A pet animal is the best companion and source of pleasure. People around the world keep many pet animals like dogs, cats, fishes, horses, turtles, elephants etc. It is very interesting to read about someone's pet. Let's have that joy through the sets of 10 lines given below.
Ten Lines on My Pet Animal in English
10 lines, 5 lines, 20 lines, few lines and sentences on My Pet Animal are given below in the form of few sets for the students of Class 1, 2, 3, 4, 5 and 6 in very easy language. Just go through them and get your needed one:
10 Lines on My Pet Animal
1) I have two pet animals, a dog and a cat.
2) Sheru is the name of the dog, and Mini is the cat.
3) Sheru is a two years old brown coloured German shepherd while Mini is a one-year-old white-coloured cat.
4) Initially, both used to be enemy, but gradually they have become friends now.
5) Sheru desperately needs to walk twice daily, while Mini is lazy and likes to rest in the house.
6) Sheru loves to eat chicken and Pedigree while Mini loves to fish and milk.
7) Both are fond of each other and get along quite well.
8) Mini is the mischievous of them who disturbs and plays with Sheru many a time.
9) Sheru takes good care of Mini and protects her from stray dogs.
10) Both are the heart of our family and bring joy and happiness to us.
10 Lines and Sentences on My Pet Animal
1) My pet animals are the fishes in my aquarium.
2) They are very sparkling and colourful.
3) There are around 15 fishes of varying sizes in my aquarium.
4) Mostly I have Goldfish and Barb species since they look beautiful and require less maintenance.
5) Watching them swimming across the aquarium relaxes our minds, and makes us happy.
6) I prefer giving fish food twice a day and they gather towards the surface to get the hold of it.
7) The playing of the fishes around the food is quite a funny moment to watch.
8) I change the water of the aquarium every 10-15 days to make it look beautiful and clean.
9) I have also put lots of LED lightings around the aquarium, which looks astonishing during nights.
10) Fishes are the most cost-effective and low maintenance pets, and anyone can keep them.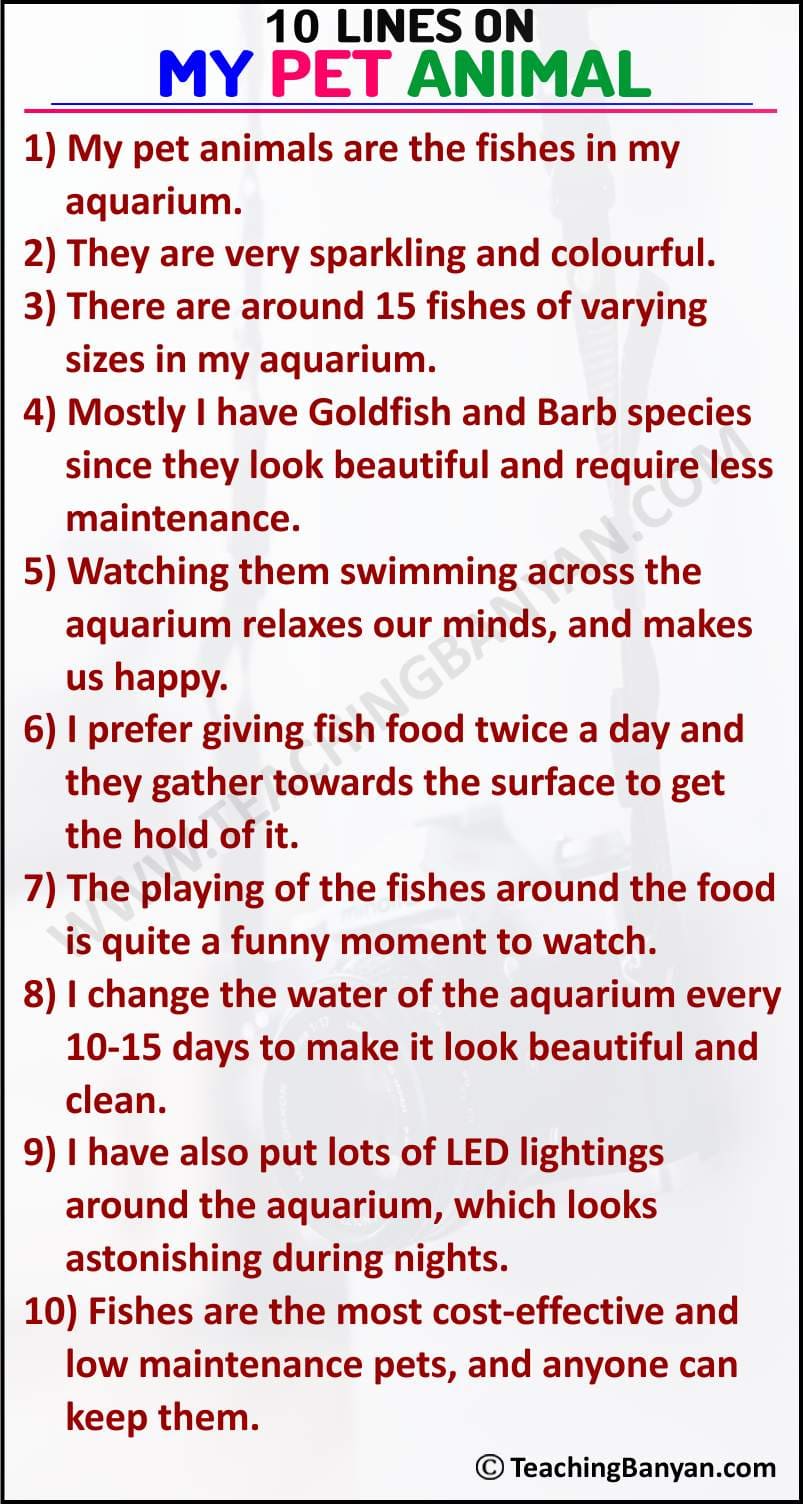 5 Lines on My Pet Animal
1) Having a pet animal is like having a friend.
2) I have a cow as my pet.
3) She is very sweet and gentle.
4) She gives us tasty milk.
5) She chews and cuds all the time.
20 Lines on My Pet Animal
1) I have a pet animal in my family, and that is a cute Monkey.
2) I have named my pet Monkey as 'Kiki'.
3) Kiki is very obedient, and that is what makes me love him the most.
4) Kiki always behaves gently, and he is also close to my family as well.
5) I love the Kiki most, and I want to take him everywhere I go.
6) When I reach home, I find Kiki eagerly waiting for me.
7) Whenever I reach home, I bring something to him.
8) I feel Kiki also loves me the most, and he loves to sleep with me on my bed.
9) Kiki makes me smile whenever I feel upset due to some reasons.
10) Kiki is my favourite, and I will never leave him alone or apart from me.
11) I am fond of Rabbits, and I have one as a pet animal at my home naming 'Bunny'.
12) Bunny is a rabbit with clean white fur and a very cute and attractive face.
13) It is very difficult to look after a rabbit, but I find it interesting in the case of my Bunny.
14) I make Bunny bath every day, and I also buy an expensive soap for him.
15) I had found Bunny in a dustbin, and, since I love rabbits so I brought him my home.
16) Initially, it was difficult for me to take care of him, but I learned all about it on the internet.
17) I have not bought any cage for Bunny, because he is free to roam in my house.
18) My family and I love Bunny, and we want to cuddle him all the time.
19) Bunny always rests in my lap, and I carry him all the places where I go.
20) Bunny is no more a pet but has become a member of my family.
---
Pet animals are the best way to reduce your stress and help you relieve your mind and instil positivity. They are the best example of selfless love. Pet animals also help to fight depression and spread happiness in our home. Animals also teach us many things and help us to become more human concerning love, empathy and compassion, which are getting lost in the current time. Proper training to pet animals helps us in many manners and makes them an obedient member of our family.
Related Topics: