Mother Teresa was a globally well-known personality. She was famous for her service towards the people. Reading about her is not less than an honour for us. For it, we have created some sets of 10 lines on Mother Teresa. These sets will help you in getting plenty of information about her.
Ten Lines on Mother Teresa
Set – 1
1) Mother Teresa was a nun in a Roman-Catholic church and a philanthropist.
2) She had born on 26 August 1910 in Ottoman Empire.
3) She had an urge to live a religious life since her childhood.
4) She reached India in 1929 and adopted its citizenship.
5) She was suffering from heart-attack during the last days of her life.
6) The Government of India awarded her with Padma Shri in the year 1962.
7) She also received Bharat Ratna, the highest Indian civilian award, in 1980.
8) 5 September 1997 was the day when she breathed last.
9) Mother Teresa was globally famous for her service towards the poor and sick people.
10) There are global architectures named after her including road, hospitals, airports, and streets.
Set – 2
1) The actual name of Mother Teresa was Anjezë Gonxhe Bojaxhiu.
2) She could fluently speak five languages.
3) She started her participation in social service at the age of 18.
4) At the beginning of her career, she also taught in a missionary school.
5) The Christian community celebrates her death anniversary as the 'Feast Day'.
6) It was 1981 when she changed her name to Mother Teresa.
7) She served every individual, whether a poor or a Dalit.
8) After the death of Mother Teresa, she was known as 'Blessed of Kolkata'.
9) In the year 1950, she founded 'The Missionaries of Charity' in Kolkata.
10) She was beloved of every individual.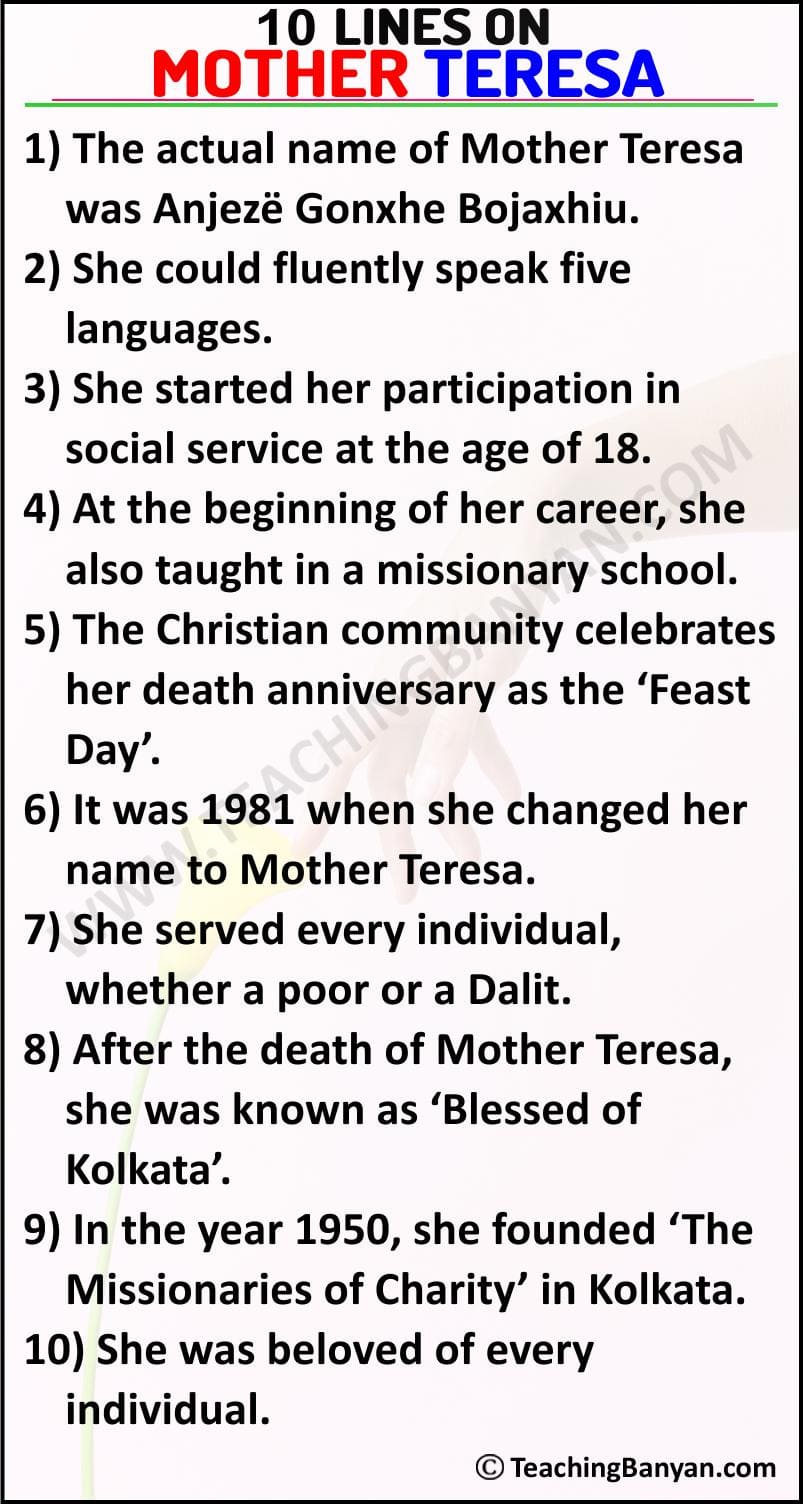 In the field of social service, Mother Teresa has set a milestone. She has got the blessings of the poor society. She suffered a lot during her life but never gave up her act of social service. She was, she is, and she will always remain an inspiration for the people belonging to the field of service.