India is a vast country in south-east Asia which is seventh largest country of the world by area and second most populated country in the world. Apart from its size, India is also vast as far as its cultures and traditions are concerned.
India has its unique culture and tradition which makes it distinct from whole world, it will be correct to say that India is a land having culture of cultures which no country of the world has. Despite having so many cultures, traditions and religions still the people live in peace, harmony and love showcasing the unique culture of 'Unity in Diversity'.
Ten Lines on Indian Culture in English
We have provided ten lines on Indian culture in English. After reading these lines you will know that what a culture consists of, what is Indian culture, what are the features of Indian culture, how many states and union territories India have, how any religions India have, how many languages India have, which is the official language of India, how people greet each other in India, what type of family is in India etc.
You can add these lines in your essays and paragraph writing in your exam as well as in the school competition. These lines will also help while writing Indian culture and tradition essay, 5 minutes speech on Indian culture, few points on Indian culture for class 1, class 2, class 3 or class 4 and importance of Indian culture essay etc.
 10 Lines on Indian Culture – Set 1
1) Every country's culture is unique which has its traditional value, religion, dance, music, cuisine, dressing, language etc.
2) India can be said as the only place in the world which is a cluster of cultures which cannot be found anywhere else.
3) Indian culture is the oldest in the world with cultural diversity throughout the country which can surprize anybody.
4) It is unbelievable for the world that north, south, east, west, north-east and central parts of India have their own traditions and cultures.
5) India is a huge combination having 29 states and 7 union territories across all the four directions.
6) India is the only country where Hinduism, Islam, Sikhism, Christianity, Buddhism, Jainism and several other religions exist.
7) Official language of India is Hindi but there are 22 languages which are approved by Indian constitution.
8) India is rich in traditional aspect with saying "Namaste" or "Namaskar" to greet anybody and touching feet of your elders.
9) Traditional family structure of India is joint family system where several generations live together under one roof.
10) The food and eating habits of India changes from place to place as each state of India has its own specific food and eating style.
We have provided another set of ten lines on Indian culture. After going through these lines, you will know that what Indian culture is understood as, what binds India as a whole, which festivals are celebrated in India, which festivals are celebrated in states, what is the meaning of "atithi devo bhava", what kind of marriage is practiced in India, what are the clothes worn by Indian people, what are different styles of art in India etc.
You can use these lines in your speeches and extempore in the school competitions. These lines will also increase your knowledge on Indian culture and it will also be very useful in your seminars as well as in your GK quiz competitions.
10 Lines on Indian Culture – Set 2
1) It will not be wrong to say that India is a country of cultures, where one can find uniqueness at each and every place.
2) Indian civilization is very old and still existing whereas other civilizations have become extinct.
3) In spite of having so many differences in various aspects one thing which binds whole India is unity in diversity.
4) Religions in India have a deep and greater impact in shaping the culture and traditions of country.
5) India is the land of celebrations and festivals namely Holi, Diwali, Durga Pooja, Dussehra, Ganesh Chaturthi, Eid, Guru Parab, Christmas etc.
6) Apart from major festivals, there are also various regional festivals like Chhath Pooja, Teej, Onam, Pongal, etc celebrated in states.
7) India believes in the philosophy of "Atithi Devo Bhava" which means that guest is equal to god so he is warmly welcomed.
8) The concept of "Arrange Marriage" system is still practiced in India; it is one of the countries where parents choose life partners for their child.
9) Clothing is also a part of Indian culture where "Saree" is worn by women and men wear "Kurta-Pyjama" or "Dhoti-Kurta" etc.
10) Art is also one of the special dimensions of Indian culture as each state has its different form of dancing and singing like Kathak, Kathakali, Mohiniyattam, Bharatnatyam etc.
Given below is an additional set of 10 sentences on Indian culture which are written in a very simple language, easy to comprehend and can be helpful for you in exams, quizzes, and debates as well as in group discussions, speeches, paragraphs, articles, essays etc.
10 Lines on Indian Culture – Set 3
1) Indian culture is very popular across the world because of its diversity in the field of art, music, literature and philosophy.
2) The culture in India varies from place to place within entire country as India is multi-ethnic, multi-lingual, multi-cultural society.
3) The traditional Indian rural culture is true essence of India as more than 60% population reside in villages.
4) Indian culture is famous for its components like etiquette, manners, civilized communication, rituals, beliefs and values in the whole world.
5) The Indian culture is one of the oldest cultures in the world evolved around 5000 years ago.
6) It is the most vibrant culture in the world with different festivals, food items, art and crafts, music, dance performances, etc.
7) The cultural diversity in India reflects the way people follow the tradition, customs, beliefs and rituals on special occasions.
8) Indian culture has been deeply influenced by Persian, Islamic and Turkish cultures.
9) It is unique blend of historical traditions and modern western culture.
10) Indian culture is the soul of nation and is way of life for Indians.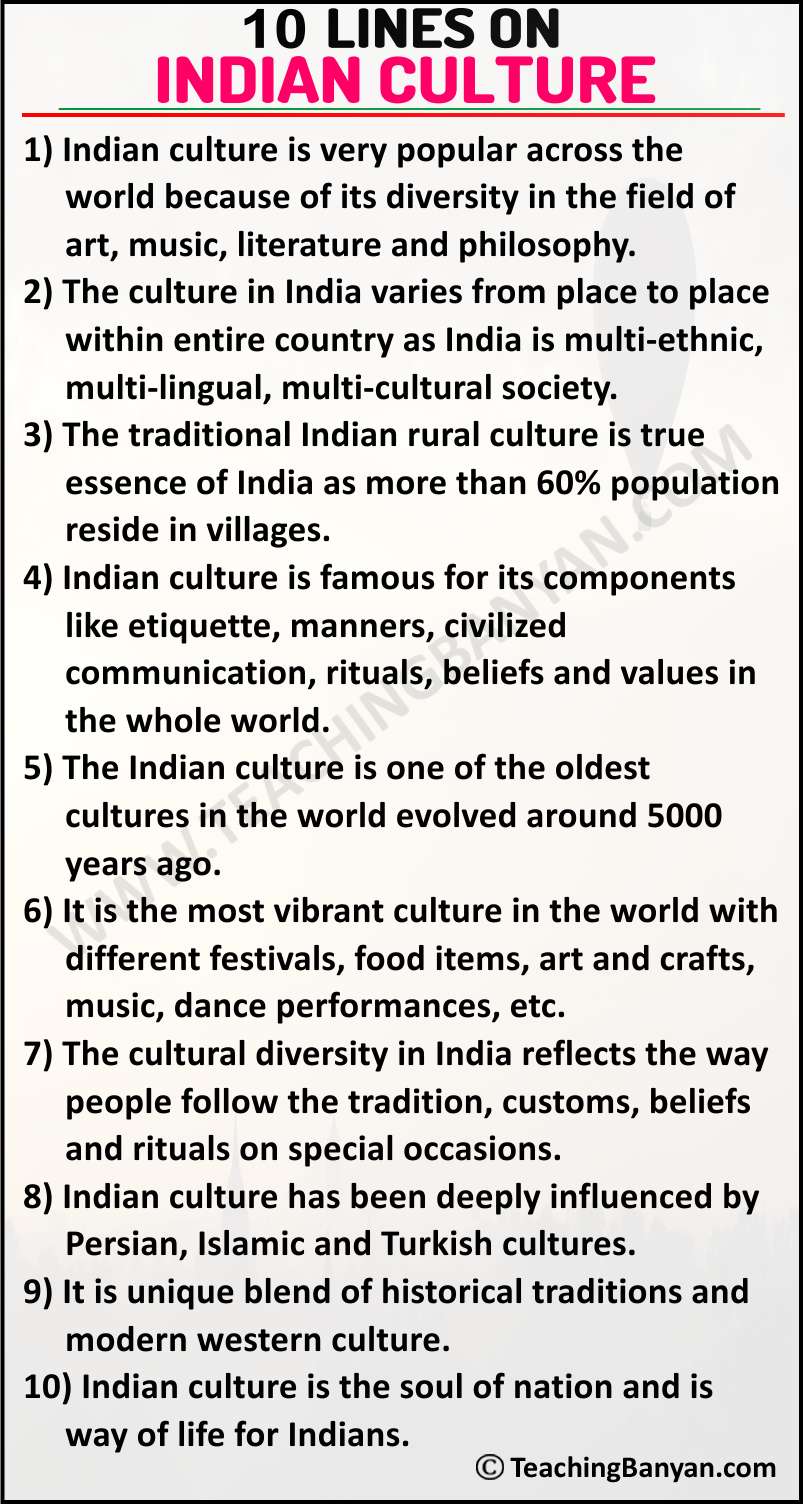 We have created another set of Ten Lines on Indian Culture that will reflex the vivid features of our culture that is respected all across the world. These special points will help you to understand about Indian culture and it is hoped that you will strive to be more worthy of it.
This set of Ten Lines on Indian Culture will also help students to learn the Inheritance culture and heritage of their country. They may also use these points in their academic writings to make them more attractive and worthy.
10 Lines on Indian Culture – Set 4
1) India is a country of rich culture and heritage where people have humanity, tolerance, unity, strong social bonds and other good qualities.
2) People of different cultures and traditions living here are socially interdependent as to why strong bonds of unity exist in the diversity of religions.
3) Indian people are always praised for their caring and calm nature without changing their principles and ideals.
4) India is a country of great legends where great people were born and did a lot of social work.
5) People in India are highly devoted to their culture and know good manners to maintain social relations.
6) Some of the major religions of the country are Hinduism, Christianity, Islam, Buddhism, Jainism, Sikhism and Zoroastrianism.
7) India is a country where different languages ​​are spoken in different parts of the country.
8) People here generally use varieties in customs, costumes, social beliefs and food habits.
9) The culture of the younger generation is still connected to the older generations through the umbilical cord.
10) Our ethnic culture always teaches us to behave well, to respect elders, to care for the helpless and to always help the needy and the poor.
India is land of celebration, festivals and joy where each and every person is happy in its own life. This is the only place which believes in "Vasudhaiva Kutumbakam" which means one world, one family. India has religions which teach us tolerance, kindness and generosity. The Indian culture is the only culture which believes in spreading love.
It does not teach us hatred, that's why whole world gets attracted towards India. People from all parts of the world come to see and feel the uniqueness of the culture and they accept India and Indian culture with both of their hands.