Football is one of the most popular games in the world. It is a game of excitement and thrill as nobody knows at which moment match will take the turn. It can be said as the game of football is full of uncertainties. We might have seen a football world cup match on TV, when all the 11 players of both the teams are kicking the ball towards their fellow players and other team members are trying to grab the ball to score a goal.
Football is the game which helps to increase the coordination and develops team spirit among individuals and makes the player stay fit and active. The game is also a good source of entertainment and excitement for the spectators.
Ten Lines on Football in English
We have provided ten lines on football in English. After reading these lines you will know that what is football game, what is another name of football, how football got its name, how many players are in a football team, what is a goal post, what is a goal, what goalkeeper does on goal post, what referee does in football game, what is the time duration of football game, what is extra time and penalty shootout in football etc.
You can add these lines in your essays and paragraph writing in your exam as well as in the school competition. This will help you to write essay on importance of football, essay on my hobby football, few lines on football for class 1, class 2, class 3 or class 4 etc.
10 Lines on Football
1) Football is an outdoor game which is most popular in the world.
2) Football is also called as "Soccer" in North America, South Africa and Australia.
3) The name football is a combination of two words, "Foot" and "Ball" where players run and kick a big ball from their foot.
4) Football is played between two teams and each team has 11 players in it and one of the players is a goalkeeper.
5) There is "Goal Post" constructed at the both ends of a big ground where a big net is tied with that goalpost.
6) Each player competes with his opponent and tries to kick the ball into opponent's goal post which is called as "Goal".
7) Two goalkeepers stand in front of their team's goal post in order to prevent the ball entering their goal post to save a goal.
8) There is a referee in football game who judges the goal scored by a player and also ensures that the game is played honestly.
9) The game of football is of 90 minutes with two sessions of 45 minutes each with a brake of 10 minutes.
10) In case of no goal or equal goals, extra time of 30 minutes and finally "Penalty Shootout" of 5 attempts is given to each team.
10 Lines and Sentences on Football
1) Football is a game full of excitement and adventure which is based on skill of scoring goals to defeat your opponent.
2) Football is one of the games which tests your mental as well as physical ability as a football player.
3) The game of football consists of two teams with 11 players; 10 players and one is a goalkeeper.
4) Football is played on a big ground and on this basis lots of stadiums have been constructed all over the world.
5) International authority FIFA (International Federation of Association Football) is the caretaker of football as a game worldwide.
6) Football matches are played worldwide and the highest tournament is world cup which is played every 4 years.
7) 21 world cup tournaments have been played till 2018 with Brazil winning 5 times followed by Germany and Italy winning 4 times each.
8) Playing football is a good exercise which is very beneficial for health, that's why this game is played in almost every school and college.
9) Football is a very good source of entertainment which gives freshness to our mind and even the spectator of the match gets excited.
10) Football players are the best paid sports persons who earn more than any other game's player and they have huge fan following.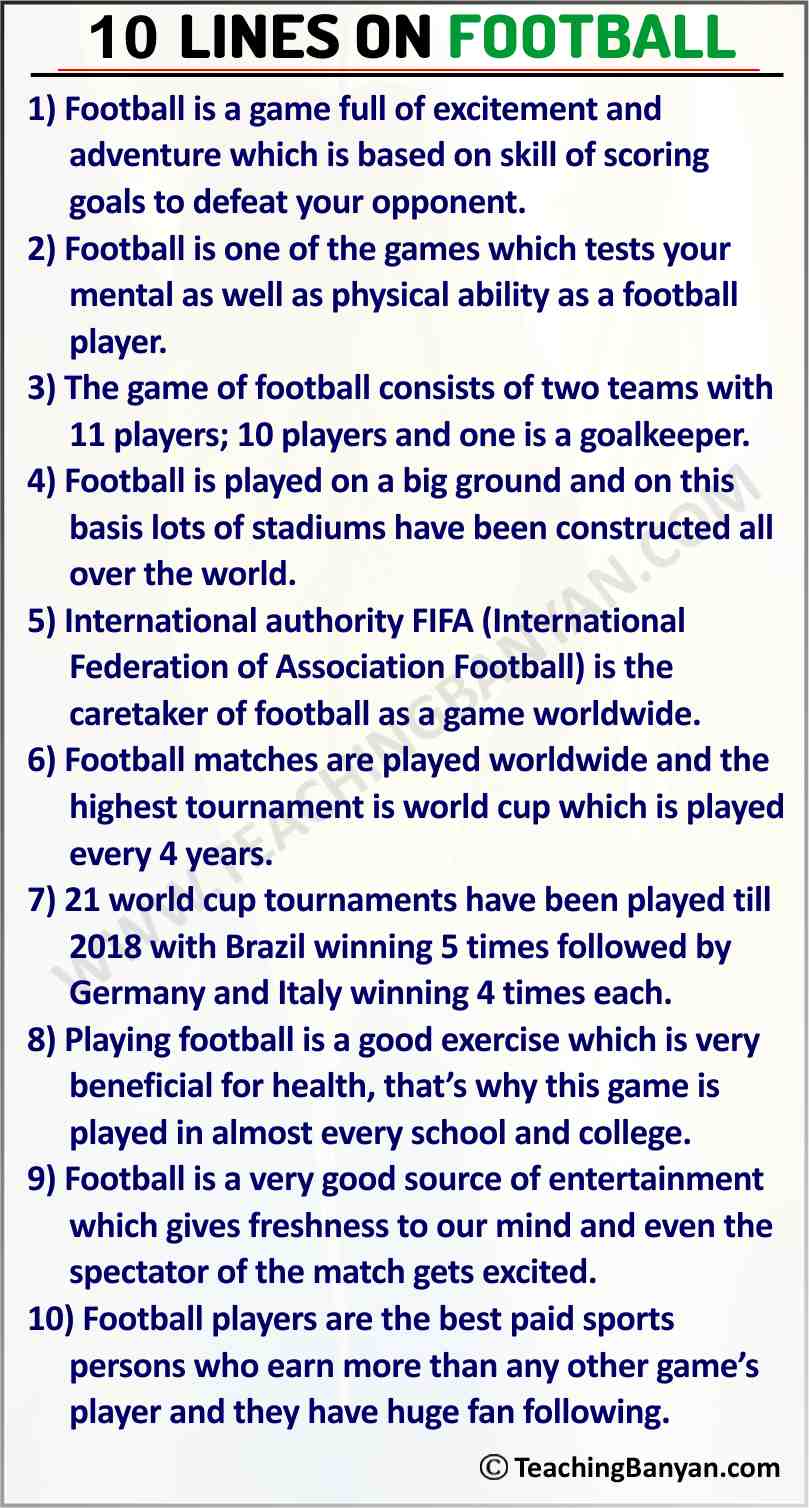 5 Lines on Football
1) Football is an outdoor sport.
2) It is played in the open field.
3) This sport requires energy.
4) It is played between two teams of 11 players.
5) In football, players kick the ball to score runs.
20 Lines on Football
1) Football is an outdoor game in which the ball has to be kicked with the feet in order to score a goal using football between two opposing teams.
2) The game of football has two teams and each team has 11 players.
3) It makes a person more disciplined, calm and punctual.
4) It improves cardiovascular health as it involves running, which greatly affects the cardiovascular system.
5) The game of football motivates the players for teamwork.
6) It helps in losing more body fat, gaining lean muscle, muscle strength and improving healthy habits throughout life.
7) It improves physical and mental strength.
8) It also provides psychological and social benefits by helping players cope with disappointment and practice good sportsmanship, etc.
9) It improves confidence level and self-esteem by developing adaptability and quick thinking in players.
10) Playing football reduces depression by developing a positive attitude.
11) Football is considered an ancient Greek sport known as Harpaston.
12) Historically, the game of football is 700–800 years old, but has become the world's favorite sport for over 100 years.
13) Football is the most popular sport all over the world.
14) It was brought to Britain by the Romans.
15) It game of football was first played in England in 1863.
16) The Football Association was formed in England as the first governing body to govern the sport.
17) The laws of the game were originally organized by the Football Association, England in 1863 into a systematic code which is governed internationally by FIFA.
18) It hosts the FIFA World Cup every four years.
19) There should be one referee and 2 assistant referees to ensure the rules of the game are being followed.
20) The game is of 90 minutes duration, with 2 parts of 45 minutes each and an interval of 15 minutes is allotted between the two parts of the game.
---
Football is a great game and along with the world it is also very popular in India. Recently concluded football world cup 2018 in Russia was highly trending in print, electronic and social media especially the final match between France and Croatia. The game is only of 90 minutes but it gives all the excitement right from scoring goals to defending own goals. There are some times when the result doesn't comes out in the match, then extra time of 30 minutes is given and if the result is again same then the game is decided by penalty shootout with 5 attempts given to both the two teams.
FAQs: Frequently Asked Questions on Football
Q.1 What are the dimensions of a professional football field?
Ans. A professional football field is 120 yards long, 53 1/3 yards wide, and has a 10-yard end zone.
Q.2 Who is the GOAT of football?
Ans. Lionel Messi of Argentina is the best football player of the 21st century and considered as GOAT. GOAT stands for "Greatest of All Time."
Q.3 What is a drop kick in football?
Ans. A drop kick is when a player drops the ball and kicks it as it touches the ground. It is used to restart play after a score has been made.
Q.4 Football is the national game of which country?
Ans. France, Haiti, Israel, Italy, Mauritius, Poland, and Serbia are just a few of the countries where football is regarded as the national sport.
Q.5 Who is considered the "God of Football"?
Ans. Edson Arantes do Nascimento, better known by his nickname Pele, is a Brazilian football legend who was crowned "the greatest" by FIFA also known as the God of Football in the world.