If I ask you what you need the most to live a happy and successful life, your answer will probably be 'Education'. Yes, almost everyone will support that fact, and it is true too. Let's have some important information about Education through the sets of 10 lines below.
Ten Lines on Education in English
Below are given 10 lines, 5 lines, 20 lines, few lines and sentences on Education for students of class 1, 2, 3, 4, 5 and 6. Also, people who want to know some facts on Education in short as well as in less time can read these lines. So, let's start:
10 Lines on Education
1) Education is the process which aids learning, acquiring knowledge and skills to one's character.
2) Education upgrades the thinking of society and helps to uproot social evils.
3) It helps the uniform development of a country by fighting the inequalities of society.
4) We can have education by various methods, like teaching, training and research activities etc.
5) Storytelling is a method of education which helps to pass the knowledge from one generation to another.
6) Gurukul was the education system of ancient India when students used to learn by residing with the gurus.
7) Right to education act makes education the fundamental right of every child.
8) Education helps to earn a livelihood and fight for our basic rights.
9) Education helps to bridge the gap between the rich and the poor.
10) Education also plays a vital role in economic development by increasing income and decreasing poverty.
10 Lines and Sentences on Education
1) Education is a way of imparting knowledge, skills and learning.
2) It helps us to learn new things and develop a sense of innovation and creativity.
3) Education is a tool which helps us to achieve success and earn respect in the society.
4) There are primarily four stages of education, namely, preschool, primary, secondary and higher education.
5) School, College and Gurukul are the media of imparting education.
6) The Right to Education Act, 2009 has made education free and compulsory for the children of age 6-14 years.
7) The mode of education has changed by the advent of new technologies.
8) The rise of affordable internet has made education easy and accessible to every corner of the world.
9) Interactive learning approach has made the availability of education at the comfort of your home.
10) Education is a guiding force which helps us in identifying our career goal and leading a civilized life.
5 Lines on Education
1) Education is the process of learning.
2) Education helps us to develop skills.
3) An educated person is respected everywhere.
4) Education helps to attain success in life.
5) Education is the right of every citizen.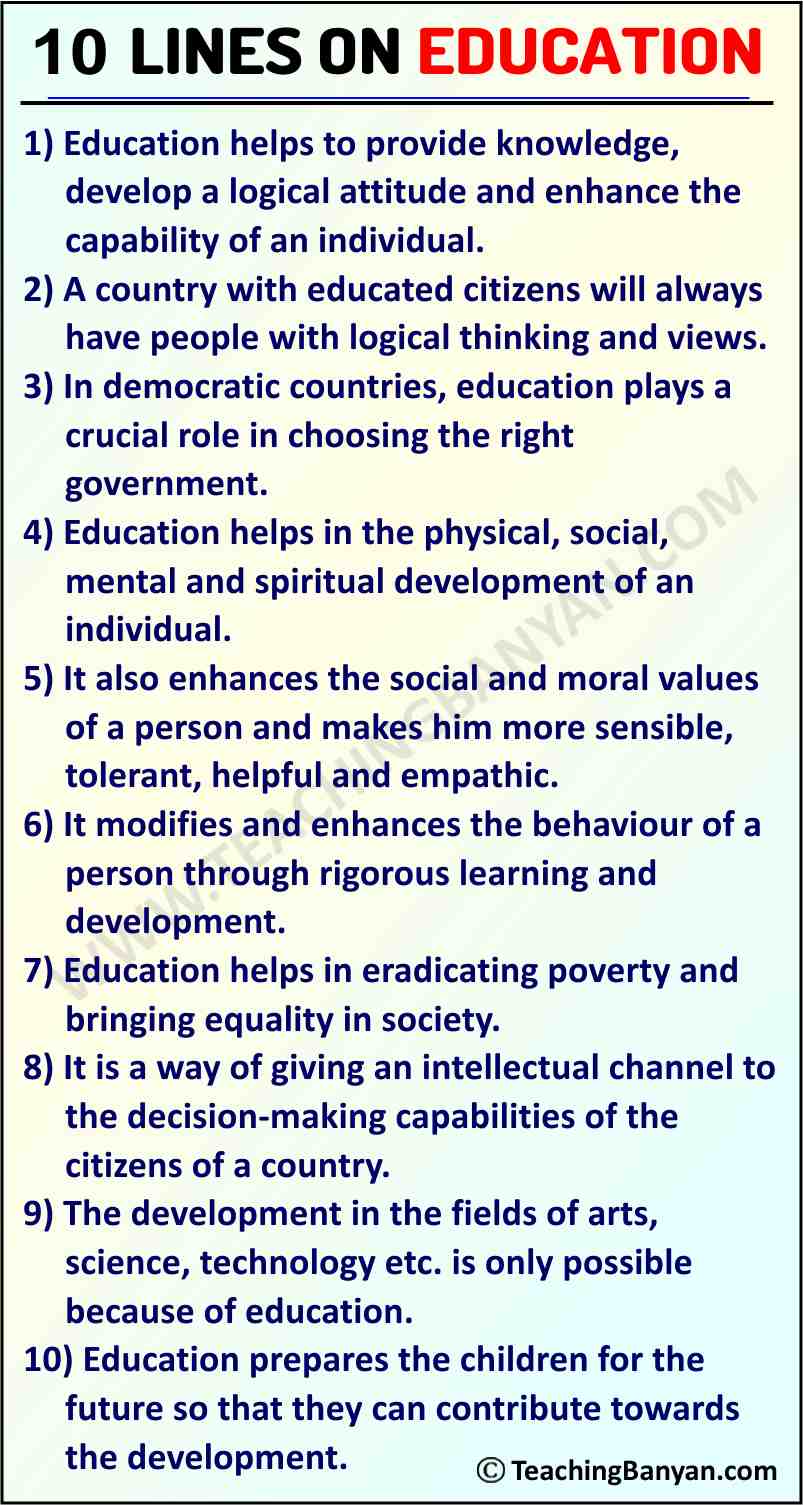 20 Lines on Education
1) Education helps to provide knowledge, develop a logical attitude and enhance the capability of an individual.
2) A country with educated citizens will always have people with logical thinking and views.
3) In democratic countries, education plays a crucial role in choosing the right government.
4) Education helps in the physical, social, mental and spiritual development of an individual.
5) It also enhances the social and moral values of a person and makes him more sensible, tolerant, helpful and empathic.
6) It modifies and enhances the behaviour of a person through rigorous learning and development.
7) Education helps in eradicating poverty and bringing equality in society.
8) It is a way of giving an intellectual channel to the decision-making capabilities of the citizens of a country.
9) The development in the fields of arts, science, technology etc. is only possible because of education.
10) Education prepares the children for the future so that they can contribute towards the development.
11) Education makes a person self-reliant and independent in social, financial and intellectual aspects.
12) In ancient India, education was for everyone, but it became available based on the caste and duties.
13) Nalanda and Taxila were the most famous educational institutions of ancient times.
14) No one can steal education, so it remains with us always and never goes waste.
15) In India, there are majorly three types of schools as Government Schools, Government Aided Private Schools and Private Schools.
16) Government of India has launched various initiatives in the field of education like Udaan, Saksham, Pragati etc.
17) These initiatives have majorly helped to improve the status and quality of education in India.
18) The development of science and technology has also changed the way of getting an education.
19) Nowadays, there are various techniques and methods to impart education like e-learning, video-based learning etc.
20) Education has always been a driving force for mankind.
---
We cannot avoid the importance and need for education in the modern world, where education is the deciding factor in all aspects of life. Education teaches us basic ethics and values, which help us to structure your complete personality. Education is for everyone, and we should provide it without any discrimination.
FAQs: Frequently Asked Questions on Education
Q.1 Which country is best in terms of education system?
Ans. One of the best educational systems in the world is in the United States. The QS World University Rankings 2023 says that 36 universities in the United States are among the top 150.
Q.2 What is the rank of India in education?
Ans. India's educational system currently occupies the 33rd position on the global scale.
Q.3 Which city is known as the School Capital of India?
Ans. People call Dehradun the "school capital of India" because there are so many schools.
Q.4 Which country is considered best for higher education?
Ans. The United States is at the top of the list because it has so many excellent universities and a well-developed system for higher education.
Q.5 Which country have the hardest education systems?
Ans. South Korea, Singapore, Japan, are the few countries which have one of the hardest education systems around the world.