There are many fields in which one can make one's career like engineering, acting, singing, marketing etc. Among them, a few are such that they are more a responsibility than a normal job. They are Doctor and Teacher. A doctor is a responsible job. If you think that reading about 'Doctor' will be useful, you can visit the few sets of 10 lines we have provided below. They will tell you a lot about the Doctor.
Ten Lines on Doctor in English
Below we are providing 10 lines, 5 lines, 20 lines, few lines and sentences on Doctor in English for Class 1, 2, 3, 4, 5 and 6. You can use these lines in your essay and paragraph to get good marks in exam as well as win prizes in competitions.
10 Lines on Doctor
1) A doctor is a person with the profession of treating and curing sick or injured people.
2) A "Medical Practitioner" is a doctor who does his job in a hospital or clinic.
3) For doing the job in any hospital or clinic, the doctor needs a legal and valid licence.
4) One has to get registered with "Medical Council of India" (MCI) and get a license to become a doctor in India.
5) There are various colleges and institutions in India and also in abroad which provides medical degree.
6) Before treating a patient, a doctor asks the patient a few questions and analyzes his physical conditions.
7) A Doctor usually gets the assistance from a nurse and a compounder.
8) He has a "Stethoscope" always hanging around his neck which he uses to listen to heartbeats or certain other sounds in a body.
9) Doctors earn high respect and regard in society.
10) Doctors treat not only physical ailments but also the mental ailments of a patient as a Psychiatrist.
10 Lines and Sentences on Doctor
1) A doctor cures our diseases by treating us and giving medicines.
2) He holds a degree in medical science from a college or university.
3) "National Doctor's Day" falls on 1st July, on the occasion of the birth anniversary of former Chief Minister of West Bengal "Dr. Bidhan Chandra Roy".
4) Sometimes he has to take a blood sample of the patient or use the X-Ray method to treat the patient.
5) The doctor whom the entire family counsels when sick becomes their "Family Doctors".
6) A 'Dentist' is a doctor who cures our teeth and other related ailments.
7) "Ophthalmologist" is a doctor who treats eye-related problems.
8) A 'Surgeon' is a doctor who does surgeries.
9) A Paediatrician' is a doctor who is a specialist in child-related problems.
10) A "Psychiatrist" is a kind of doctor who treats and cures mental illness.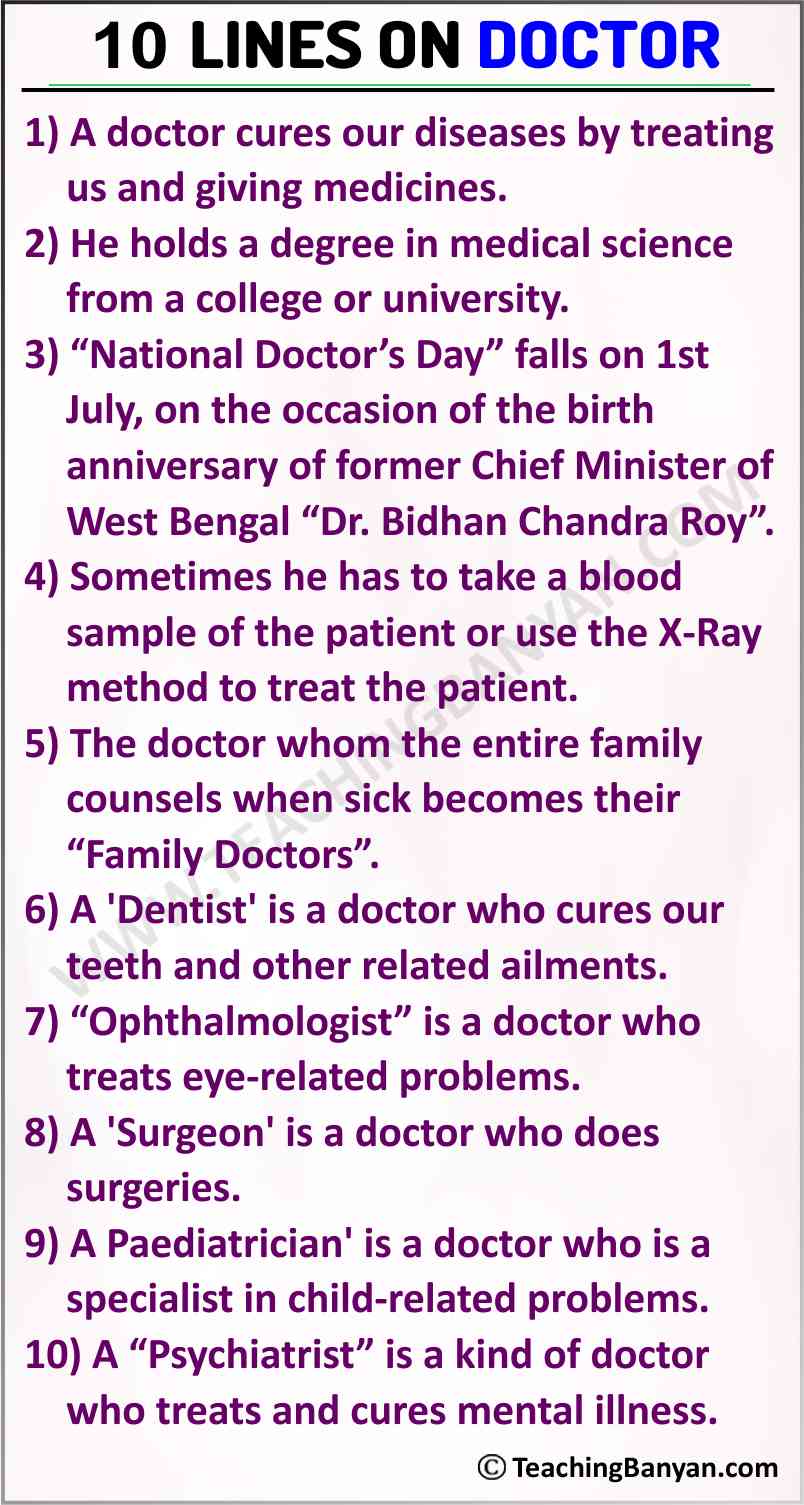 10 Sentences on Doctor
1) Being a Doctor is a very noble professional in every country of the World.
2) A doctor has deep knowledge of every disease and proper practice of appropriate treatment.
3) Many Doctors who have studied in Medical Schools in India are working in foreign countries.
4) 1st July in India is dedicated to the Doctors and their commendable works.
5) A doctor is the most responsible person as he/she deals with the life of the patients.
6) The word 'Doctor' has come from Latin words.
7) A doctor should have an amazing communication skill for the interaction and consolation with patients.
8) A responsible Doctor gives priority to service, not to money.
9) Dr Padmavati Iyer is the first Indian woman cardiologist in India.
10) Many Indian doctors are making India proud all over the world.
5 Lines on Doctor
1) Doctor is a professional person.
2) A doctor cures diseases.
3) He treats everyone equally.
4) He saves lives with treatment.
5) A doctor is a god on Earth.
---
20 Lines on Doctor
1) A doctor is a professional who holds a professional degree in treating diseases and injuries.
2) A doctor called surgeon specializes in conducting minor or major operations on the patients.
3) Doctors are considered as equivalent to God, as they have the necessary skills to save lives.
4) There are various specializations of doctors like a general physician, surgeon and orthopaedics.
5) Every doctor takes a Hippocratic Oath to serve selflessly and uphold professional ethics.
6) A doctor has a social obligation to serve the community and be impartial while doing so.
7) Doctors treat millions of patients the world over saving them from diseases, sickness and injuries.
8) Doctors not only treat diseases but also advise patients about diet, health and hygiene.
9) Doctors make a physical and visual examination of patients before starting the diagnosis.
10) A doctor has to be 24/7 available to his/her patients during the day or late night hours.
1) The doctors are always ready to treat his patients regardless of their urgent works.
2) The career as a doctor is financially well rewarding both in government as well as the private sector.
3) A doctor must always be able to identify the symptoms and prescribe the right tests for his patients.
4) A doctor shouldn't differentiate between his patients based on religion, caste or financial status.
5) A doctor always has to wear a smile on his face to keep up the morale of his patients.
6) Doctors also give their services in war-ridden areas, conflict zones working in dangerous situations.
7) Interacting every day with various patients, doctors need to follow strict rules for hygiene.
8) The various forms of medicines specialized by doctors are allopathic, homoeopathic and Ayurvedic.
9) A doctor also has to manage staff comprising of nurses, compounders and other workers.
10) A doctor needs to be calm, composed, patient and emotionally strong to dispose of his duties well.
---
A doctor, as we know, is considered next to god. He not only treats and cures patients but also sometimes saves the life of a dying patient. He is respected everywhere in society and is an inspiration for lots of children. It is a very noble profession, where one can earn money as well as respect. It is also a kind of stressful job as a doctor sees lots of patients continuously and regularly.