Dhanteras is a festival which is celebrated every year by the Hindus. It is the first-day celebration out of five days of the great festival of Diwali. As it falls on the thirteenth day of the Ashwin month it is called 'Dhanatrayodashi'. On Dhanteras, purchasing commodities made up of metals like copper, steel, gold, and silver is considered auspicious.
10 Lines on Diwali || Paragraph on Dhanteras
People worship Goddess Lakshmi in their homes on Dhanteras with great devotion and seek her blessing for health, wealth, and prosperity. On the same day of Dhanteras, Lord Dhanvantari is also worshiped and people seek the blessings for good health and vigour from Lord Dhanvantari.
Ten Lines on Dhanteras/Dhanatrayodashi/Dhanvantari Trayodashi in English
We have provided ten lines on Dhanteras in English. After reading these lines you will know that what is Dhanteras, what is the relation of Dhanteras and Diwali, when Dhanteras occurs, which deities are worshiped on Dhanteras, by which name Lord Dhanvantari is known, how Lord Dhanvantari appeared before the world, what commodities are purchased on Dhanteras etc. You can add these lines in your essays and paragraph writing in your exam as well as in the school competition. It will also support your essays on Dhanteras as well as related topics like Dhanteras story, what comes after Dhanteras, the spiritual significance of Dhanteras, Dhanteras rules, few lines on Dhanteras, etc.
Read Also : 10 Lines on Govardhan Puja
10 Lines on Dhanteras – Set 1
1) Dhanteras is regarded as the first day which marks the start of the Diwali festival all over India.
2) Dhanteras is the first day out of five days of the long celebration of the Diwali festival.
3) The festival is celebrated especially in the month of October/November.
4) According to Hindu mythology, varieties of customs are followed by Hindus on Dhanteras.
5) On the occasion of Dhanteras, Goddess Lakshmi is worshiped who is considered as the main deity of the festival.
6) Another deity who is worshiped on Dhanteras is Lord Dhanvantari, who is considered the God of Medicine.
7) It is believed that on Dhanteras, Lord Dhanvantri came out of 'Samudra Manthan' holding 'Amrit Kalash'.
8) On Dhanteras, it is auspicious to buy silver, gold, steel and copper utensils, etc.
9) On the eve of the festival, people perform Lakshmi puja in their homes for seeking prosperity and peace.
10) The festival of Dhanteras brings positivity, prosperity, and good luck in everyone's life.
We have provided another set of ten lines on Dhanteras. After going through these lines, you will know that how Dhanteras is important, at what time period Dhanteras is celebrated, what are the other names of Dhanteras, what Dhanteras gives to us, who is worshipped on Dhanteras, what activities are done in Dhanteras, what AYUSH department has declared, etc.
You can use these lines in your speeches and extempore in the school competitions. These lines will also increase your knowledge of Dhanteras and it will also be very useful in your seminars as well as in your GK quiz competitions.
Read Also: Paragraph on Bhai Dooj
10 Lines on Dhanteras – Set 2
1) Dhanteras is one of the festivals which is widely celebrated by Hindus all over India which starts the five days long celebration of the Diwali festival.
2) As per the Hindu calendar, Dhanteras falls on the 13th day in the Krishna paksha of the Ashwin month and in October/November as per the Gregorian calendar.
3) Dhanteras is also known as 'Dhanatrayodashi' or sometimes 'Dhanvantari Trayodashi', 'Yama Deep' or 'Dhanvantari Jayanti Puja' etc.
4) Dhanteras festival plays a great role in everybody's life as it brings lots of happiness, wealth, prosperity, and good luck for all.
5) The festival of Dhanteras is celebrated by worshipping Goddess Lakshmi who is believed as the god of wealth and prosperity.
6) Dhanteras is also celebrated as the birth of Lord Dhanvantari, the god of medicine, who appeared in the world holding 'Amrit Kalash', a nectar pot.
7) On Dhanteras, people buy utensils and ornaments as it is believed to bring fortune and good luck.
8) Lakshmi Puja is carried out on this day during the evening and people lit up diyas, worship the deity by singing aarti, bhajans and chant slokas and mantras.
9) People in villages decorate their cattle and worship them as they are the source of prosperity, livelihood, and good luck.
10) AYUSH (Ayurveda, Yoga and Naturopathy, Unani, Siddha, and Homeopathy) department decided to observe Dhanteras as 'National Ayurveda Day'.
We have prepared the 3rd set of 10 lines on the Dhanteras. The set is meant to provide you all relevant information on the topic like why and when this festival is celebrated and what the best way is to celebrate it. The set contains some important information that will make your confidence on the topic. So let's begin now.
10 Lines on Dhanteras – Set 3
1) Dhanteras is a Hindu festival celebrated grandly in India by the Hindu community.
2) Dhanteras is celebrated on the 13th day of the Krishna Paksha of Karthik month as per the Hindu calendar.
3) According to the Gregorian calendar, it falls in the months of October-November.
4) There are many stories that believed in different parts of India regarding why Dhanteras is celebrated.
5) Goddess Lakshmi, the Goddess of wealth, is worshipped on Dhanteras.
6) Assuming that the Goddess Lakshmi will come into their home on Dhanteras, people clean their houses well before the day.
7) Buying the jewellery of Gold, Silver, and also buying some utensils on this day is a part of the ritual.
8) It is said that buying precious metals on this day will make you more prosperous in the future.
9) In the evening, the people gather at a place in the house and collectively worship Goddess Lakshmi.
10) Later people distribute sweets and celebrate with each other.
---
Another set of 10 lines on Dhanteras is prepared here for you to make you available with all the related important facts on the topic. The set is equally important for the reader of any age and will help him in creating his own essay, speech, article, or any other project on the topic. So let's not make a delay and start reading the set below.
10 Lines on Dhanteras – Set 4
1) Dhanteras is also famous as Dhantrayodashi or Dhanvantari Trayodashi.
2) Dhanteras is the day from when the celebration of Deepawali begins.
3) Dhanteras is dedicated to Dhanwantari, the father of Ayurveda.
4) Buying utensils and jewellery on Dhanteras is mandatory for everyone.
5) People in villages and towns decorate their houses with beautiful oil lamps.
6) Also the houses are decorated with beautiful and colorful Rangoli which is dear to Goddess Lakshmi.
7) Wearing new dresses and singing songs for God and Goddess is something practiced in almost every house.
8) Dhanteras is a festival of wealth and prosperity and we worship God to bring us good luck.
9) Dhanteras is a festival of brotherhood so we should celebrate it by forgetting our enmity.
10) On the Dhanteras, before cleaning your houses, remember to keep your surroundings also neat and clean.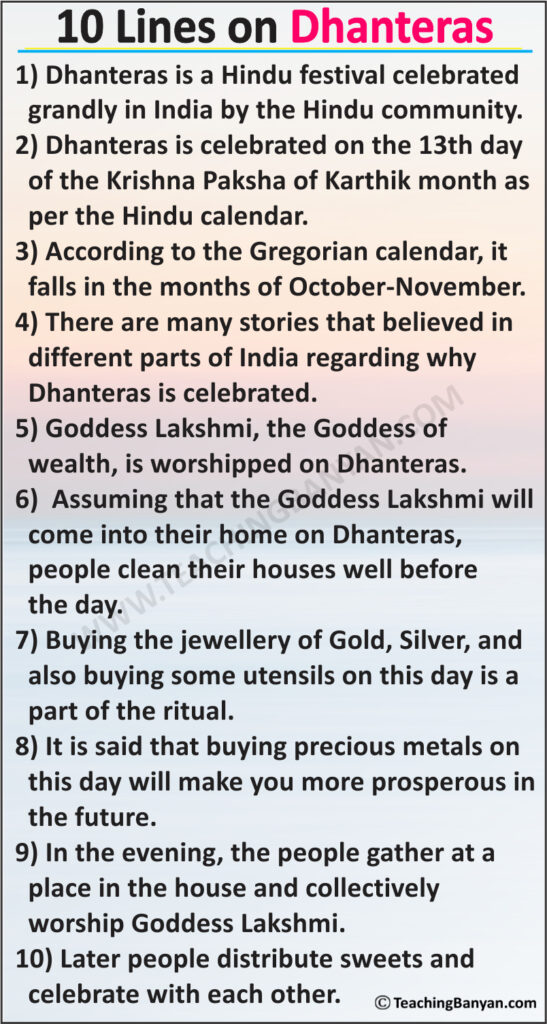 Dhanteras festival in India is known for its grand festivity. The markets on Dhanteras are highly decorated with utensils and lightings. On this day, the business community halts the auditing and transactions of money and resumes their business and money transactions after Diwali. On Dhanteras, everybody wishes for their prosperous and healthy life without any hassle. People also perform various rituals on this day to seek the blessings of their deity and hoping for prosperity, wealth, and peace.
Related Link: