There is no doubt that Cricket is a favourite game of almost every individual. This sport has got fame much more than other outdoor games like football, baseball, etc. There are many things to know about Cricket that we can have through the sets of 10 lines on Cricket below. You should check them right now.
Ten Lines on Cricket in English
We have provided 10 lines, 5 lines, 20 lines, a few lines and sentences on Cricket in English for Class 1, 2, 3, 4, 5 and 6, so that they can understand everything about Cricket. You can add these lines in your essay or paragraph writing for your school exams and different literary events.
10 Lines on Cricket
1) Cricket is a game played with bat and ball having 11 players on each side of the two teams.
2) The person who hits the ball is called "Batsman", another person who bowls is called "Bowler".
3) The aim of the two teams is to restrict the opponent to fewer runs while bowling and make maximum runs while batting.
4) Before the start of the game a coin is tossed, with heads as winners and tails as losers of the toss, the winner of the toss decides either to bowl or bat first.
5) To give a batsman out there are two judges who stand on the field, they are called "Umpires".
6) There is a third umpire who sits outside the field to assist the field umpires while giving "Run- Out", "Leg Before Wicket" etc.
7) Match referee is also a part of this game who observes the moral conduct of the players in a match, and also punishes them for violation of rules.
8) The apex body which governs cricket in the whole world is the ICC (International Cricket Council).
9) Cricket matches are played in a ground having a rectangular clearing in the middle known as a pitch; its length is 20.12m or 22 yards in length and 10ft (3.05 meters) in width.
10) Three wickets on each end are placed on the pitch, and the batsman while batting has the responsibility to protect the wickets from falling.
10 Lines and Sentences on Cricket
1) There are three popular formats of cricket matches viz, test with 5 days game, one-day with 50 overs game and T-20 with 20 overs game.
2) International matches were being played since 1844 starting with test matches but were recognized only in 1877.
3) There are 15 countries that are registered with ICC as full time members and are playing all of the formats of cricket.
4) One day world cup was started in 1975 and till now 10 editions have been held on the gap of four years.
5) T20 world cup was started in 2007, till now six editions have been played with a gap of 2 years.
6) Most number of one day world cup titles are won by Australia, followed by West Indies and India.
7) Most number of T-20 world cup titles are won by West Indies which has won two times.
8) Besides internationally, there are several domestic cricket leagues of different countries which produce pool of talent and upcoming cricketers.
9) Commercial T-20 league has been started by different countries to promote T-20 cricket. Ex- Indian Premier League (IPL) started in 2008.
10) With the investment of huge money in this game, some corrupt practice such as match fixing was started which involved players getting money on deliberately losing the match.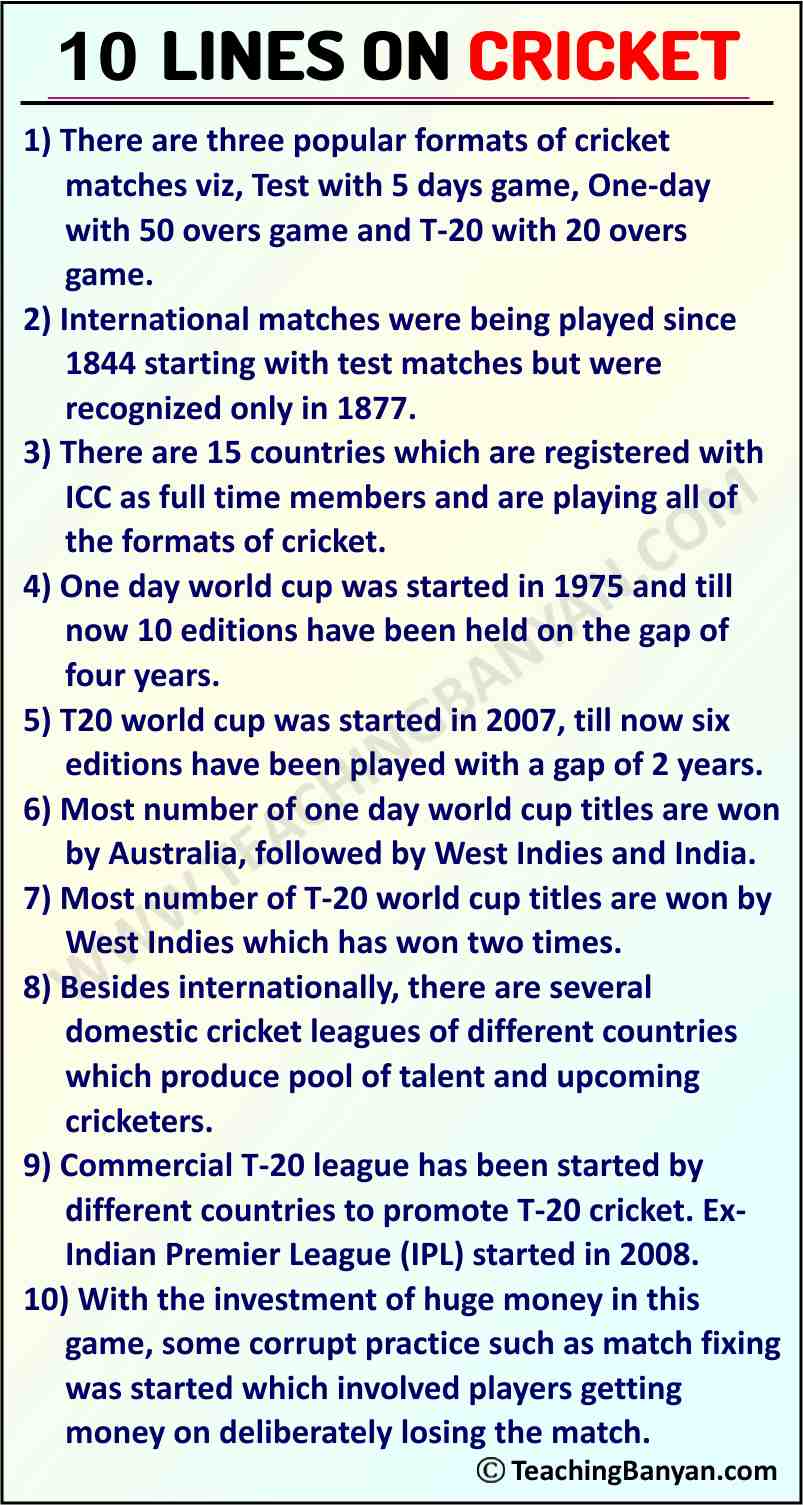 5 Sentences on Cricket
1) Cricket is an outdoor game.
2) It is played between two teams.
3) It is played with a bat and a ball.
4) There are rules to play the game.
5) Team with the highest score is the winner.
20 Lines on Cricket
1) Cricket is a bat and ball game played between two teams with 11 players each.
2) The batting team has only two players in the field, while the opponents are scattered over the field.
3) The game of cricket was first played in 16th century in South-East England.
4) It was also called Gentlemen's game as it was played by British officers and noblemen.
5) The game is judged by two Empires, who give decisions on the field events.
6) Empires are not part of any team and are bound to give an unbiased decision.
7) Duration of a cricket match is limited by the number of overs, where ne over is equal to six balls.
8) A test match has unlimited overs and is played for days.
9) The game of cricket is governed by a global governing body – International Cricket Council (ICC).
10) The game is immensely popular in Indian subcontinent, South Africa and West Indies.
11) The innings are decided by a toss between the captains of the respective teams.
12) The batting team has only two players on field, to be replaced when they get bowled.
13) The game of cricket was declared England's national sport in the 18th century.
14) International cricket games also have a third empire sitting outside the field, looking over the events.
15) First limited overs international cricket was played in 1971.
16) First limited overs Cricket World Cup was played in 1975, staged by the ICC.
17) The cricket field is circular or oval with a rectangular pitch at the center.
18) The prime objective of each team is to score more runs than their opponents.
19) Both the wicket keepers and batsmen wear protective gear as the ball thrown is very hard.
20) First ever Women's Test Match was played between Australia and England in December 1934.
---
Cricket is as such, a good outdoor game which not only keeps you physically healthy, fit and agile but also mentally skillful and develop leadership qualities as it requires a captain to lead 11 members team.
It can be a good career option by which a person can earn a lot of money as well as name and fame, but in order to earn lots of money one should not get involved in corrupt practices such as match fixing, spot fixing etc, to ruin his carrier and bring shame to the country.