B.R. Ambedkar or Bhimrao Ramji Ambedkar was an economist, social reformer and a politician. Throughout his life he fought for the rights of untouchables, and rose from a poor child to many prominent positions in the Indian government, through his hard work and principles. He is considered as the chief architect on Indian constitution who played an important role in framing it. He was the first law minister of Independent India and a recipient of Bharat Ratna, the highest civilian award of India. He was one of the prominent personalities in fighting untouchability and upliftment of the backwards class.
Ten Lines on B.R. Ambedkar in English
You can find here some well written sets of 10 lines, 5 lines, 20 lines, few lines and sentences on B.R. Ambedkar for children and students of Classes 1, 2, 3, 4, 5 and 6 to get help in their school assignments.
10 Lines on B.R. Ambedkar
1) B.R. Ambedkar was born on April 14, 1891 in Mhow in central Province. (Madhya Pradesh)
2) B.R. Ambedkar was also called" Babasaheb" by his supporters.
3) Fought for the equality of untouchables.
4) Graduated in Economics and Political Science from Bombay University in 1912.
5) PhD in Economics in 1927 from London.
6) He joined Sydenham college of Commerce and Economics, Mumbai as a professor of Political Economy in 1918.
7) Burned Manusmriti on 25th December 1927 at Mumbai.
8) He was instrumental during the Poona pact.
9) He was the chairman of the Constitution drafting committee.
10) He was independent India's first law minister.
10 Lines and Sentences on B.R. Ambedkar
1) B.R. Ambedkar was born on 14th April 1891 in Mhow, Madhya Pradesh.
2) He cleared matriculation from the Elphinstone High School in 1908.
3) Studied Economics from the Columbia University, New York.
4) Awarded Doctorate degree in Economics by the University of Columbia on 8th June 1927.
5) He was one of the crusaders of caste discrimination and untouchability.
6) Launched a newspaper called 'Mooknayaka' in 1920.
7) He was appointed as the first Law Minister of independent India.
8) He was made the chairman of the constitutional drafting committee and considered as the chief architect of Indian constitution.
9) He was awarded the prestigious Bharat Ratna award in 1990.
10) He died on 06th December 1956 at his home in Delhi.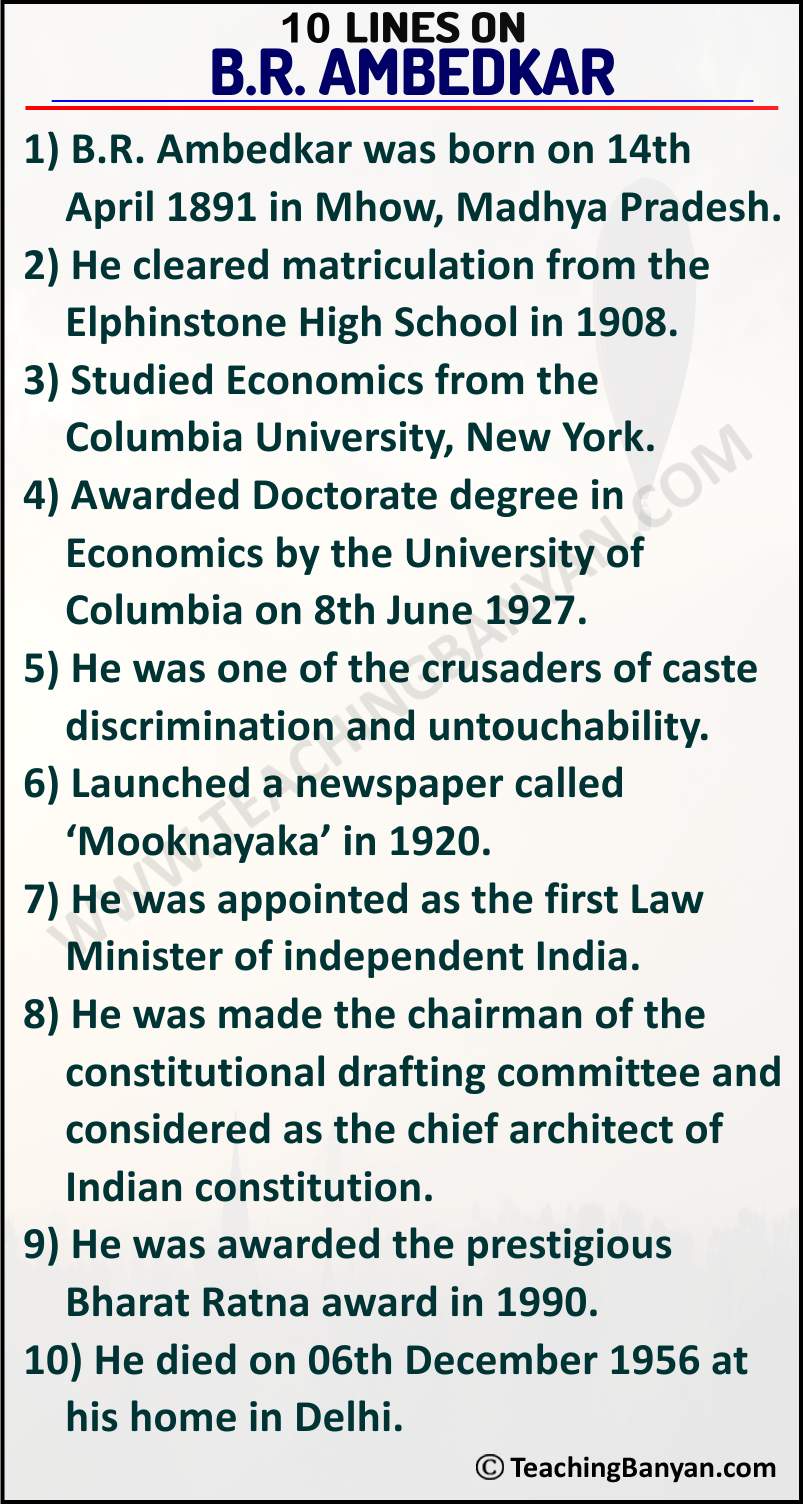 10 Sentences on Dr. B.R. Ambedkar
1) Dr. Bhimrao Ramji is the chief architect of constitution of India.
2) Dr. Ambedkar was also an educationist and economist.
3) Dr. Ambedkar was one of the few highest educated India of that time.
4) Ambedkar wrote his autobiography 'Waiting for a Visa' in 1935-1936.
5) Dr. Ambedkar knew 9 languages as English, French, German, Gujarati, Hindi, Marathi, Sanskrit, Pali and Persian.
6) After accepting Buddhism, Babasaheb was also called the 'The modern Buddha of the age'.
7) It was a Buddhist monk 'Mahant Veer Chandramani' who made Ambedkar to turn towards the Buddhism.
8) Dr. Ambedkar had the highest title of Buddhism 'Bodhisatwa' and had written a book 'The Buddha and his Dhamma'.
9) The birth anniversary of Dr. B. R. Ambedkar is celebrated as 'Ambedkar Jayanti' while his death anniversary is observed as the 'Mahaparinirvan Diwas' in India.
10) The first statue of Bhimrao Ambedkar was established in Kolhapur City in the year 1950.
5 Lines on B.R. Ambedkar
1) Dr. B.R. Ambedkar was a politician and social reformer.
2) He was also entitled as the "father of constitution".
3) He fought to remove untouchability from society.
4) He was the chairman of constitution drafting committee.
5) He served as the first law minster of Independent India.
---
20 Lines on B.R. Ambedkar
1) People consider Dr. Ambedkar the father of the Indian Constitution.
2) Dr. Ambedkar was the first Indian to pursue 'Doctorate in Economics' from other country.
3) Dr. Ambedkar was also the first Indian to pursue Ph.D. in Economics.
4) The guidelines on Ambedkar presented in the Hilton Young Commission help much in establishing the Reserve Bank of India.
5) The effort of Ambedkar brought a change in working hours from 14 hours to 8 hours.
6) The Columbia University uses the autobiography of Dr. Ambedkar as a textbook.
7) Article 370 in Indian constitution was drafted by Gopalswamy Ayyangar while Dr. Ambedkar was completely against it.
8) The first effort towards women empowerment was made by Dr. Ambedkar through the 'Hindu Code Bill' in 1950.
9) Dr. Ambedkar is also known to place 'Ashok Chakra' in Indian flag.
10) Dr. Ambedkar's personal library 'Rajgrih' is world's largest private library with more than 50,000 books.
1) Dr. Bhimrao Ramji Ambedkar was the youngest of his siblings born on 14th April, 1981.
2) His father registered his surname as Ambadawekar based on his village Ambadawe which was later changed to Ambedkar by his teacher.
3) He was the first person at that time from the untouchable section to complete matriculation.
4) Ambedkar was a constitutional expert who had gone through around 60 constitutions of the world which made him to head the Constitution Drafting Committee.
5) He also authored many books viz, 'Annihilation of Caste', 'Who Were the Shudras', 'The Buddha and His Dhamma' are few of his work.
6) After the death of his first wife Ramabai, Ambedkar married Dr. Sharada Kabir who changed her name to Savita Ambedkar after marriage.
7) On 14th October 1956, Ambedkar and his wife accepted Buddhism along with his 5 lakh supporters.
8) Dr. Ambedkar health worsened due to political as well and physical issues and took his last breath on 06th December 1956.
9) He is survived by his grandson Prakash Ambedkar who is an active politician and lawyer.
10) Dr. Bhimrao Ambedkar was a great personality who devoted his life to the nation and fought against caste discrimination in society.
---
B.R. Ambedkar was an inspiration for the millions of Indians facing untouchability. Something which he still does. His fight for the depressed classes and his contribution in drafting the constitution of Independent India will always be remembered.
FAQs: Frequently Asked Questions on B.R. Ambedkar
Q.1 What is the original name of Dr Ambedkar?
Ans. The original name of Dr Ambedkar is Bhimrao Ramji Ambadavekar. But in the school papers, his teacher, Mahadev Ambedkar, gave him his last name Ambedkar.
Q.2 Who was the first Indian to pursue economics abroad?
Ans. Dr Bhimrao Ambedkar was the first Indian to pursue economics abroad
Q.3 Who changed the working hour of 14 hours to 8 hours in India?
Ans. It was Dr. Ambedkar who brought the 8 hours working in India. In November 1942, at the 7th meeting of the Indian Labour Conference in New Delhi, he changed the hours from 12 to 8.
Q.4 Who suggested the division of Bihar and Madhya Pradesh for the first time?
Ans. Dr. Ambedkar proposed splitting MP up into a northern and southern state. Back in 1955, he proposed splitting Bihar in two and making Patna and Ranchi the capitals of their respective states.
Q.5 When Bharat Ratna was given to Dr. Ambedkar?
Ans. After his death, it was 1990 when Dr. Ambedkar was given Bharat Ratna.
Related Topics:
10 Lines on Dr. Ambedkar Mahaparinirvan Diwas
Ambedkar Jayanti Essay
10 Lines on Ambedkar Jayanti
B.R. Ambedkar Essay