'Arunima Sinha', these words are enough to burn a fire inside you for doing every possible hard work to achieve your goal. She is an inspiration for youth and is well known as the first female amputee to reach the summit of the highest peak of the World 'Mount Everest' including many other important Mountains of other continents. She motivates us for hard work, not because of the success she has got in her life but because of the enormous pain and struggle, she has gone through in her life to achieve the Goal.
Ten Lines on Arunima Sinha
Set 1
1) Arunima Sinha is an Indian Mountaineer and Sports Woman.
2) She was born on 20th July 1989 in Lucknow district of Uttar Pradesh in India.
3) She has two siblings, an elder sister, and a younger brother.
4) Arunima was fond of Football and was a national level volleyball player.
5) While traveling to Delhi from Lucknow on 12th April 2011, she was thrown out of the train by some robbers in an attempt to snatch her luggage.
6) Her left leg was badly injured in the terrible incident and was amputated.
7) Besides that, she took a mountaineering course and decided to scale Mount Everest with a prosthetic leg.
8) She climbed Mount Everest and reached its summit on 21st May 2013.
9) Arunima Sinha was awarded for her hard work and determination by the U.P. state government and the Sports Minister of India.
10) Arunima Sinha was awarded Padma Shri on 25th January 2015.
---
The facts in the first set are enough as we had said but are not complete therefore we have created another set of 10 lines on Arunima Sinha and provided below. Some important points about Arunima Sinha that were not discussed in the first set are being provided in the second set below. Read all the points and evaluate its importance.
Set 2
1) Arunima's father was an engineer in the Indian Army and her mother was working in the health department.
2) Her father passed away when Arunima was only three years old.
3) She was trained under Bachendri Pal, the first Indian woman to climb Mount Everest, in Uttarkashi Camp.
4) As a preparation, she had climbed the Island Peak of 6150 m. height in 2012.
5) The goal of Arunima Sinha is to scale the highest mountains of seven continents of the world.
6) By 2014, Arunima had climbed Mount Kilimanjaro of South Africa, Mount Elbrus of Russia and Mount Kosciusko of Australia.
7) Arunima's book 'Born again on the mountain: A story of losing everything and finding it back' was launched on 12th December 2014.
8) Arunima is the world's first female amputee to scale Mount Everest and other mountains.
9) Arunima says that she got the inspiration from Indian Cricketer Yuvaraj Singh's fight against cancer.
10) Arunima now runs Shaheed Chandra Shekhar Azad Viklang Khel Academy in Unnao, U.P.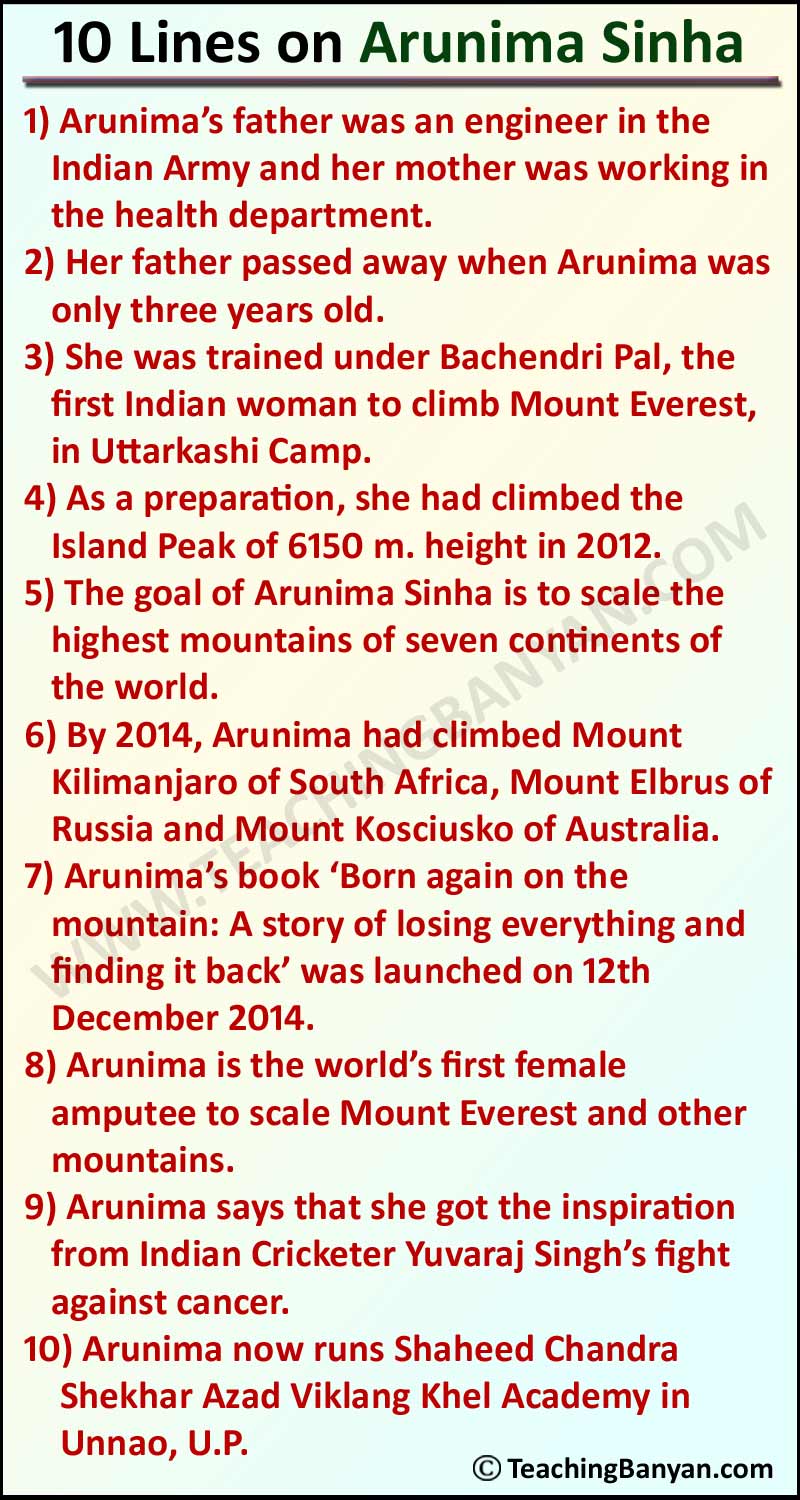 We always hear that everything that happens for some good reasons. The life of Arunima Sinha is a true example of it. That train accident completely changed her life and her destiny too. She would be employed somewhere and earning enough for her daily need if that incident had not happened which made her choose some other destiny and she made her name in history. Arunima told the world what actual hard work is and we should learn from her to be focused towards other goals leaving all physical and mental pain and distractions apart.