World Book Day is celebrated every year on 23rd April to raise public awareness about the importance of availing the books and educational resources to the underprivileged section of society. It also helps to value the importance of books in the world of technological developments. It inspires millions of people around the world to share their ideas and take some concrete action against the difference in society in terms of availing educational resources to poor people.
Ten Lines on World Book Day
Set 1
1) World Book Day is celebrated every year on 23rd April to increase public awareness towards reading, publishing and copyright.
2) World Book Day highlights the importance of books in our life which have primarily been freedom of expression for humans around the world.
3) World Book Day which is celebrated in more than 100 countries worldwide was founded by UNESCO in 1995.
4) Every year authors, illustrators jointly hold various events for garnering support to encourage reading among the common public.
5) World Book Day celebration also serves as a tribute to famous books and authors around the globe.
6) The celebration also inspires millions of NGOs to promote education among people from underprivileged societies with the support of UNESCO.
7) Every year the World Book Day is celebrated around the globe with a theme in order to focus the attention of the public about reading more books.
8) World Book Day 2019 theme is "Share a Story".
9) The celebration gives the opportunity to youth to read the biography of famous personalities who helped in the upliftment of humanity.
10) Nations around the globe organize various events like lectures, discussions, seminars, exhibitions to celebrate World Book Day.
Set 2
1) Book exhibitions, dramas, workshops, interviews, talk shows on radio and television are being organized at the international level on World Book Day.
2) Schools organize various competitions like design, essay writing, quiz and storytelling competition on the occasion of World Book Day.
3) United Nation along with the state members organizes campaigns through print and electronic media for promoting reading habits among people.
4) World Book Day focuses on the work and contribution of famous authors, publishers, distributors through campaigns.
5) On World Book Day, as a part of the celebration in schools the children take part in a fancy dress competition by dressing up as their favorite story characters.
6) World Book Day celebration motivates people to discover new ideas and increase their knowledge by reading a wide range of books.
7) The day stresses the importance of books which are depositaries of cultures, tool for dialogue, and source of wealth for many.
8) Campaigns are organized by NGOs to collect money for funding the projects which send over millions of books to people who are poor.
9) World Book Day provides a platform to achieve the UN's universal goal of 'right to education for all'.
10) The students, teachers, authors, publishers, distributors, academicians, etc participate in the event being organized at various places in India to celebrate World Book Day.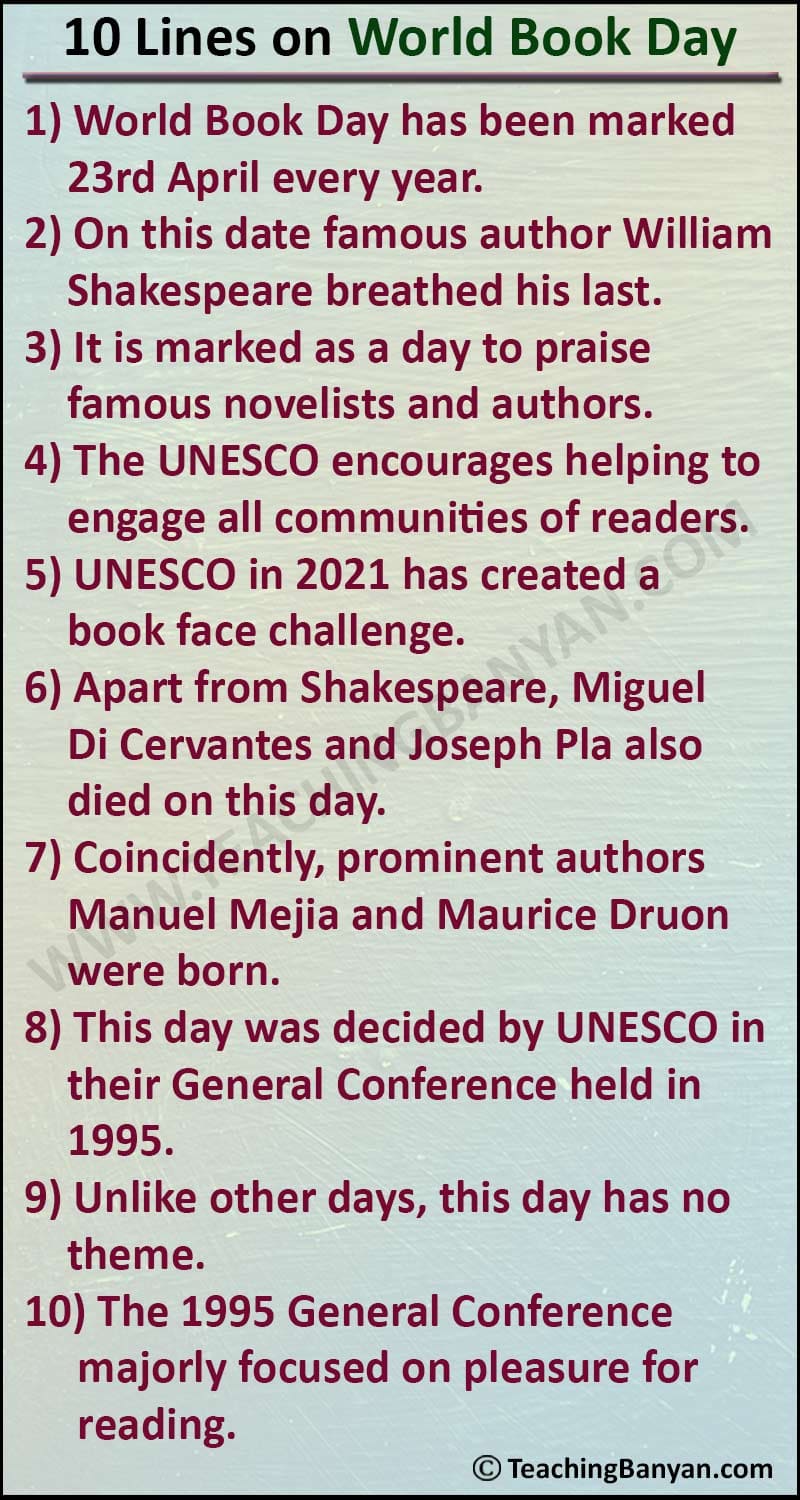 Set 3
1) World Book Day has been marked 23rd April every year.
2) On this date famous author William Shakespeare breathed his last.
3) It is marked as a day to praise famous novelists and authors.
4) The UNESCO encourages helping to engage all communities of readers.
5) UNESCO in 2021 has created a book face challenge.
6) Apart from Shakespeare, Miguel Di Cervantes and Joseph Pla also died on this day.
7) Coincidently, prominent authors Manuel Mejia and Maurice Druon were born.
8) This day was decided by UNESCO in their General Conference held in 1995.
9) Unlike other days, this day has no theme.
10) The 1995 General Conference majorly focused on pleasure for reading.
---
Set 4
1) The day also encourages people to show interest in books.
2) 3 international organizations with WHO select the World Book Capital of the Year.
3) The 2021 World Book Capital of the year was Tbilisi, the Capital of Georgia.
4) The UK and Ireland celebrate World Book Day on the first Thursday of March as a Charity Event.
5) In 2010 and 11, Sweden celebrated World Book Day on 13th April so that it should not clash with Easter.
6) Many schools and institutes organize different programs to aware students regarding books.
7) Catalonia celebrated this day as St. George Day by handing over books to loved ones.
8) The Alchemist and Harry Potter are some of the most loved books of all time.
9) Over 100 countries take part in this celebration.
10) Many NGOs send several books to the underprivileged.
---
World Book Day is celebrated every year to create awareness among the public about the importance of reading books in daily life. The celebration ensures that every individual on the planet irrespective of class and community has access to books and education so as to improve and enrich the quality of life.
World Book Day celebration is perfect outreach to the millions of people worldwide who don't have access to books even at the primary level. The government, civil communities, and NGOs should work in collaboration in order to ensure the universal access of books to all without any discrimination as books have the power to transform lives.