Vasant Panchami is a very sacred and an auspicious festival which welcomes the entry of spring season in everybody's life. Vasant Panchami is also associated with goddess Sarasvati where people, especially the students, musicians and people related with art and literature field worship her.
'Sarasvati Pooja' is done to excel in the field of art, knowledge and music. Vasant Panchami also marks the end of winter season and arrival of spring season. The fifth day of Vasant i.e. spring season is celebrated as 'Sarasvati Pooja'. Arrival of spring season brings the blooming of flowers and maturing of crops welcoming the arrival of prosperity and happiness among everyone.
Ten Lines on Vasant Panchami in English
We have provided 10 lines, 5 lines, 20 lines, few lines and sentences on Vasant Panchami in English for Class 1, 2, 3, 4, 5 and 6. After reading these lines you will know that when Vasant Panchami is celebrated, in which month Vasant Panchami is celebrated, which deity is worshipped on Vasant Panchami, what people do in Sarasvati pooja, who worship goddess Sarasvati, what is kept near the goddess Saraswati etc
You can add these lines in your essays and paragraph writing in your exam as well as in the school competition. It will also enhance your knowledge on Vasant Panchami as well as this will also help you while writing basant panchami essay, speech on vasant panchami, importance of Saraswati Pooja, essay on Saraswati Pooja etc.
10 Lines on Vasant Panchami
1) Vasant Panchami is a Hindu festival which is celebrated in either January or February.
2) It is celebrated on the fifth day of 'Vasant' or spring season.
3) Starting of Vasant Panchami indicates the end of the winter season.
4) Vasant Panchami is celebrated in various states of India in different ways.
5) On Vasant Panchami people worship "Sarasvati" the deity of art, music and knowledge.
6) People, especially the students and the musicians worship Saraswati with great devotion.
7) People visit temples and 'pandals', observe fasting and sing devotional songs on the occasion.
8) Stationaries like books, pens, and notebooks are kept near goddess Saraswati for her blessings.
9) On Vasant Panchami, holiday is declared where schools, colleges, and offices are closed.
10) On Vasant Panchami, huge 'pandals' and idols are set up everywhere which witnesses the huge participation of devotees.
10 Lines and Sentences on Vasant Panchami
1) Vasant Panchami marks the starting of spring season and the arrival of spring is celebrated with full joy.
2) Spring is the season when the crops, trees and plants are fully bloomed and grown with grains and flowers.
3) In Hindi "Vasant" means "spring" and "Panchami" means "fifth", i.e. celebration on the fifth day of spring.
4) Festival of Vasant Panchami is also celebrated by worshipping 'Saraswati' who is considered as the goddess of wisdom.
5) According to Hindu mythology, goddess Saraswati symbolises constant flow of knowledge, music and art.
6) Saraswati pooja is also celebrated in the institutions of education and learning where students and musicians worship her with full devotion.
7) Lots of pooja pandals are constructed and the idols of goddess Saraswati are placed inside it for worshipping.
8) Much stress is given on yellow and white colour as these are associated with goddess Sarasvati and the mustard crop.
9) On Vasant Panchami, kite flying has become a tradition and is enjoyed with great joy, especially in rural areas.
10) Vasant Panchami is a festival associated with religious, seasonal and social significance among the people.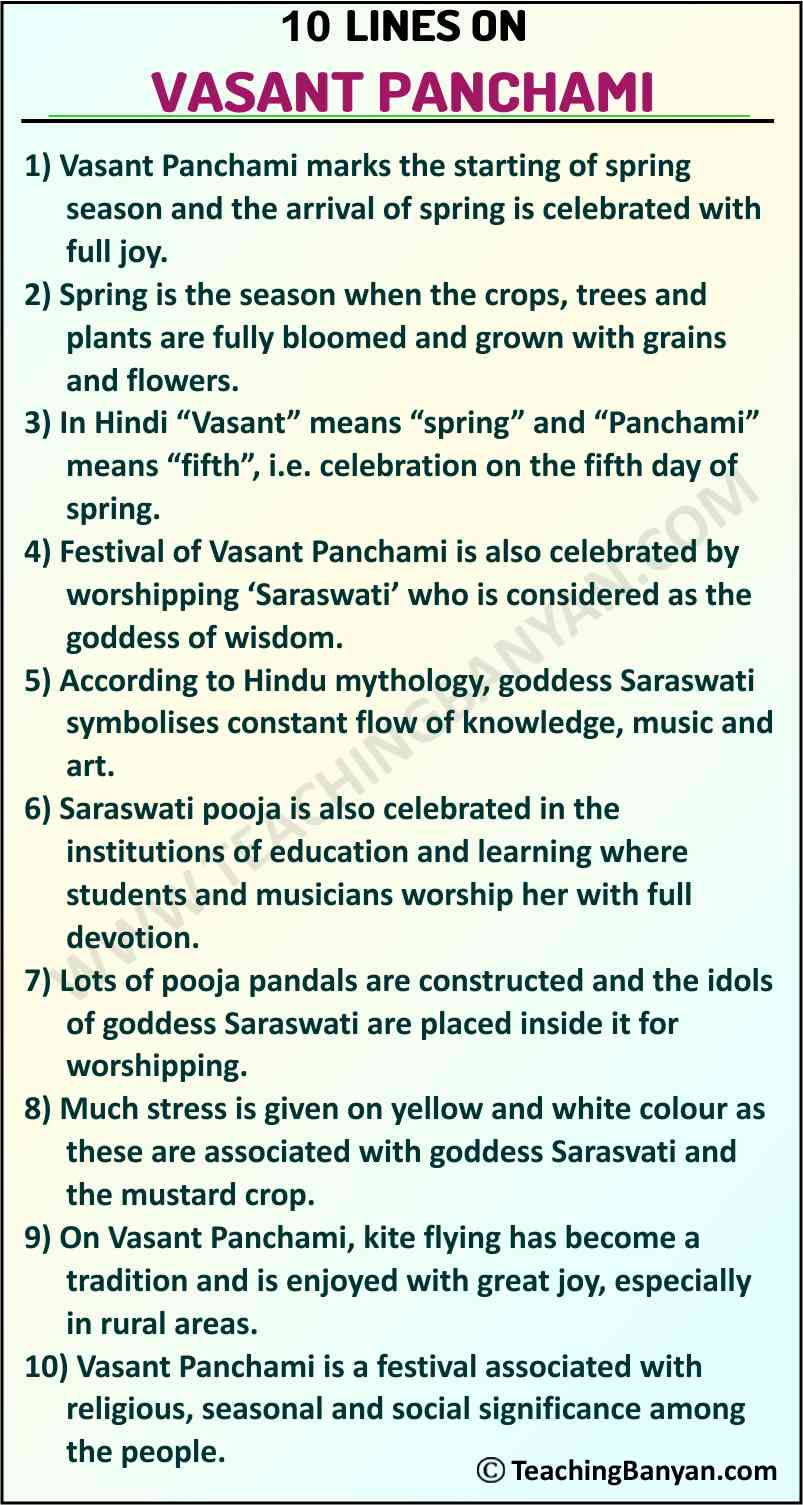 5 Lines on Vasant Panchami
1) Vasant Panchami falls in either January or February.
2) Goddess Sarasvati is worshipped on this day.
3) Pandals are made with Sarasvati idols.
4) Some people observe fast.
5) People also go to temples to worship the goddess.
20 Lines on Vasant Panchami
1) Vasant Panchami is celebrated on the fifth day of the Shukla Paksha of Magha month.
2) At this time, the season becomes very pleasant due to the end of winter and the arrival of spring.
3) New leaves and flowers in the trees and yellow mustard in the fields look very pleasant and the weather remains moderate.
4) Saraswati, the goddess of knowledge and learning, is worshiped on Vasant Panchami.
5) In every educational institution, Saraswati Puja is conducted with full devotion by the students.
6) On this festival, not only the children but also the great seekers of music and literature also participate in the worship of Goddess Saraswati.
7) Music seekers sing the raga Vasant and Bahar and dedicate the practice of their music and literature to Goddess Saraswati.
8) Many beautiful places of worship are decorated on this festival, which looks very beautiful to see.
9) A statue of Goddess Saraswati is installed; children keep their books and the worship is done duly.
10) People offer wreaths and offer seasonal fruits, flowers, incense, kheer, sandalwood, garments, sesame seeds etc. to Goddess Saraswati.
11) India is a country of festivals and keeping in mind the religious occasions and changing seasons, one of them is Vasant Panchami.
12) This festival is celebrated with great pomp and show in our country.
13)  It is believed that Saraswati, the goddess of knowledge, was born on the day of Vasant Panchami, so on this day Saraswati is worshiped.
14) In spring season, farmer's crops such as wheat, barley, gram, etc. are ready to harvest, so the farmers celebrate it with a lot of happiness.
15) In the evening, there is a fair in village areas, in which people interact with each other by embracing each other and demonstrate the harmony and joy.
16) There is an atmosphere of flying kites in many parts of India, especially in Gujarat.
17) On this day people wear yellow clothes and offer prayers to Goddess Saraswati with yellow flowers.
18) This day is also a very important day for students.
19) In Saraswati Puja, the students worship Goddess Saraswati to get maximum knowledge.
20) The king of all season, spring is very important and suitable in terms of health.
---
Vasant Panchami is celebrated across India and is dedicated to goddess Saraswati who is the deity of wisdom, knowledge, art, music and studies. Students, musicians, and the people related with art and literature worship goddess Saraswati with great spirituality and devotion. On this day, various institutions also celebrate Saraswati Pooja and government of different states declare Vasant Panchami or Saraswati Pooja as a public holiday.