Ladakh is situated in the eastern portion of the state of Jammu & Kashmir. Ladakh island of beautiful monasteries and colorful mountains; tourism in the state has been a booming industry ever since government of India opened it up for tourists. People of Ladakh have been asking for UT status for decades, due region's cultural difference from Jammu and Kashmir. Finally, the government of India has passed a Jammu and Kashmir Re-organisation Act 2019 which was assented by the President of India on 9th August 2019.
Ten Lines on Ladakh
Set 1
1) Ladakh is one of the three major regions in the state of Jammu and Kashmir.
2) Ladakh was divided into two districts in 1979: Kargil and Leh.
3) The Kargil district has a predominant Muslim (76.87%) population.
4) The Leh district has 66.40% Buddhist population.
5) The principal language of Ladakh is Ladakhi.
6) Ladakhi has no distinctive script, writers use Tibetan script to write the spoken language.
7) Ice hockey is the most popular sport in Ladakh.
8) Ice hockey in Ladakh is played from mid-December to mid-February, only on natural ice.
9) Cricket, Archery, and Polo are some other popular sports in the region.
10) The Indus River is the backbone of the Ladakh region.
---
We are adding another set of ten lines on Ladakh in English for class 8, class 9, class 10, class 11 and class 12. After reading these lines you will learn pseudonym for Ladakh, the extent of Ladakh plateau, the significance of Indus River, famous mountain passes in Ladakh and facts on disputed regions of Ladakh, etc.
You can use these lines to write an essay on Ladakh and Kargil war. You can also use these lines to elaborate on them and write long answers for your examination. These lines also serve facts on the Ladakh region, which you can use to prepare for your quiz, debate and extempore competitions.
Set 2
1) Ladakh is also called "Little Tibet" because of the cultural & geographical resemblance with Tibet.
2) 3000 meters above sea level Ladakh is the highest plateau in the state of Jammu and Kashmir.
3) The Ladakh plateau extends in the upper Indus valley ranging from the Himalayan range to the Kunlun range.
4) The major settlements of Ladakh close to the Indus are, Shey, Leh, Basgo, and Tingmosgang.
5) Ladakh is also known as "La-dvags" meaning the land of high passes.
6) Khardung La, Chang la, Baralacha, Tanglang La, Fotu La, and Zojila are some famous Mountain passes in Ladakh.
7) Post partition Pakistan and China illegally occupied some part of Ladakh.
8) Pakistan also ceded 5180 sq. Km area of occupied Ladakh to China.
9) The site of a regular standoff between India and Pakistan since 1984 – Siachen Glacier, is the world's highest battlefield.
10) The Department of Science and Technology is setting up National Large Solar Telescope (NLST) in the Ladakh village of Merak near the Pangong Tso lake.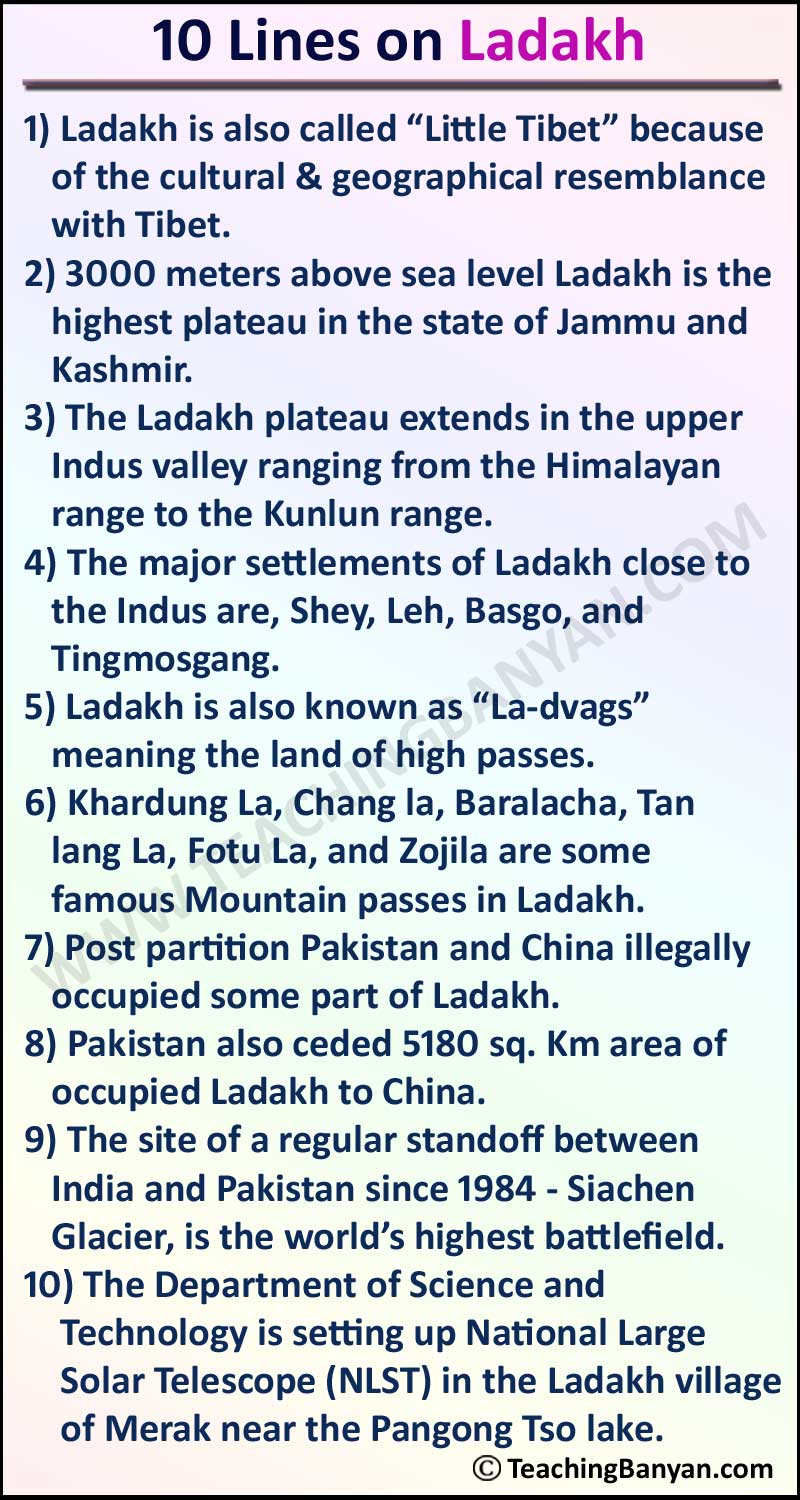 Set 3
1) The government of India opened tourism in Ladakh in 1974.
2) Even though tourism employs significantly less percentage of the population of the region, it still accounts for almost 50% of the region's GNP (Gross National Product).
3) Most of the working population of Ladakh engages in agricultural and livestock practices.
4) Due to scarce precipitation and high altitude Ladakh has a climate of cold dessert.
5) The climatic condition of the region makes the arable agricultural schedule tightly constrained.
6) The growing season is extremely short; between May and September.
7) The principal crops of the Ladakh region are barley and wheat.
8) Leh and Kargil have a population density of 3 persons/sq km and 10 persons/sq km. respectively.
9) Ladakh has had its own "Autonomous Hill Development Council", formed in 1995.
10) As per Jammu and Kashmir reorganization Act, 2019 Ladakh will be a Union territory in India from 31st October 2019.
---
Set 4
1) Ladakh is the only place in India where Bactrian Camels are found.
2) The 'Magnetic/Gravity hill' in Ladakh gives an illusion of cars moving in an upward direction.
3) One of the highest salt lakes in the world 'Pangong Lake' is located in Ladakh.
4) The plangent passes, beautiful monasteries, high mountains, and clean lakes are the main centers of the beauty of Ladakh.
5) 'Dras', the gateway of Ladakh, is the coldest region of Ladakh.
6) Ladakh shares its border with China, Baltistan and Kashmir.
7) Due to its elevation, Ladakh is an important Astronomical Observatory.
8) Ladakh became a Union territory of India on 31st October 2019.
9) Ladakh shares its judiciary with Jammu & Kashmir High Court.
10) The total area of Ladakh is about 59,146 square km.
---
Ladakh has been a disputed region ever since the dissolution of British India. Ladakh is famous for its high altitude motorable mountain passes and beautiful Buddhist monasteries. Ladakh is a popular tourist destination not only for Indians but foreign backpackers too. With its new found status of Union Territory in India, the future of the region seems brighter than ever.