There have been very few people who have amazed the whole world with their thought and work. One of them is Late Indira Gandhi. Indira Gandhi was an Indian but loved by the people all around the World. Let's have some basic information about 'India Gandhi' through the sets of 10 lines provided below.
Ten Lines on Indira Gandhi
Set 1
1) Indira Gandhi was the daughter of "Pt. Jawaharlal Nehru" and "Kamala Nehru".
2) Before joining politics, she was the personal assistant and host to her father.
3) She had born as Indira Nehru on 19th November 1917 at Allahabad, in present-day Prayagraj.
4) She formally joined Congress party and became the party president in 1959.
5) She won from "Raebareli" Lok Sabha seat and became Prime Minister in 1967 with tenure of 11 years.
6) In 1971 she started "Garibi Hatao" campaign, launching anti-poverty programs for poor.
7) She also served as a member of "Rajya Sabha" and became the cabinet minister in Lal Bahadur Shastri's government.
8) She married to Firoze Gandhi, who belonged to Zoroastrian Parsi family hailing from Gujarat.
9) She made the country capable of having nuclear weapons.
10) Late Sri Atal Bihari Vajpayee used to call Indira Gandhi as "Goddess Durga".
Set 2
1) Indira Gandhi had a leadership quality since her childhood.
2) Her father Pandit Jawaharlal Nehru was the first prime minister of India.
3) She formed 'Vanar Sena' as a child to fight the British rule in India.
4) In 1969, she nationalised 14 major banks for public operations.
5) She did nationalisation of coal, steel, copper and oil refineries and also insurance industries.
6) She created "Haryana" and "Himachal Pradesh" on language basis from erstwhile Punjab, and Mizoram, Meghalaya and Tripura in north-east.
7) The resting place of Indira Gandhi is the 'Shakti-Sthal' at Raj Ghat in New Delhi.
8) Credit for Bangladesh Liberation War goes to Indira Gandhi who supported "Mukti Bahini" forces in defeating Pakistan and creating Bangladesh.
9) She had assassinated by her bodyguards in her garden on 31st October 1984.
10) She received the highest civilian honour "Bharat Ratna" in 1971 and 'Bangladesh Freedom Honour' in 2011, posthumously.
Set 3
1) Indira Gandhi was the granddaughter of Motilal Nehru.
2) Her father Pandit Jawaharlal Nehru was a well- educated lawyer and an active member of the Indian independence movement.
3) She was the first woman Prime Minister of India and crowned as an Iron Lady due to her strong decisions for the nation.
4) She held two tenures of the office of the Prime Minister from 1966 to 1977.
5) She married to Firoz Gandhi and had two sons Sanjay Gandhi and Rajiv Gandhi.
6) Indira Gandhi had played an important role in the freedom of Bangladesh.
7) On 26th June 1975, she declared an emergency due to the turbulent political condition in the country.
8) During the emergency, she ordered to imprison all her political opponents with the revocation of constitutional rights of the citizen and keeping Press under censorship.
9) When a Sikh terrorist group was demanding Khalistan, she ordered the army to perform a military action 'Operation Blue Star'.
10) On 31st October 1984, her two Sikh bodyguards fired 31 bullets and killed her in the exchange of the massacre at the Golden Temple.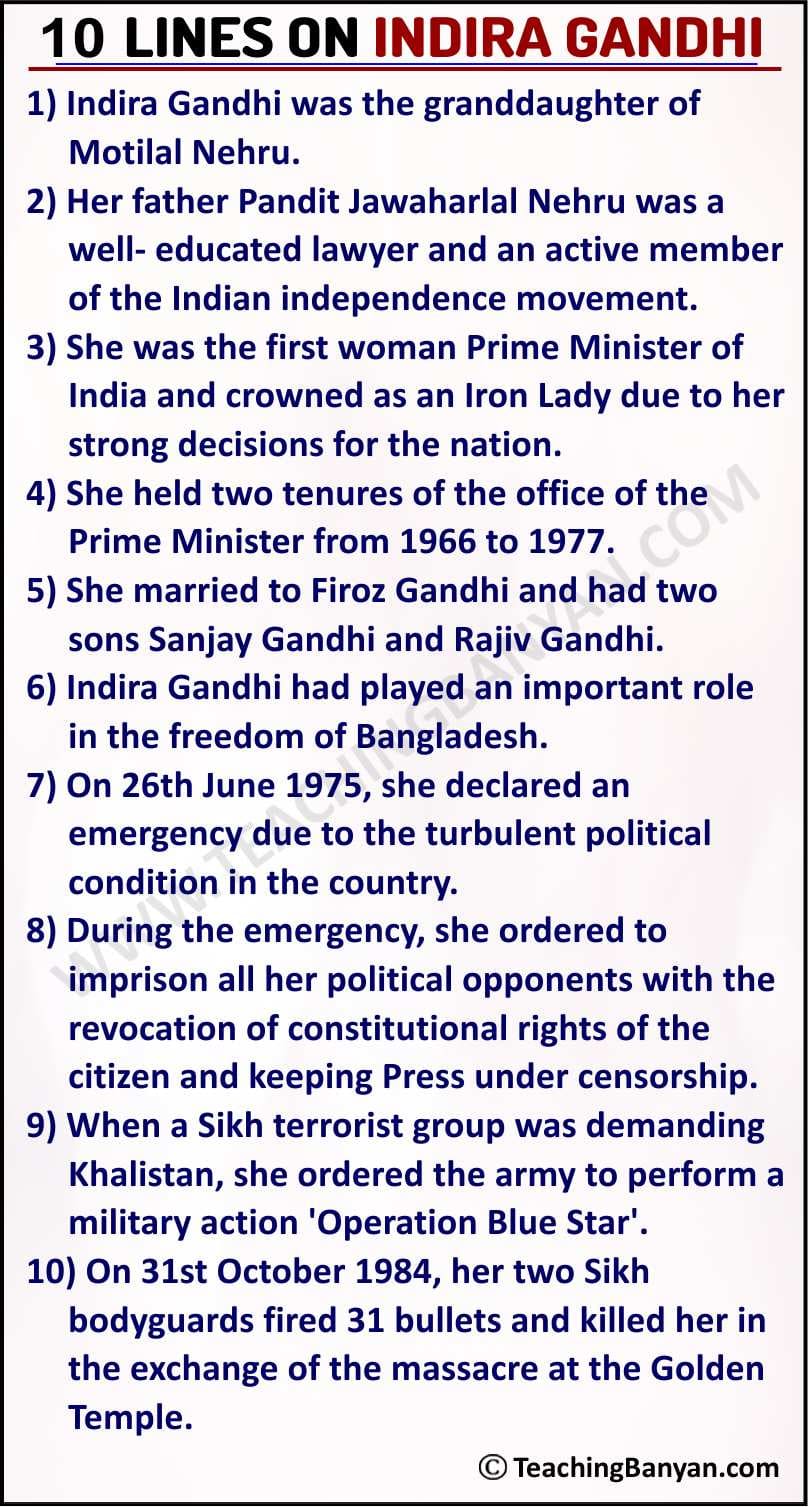 Set 4
1) India had established many dimensions of development during Indira Gandhi's tenure.
2) According to the special Gallup Survey of the USA in 1971, she was the most respected woman in the world.
3) Indira Gandhi got many prestigious awards for her selfless work.
4) In 1972, she also got the Mexican award for liberating Bangladesh.
5) There are many universities, institutions and airport named after her in different cities across the country.
6) During her tenure, she had made India an economically capable nation and the country had made progress in science and technology.
7) In her regime, an India stepped in the space, which was a matter of great pride for the country.
8) Indira did a lot of commendable work in the field of agriculture and made many new schemes for organised agriculture.
9) India's victory in the 1971 war against Pakistan increased Indira's popularity, and she became a shrewd political leader.
10) After her death, she rested at Shakti Sthal near the bank of river Yamuna.
---
Indira Gandhi was not only the first woman Prime Minister of India but also an 'Iron Lady' who made the country powerful and important in the world's arena. Her very strict decisions and disciplined policies helped India in its growth and in achieving various milestones. The economic policy of her helped India to meet its target growth and made a strong foundation of India's economy.